Speedway Scrapbook: Briggs Gets MBE
From Motor Cycle News - 6th June 1973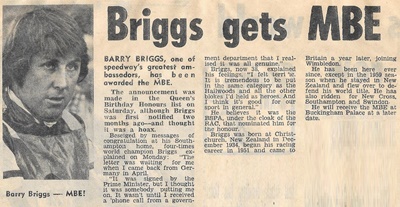 BARRY BRIGGS, one of speedway's greatest ambassadors, has been awarded the MBE. The announcement was made in the Queen's Birthday Honours list on Saturday, although Briggs was first notified two months ago and thought it was a hoax. Beseiged by messages of congratulation at his Southampton home, four-times world champion Briggs explained on Monday:
"The letter was waiting for me when I came back from Germany in April. It was signed by the Prime Minister, but I thought it was somebody putting me on. It wasn't until I received a 'phone call from a government department that I realised it was all genuine."
Briggs, now 38, explained his feelings.
"I felt terrific. It is tremendous to be put in the same category as the Hailwoods and all the other blokes I'd held as heroes. And I think it's good for our sport in general."
He believes it was the BSPA, under the cloak of the RAC, that nominated him for the honour.
Briggs was born at Christchurch, New Zealand in Pee-ember 1934, began his racing career in 1951 and came to Britain a year later, joining Wimbledon. He has been here ever since, except in the 1959 season when he stayed in New Zealand and flew over to defend his world title. He has also ridden for New Cross, Southampton and Swindon.
He will receive the MBE at Buckingham Palace at a later date.
Click on the image to see it in a larger size.
This article was first published on 5th May 2019
[ Use Mobile Version ]
---

Steve Haire:

"Barry Briggs has always been my favourite rider, exciting to watch, always battling even for minor places. I have about half a dozen memorable things that stick in the mind about him.

Firstly I remember Gary Middleton of then Hackney beating Briggo from the back around Swindon (unheard of back then), he was the first rider in the British league that I remember wearing a full face helmet (Bell helmet). I was at the Wembley World Final when he lost his finger in the crash with Cradley and Sweden's Bernie Persson and the Russian flying over Briggo's bike and me getting home in time to watch it on tele.

However the main memory was at the end of 1972 Ivan Mauger was World Champion and Barry Briggs runner up, both riders said they weren't going to ride in the British League in 73 so the authorities said if they didn't ride in Britain they wouldn't be able to enter the World Championship in 1973. What you have to remember is Australia and New Zealand riders could only qualify for a world final via british rounds. It would have been amusing to see what would have happened had they not ridden over here, the number 1 & 2 not being able to compete.

Mauger went onto ride for Exeter and Briggo for Wimbledon where I was fortunate enough to watch him every week after also being priviledged to see Ronnie Moore in their colours. I did meet him at Rye House a few years back when he was doing that end to end of Britain track tour to raise money for charity. A remarkable man and his DVD is well worth purchasing. "

Comment on this Article | Contact Us | Go Back to Main Menu