A Tribute to Bernie LaGrosse
By Tracy Holmes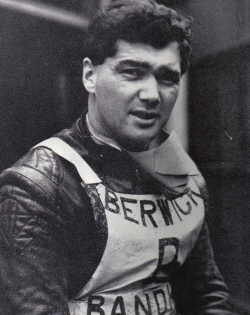 Bernie LaGrosse
Tracy Holmes pays tribute to Bernie LaGrosse (aka Roy Williams) who has sadly died in his New Zealand homeland.
Bernie started riding at the Aranui track in Christchurch doing the last two seasons of the track, 57-58 and 58-59. In the last ever meeting, he was one of the last ever race winners. With Aranui closed, he went with his friends, the two Ivans - Crozier and Mauger - to Australia and was based at Adelaide. Bernie once told me, "Ivan had only one ambition, to be World Champion. I had only one ambition, to have as much fun as I could. I reckon we both made it!" Some of his favourite memories were the hours he spent fishing with Jack Young.
Returning to NZ in 62, he helped the throng of volunteers to build Templeton Speedway, Christchurch. Riding in that first season, he represented Canterbury and the South Island.
It was 1965 that saw Bernie travel to the UK and he joined Glasgow as reserve. But with just one point from 16 races over 4 matches, his confidence was smashed. "I just didn't click and had no opportunity to practice. In hindsight, I should have stuck it out."
He got a job driving for Belle Vue and got to ride in second halves around the country. "I won nine second half finals which I really enjoyed."
Bernie returned to NZ and settled in New Plymouth. The 1966 NZ final was held at the local track, the Waiwakaiho Speedway and Bernie finished 6th behind Bob Andrews, Murray Burt, Bryce Subritsky, Dave Gifford and Bob Duckworth.
Over the next couple of years, Bernie rode around the country "just for fun".
Looking for more adventure, Bernie went back to the UK in 1968 and rode for Berwick under the name of Roy Williams. There are a few stories as to why that was but Bernie said it like this - "Trevor Redmond took us to Wales and said if anyone volunteered to be a Welshman for the night, there would be a bonus in it. I said OK and Roy Williams was born."
Roy did 19 matches for the Bandits and had a 7.8 average. He even rode in West Germany, driving his and Ivan's bikes over, collecting Ivan from the airport and doing the Golden Key of Bremen. Ivan was unbeaten, Bernie scored just 2 points. Then it was getting Ivan back to the airport and driving their bikes back again. "What a weekend that was!!"
At season's end, Bernie headed for the USA. "I didn't like Costa Mesa but I did enjoy Palm Springs, Ascot and Bakersfield. Earning enough to make it all worthwhile and enjoyable."
The '69 season saw Roy back at Berwick. He did 30 matches for a 6.8 average. He also rode for Australasia in four Tests against England, scoring 10 points in the third match. Again, the USA beckoned and Bernie enjoyed another Yankee experience.
1970, Roy at Berwick rides in 34 matches for a 6 point average. It turned out to be his last year in the British League. Back to the States where Bernie even lines up for Great Britain alongside Ivan, Briggo, Jim Airey, Bert Harkins and Dave Gifford. How's that for Britain, 4 Kiwis, an Ozzie and a lone Scot!!
Bernie returned to NZ in '72 to New Plymouth and helped out at the track but not riding. He remembers befriending Gary Peterson, "a hell of a nice guy but just would not listen to anyone. He was so intent on emulating his mates Ivan [Mauger] and Ole [Olsen] that he just lost lost the plot. He was either going to be World Champion or die trying!"
Eventually, Bernie returned to Christchurch and for a time was a bus driver. For the last few years, Bernie has been a regular spectator at Moore Park. Illness would sadly dominate his life. He too was a 'hell of a nice guy' and will be sadly missed. Bernie leaves behind his wife, Evelyn. He was 67.
This article was first published on 5th July 2007
---

Graham Hall:

"Fond memories of Bernie Lagrosse, one of the many 'jobbing' riders who rode in the second half at Long Eaton for Reg Fearmen."
Ken Taylor:

"The article on Bernie or Roy, no matter what his name was, he was a true gentleman as his team manager at Berwick Roy was always up for a good race, and will be sorely missed. I just wished I could have met him one more time but alas that will not happen, but who knows one day maybe we will meet again."
Tony Brown:

"My big cousin Bernie, as a young boy growing up in Heathcote I used to look forward to his home comings and telling stories of his adventures of far away places. As I was only very young at the time, I looked up to him as someone very special to me (which he was). When I heard he was at home I would race around to Uncle Gib and Aunty Pats place (Bernie's parents) to meet my famous (in my eyes) cousin. RIP my big cousin."
Steve Harland:

"'Roy Williams' rode against Middlesbrough and appeared at Cleveland Park on a regular basis between 1968 and 1970. I was only a child back then but didn't discover it wasn't his real name until a few years later. I was fascinated by this as Berwick had fielded another rider known as 'Mark Hall' (in real life a bank clerk called Walter Elliott whom changed his name just in case his employers found out he was a speedway rider!). One night the Boro Bears juniors were appearing in a match up at Shielfield Park around 2004 and I suddenly realised that I was stood next to 'Roy Williams', who was visiting the UK for the first time since he had left in 1970. I was suddenly transported back to those wonderful matches we had against Berwick Bandits in the league and the Teesside Tweedside Trophy. I exchanged a few words with him and was grateful I did as he sadly died not long after returning to New Zealand.

I often wonder what happened to many of those riders who rode in the harem scarem days of Second Division speedway 1969/1971. One of my favourite away riders was Geoff Ambrose of Crayford who always rode Cleveland Park very well. Does anyone know whatever happened to Geoff? I sometimes wish I could be transported in a speedway time machine back to the days of when we raced the likes of the Crewe Kings, Doncaster Dragons, Nelson Admirals, Rochdale Hornets & the Sunderland Stars. Speedway racing back then seemed much more simpler and far more exciting. It would be 1977 before I managed to make it to an away meeting watching Teesside in action at Stoke as it happens."
Louis Lagrosse:

"R.I.P grandad love you always."
John Purves:

"I met Roy on a motorway near Berwick in the UK, he stopped and gave us a lift. I knew who he was, he was a great guy to help us out. Sad to see he has passed away, he was too young to die."

[ Use Mobile Version ]

Comment on this Article | Contact Us | Go Back to Main Menu