Wanna Bet?
By Paul Monroe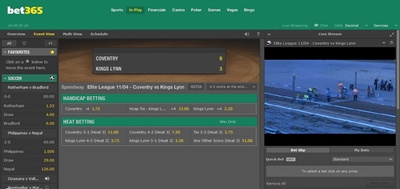 An interesting new innovation this year is that we can now watch selected Elite League meetings on the Bet365 website.
I stumbled across this new facility this week and was able to 'tune in' to the Birmingham vs Coventry meeting on Wednesday night. Nice to be able to experience the tension of a last heat decider from my armchair over one hundred miles from Perry Barr! Not sure if it works from abroad, or from the UK only.
It's not quite as good as watching on Sky, there's no commentary and the window you watch in is quite small. You can hear the track announcer so it's easy to follow the action and detected any substitutions etc. If you use the programmer generator then knowing who is racing is even easier. The small window problem can also be overcome by decreasing your computer's screen resolution and using the 'magnifier' program on your computer (assuming you have Windows like me, though there may be something similar on Macs).
By doing this I found it quite watchable and things should get better as the long summer evenings further improve visibility.
I did try to experiment with watching on my phone and tablet without success, but it may be possible if you have different equipment than I do, or are just more technically savvy than me.
So, where's the catch I hear you ask? No such thing as a free lunch I'm afraid!
You do have to sign up to the Bet365 website and place a £5 deposit in your account (using a debit card). As far as I can tell, there's no further expenditure required and that fiver should secure you a virtual seat at all further meetings shown.
The purpose of the website is to tempt you into betting on individual heat scores (5-1, 4-2, 3-3, 2-4, 1-5 or other), so the brave/foolish amongst you may wish to take a punt while you watch, but I'll personally just be using this as a means of watching the action.
This article was first published on 13th April 2014
---

Peter Miller:

"Thanks for the heads-up on this bet 365 service. Watched the Poole v Swindon match on Good Friday and really enjoyed seeing some live speedway. Couldn't really hear the announcements that well, so I think I missed some of the changes but really enjoyable anyway."

[ Use Mobile Version ]

Comment on this Article | Contact Us | Go Back to Main Menu