Riders to Remember....Bjorn Knutsson
By Geoff Langley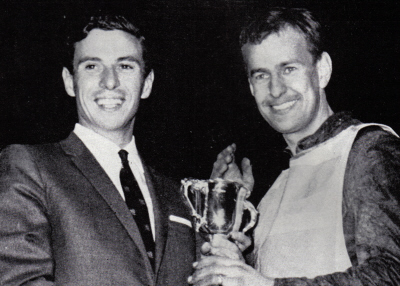 Bjorn Knutsson
In any list of speedway's greatest riders the names of Ove Fundin and Barry Briggs will be very close to the top (some would say at the top), yet Bjorn Knutsson who was for several years their contemporary and in every respect their equal has been largely forgotten. This is probably because his international career was relatively short, but in those few short years he won every major honour the sport had to offer, before retiring, aged 28. So I hope this tribute will jog a few memories.
Bjorn first crept into the Speedway Star and News World Rankings at Number 19 in 1959. The following year, aged 22 he was in the top ten, then for the rest of his career he was never ranked lower than fourth.
He was still only 22 when first selected for Sweden's world cup side, but it was the following year,1961 that he set the world on fire. In that year he qualified for his first World Final, by coming second only to Ove Fundin in the European Championship and beating the great Igor Plechanov into third place. Then, at Malmo, he almost took the world title at his first attempt. He won four races and set the three fastest times of the night, but fell when matched against the eventual winner, Fundin when second place would have brought overall victory. As it was he took the silver medal after beating Briggo and Gote Nordin in a run-off. The same year he signed for Southampton, where he was in a formidable partnership with Barry Briggs and it was no surprise that Southampton finished second in the National League that year and then went on to become clear winners in 1962.
In the 1962 World Final Knutsson took 10 points from 4 rides but an engine failure in his other race left him facing Ove Fundin in a run off for the bronze medal. Fundin won the run off after Knutsson fell. However he had the consolation of having won both the Nordic and European Championships that year, beating Fundin into second place on both occasions. A trio of victories over Fundin was completed when he beat him in the Golden Helmet match race championship.
Ove Fundin won the 1963 World Final, but dropped his only point of the night to Knutsson, who was the only rider to out-gate the fast-starting Fundin, and then held on to get the biggest cheer have ever heard in a speedway stadium as he took the chequered flag after both riders performed a master-class in high speed riding. Bjorn finished second overall with 13 points. He had however retained the European Championship, again pushing Fundin into second place so there was very little to choose between them by this stage.
In 1964 he came to West Ham where I saw him regularly. He was an extremely stylish rider who always seemed to find plenty of drive without wasting an ounce of effort by wandering off line, overshooting a bend or lifting his front wheel. His inch-perfect machine control enabled him to dive into the narrowest of gaps between an opponent and the apex of a corner then nudge the opponent aside without knocking him off and thus not getting excluded. He was, in my opinion one of the most exciting riders I have ever seen.
He was only fifth in the 1964 World Final after heavy rain turned the track into a mud bowl and made serious racing almost impossible, but his performances over the season, which included Nordic Champion, still kept him third in the Speedway Star World Rankings. However in 1965 he swept all before him, taking the World Title at Wembley and moving to number one in the World Rankings.
Having achieved his ambition and had an injury-free career, apart from a broken arm, he seems to have decided to quit at the top. His attention seems to have been on business interests in the 1966 season , form suffered slightly, and he retired .
It was a loss to speedway as he was only about a year older than Ivan Mauger and was the only rider with a realistic chance of challenging Mauger's domination of the sport from 1968-79. I have often pondered on whether any Ivan's Six World Crowns might otherwise have gone to Knutsson. We will never know, of course, but I think there is a high chance they some of them would have. People often overlook the fact that Mauger was unable to win the World title until Knutsson had retired and Briggs and Fundin who were both several years older, and by then had been at the top for more than a decade, were getting past their best. Mauger was almost 29 years old when he first became World Champion, which makes him one of the oldest men to win for the first time. Moreover Mauger was never ranked above Knutsson in the World Rankings. Bjorn Knutsson on the other hand proved himself to be capable of beating Briggs and Fundin at the peak of their powers. Maybe some will disagree with this assessment but by any standard, Bjorn Knutsson was a great rider who deserves to be remembered.
We want to feature similar articles on riders from any era of the sport's rich history. If you'd like to contribute a piece then email us at speedwayplus@hotmail.com or fill out our form here.
This article was first published on 10th January 2008
---

George Sandow:

"One of the few great sixties riders I never saw, but I agree with everything you say. A great shame he did not continue. Reading through an old 1962 edition of Speedway Star recently it seems that the spelling of his name should be Knutson - one s - and was confirmed by Bjorn and his wife in an interview. Seems that misspellings were common with some foreign riders back then, similar to the long-running Broadbanks/Broadbank spelling saga."
Tom Marriott:

"Geoff made some very interesting arguments for Bjorn and I must admit that he has some good points in his argument to push Knutsson higher in my rankings as a world class rider. I have to admit he looked effortless on the bike and won races in what looked like an easy manner. Above all he was such an unasuming rider, first class al the way. A shame he retired at such a young age leaving us all wodering what might have been. A great write up Geoff, well thought out."
Bill Elliot:

"I very much enjoyed the article on Bjorn Knutsson, who unfortunately I never saw race as he retired just before I became a regular fan. However, as the writer correctly surmises, as an Ivan Mauger fan I can't accept any suggestion that Bjorn was the better rider-even if at the time of Knutsson's retirement Ivan had never headed him in the world rankings, too many what if's.

Ivan was nowhere near the rider he turned out to be later in his career when he was nigh on unbeatable anywhere and in any event (In my opinion, easily the greatest ever seen), he won SIX world titles (might have been one of the oldest to win for first time in 68, but also 40 when he won his last in 79 making him one of (if not) the oldest, a measure of his ability and class over a much longer period) in 11 years, and at a time when British speedway was possibly in its golden age with the greatest number of exceptional riders in the most number of countries.

Sorry Geoff, it just doesn't add up. Ivan performed at the highest level and with the greatest of success (jointly with Tony Rickardsson in terms of world titles) for a much longer period, so in terms of comparison with Knutsson the sums don't tally - it's what you do, not what you might have done."
Gary Tait:

"I believe the photo on the Bjorn Knuttson article is of Formula One ace Jim Clark (F1 World Champion 1963 and 1965) presenting the trophy. Although Formula One in the sixties was not as money orientated/professionally run as it is nowadays, it would still have been big business (I am too young to remember!). Imagine if speedway organisers today could attract today's F1 aces to present trophies etc, e.g. Lewis Hamilton or Jensen Button presenting the British GP winner 2008 with their winner's trophy. What publicity for speedway that would be! Sadly an unlikely scenario, but surely not impossible. Could IMG could pull a few strings?"
Jim Blanchard:

"Sorry, but in spite of all articles and programme entries of his era spelling Bjorn's surname; Knutsson, it is in fact incorrect. I received a fax from him a few years ago and he was spelling it: 'Knutson' with one 's'. When I asked him to clarify it, he confirmed that his name is spelt: Bjorn Knutson."
Dave Gifford:

"While I would not disagree with anything that Bill Elliot and the other writers commenting on the Bjorn Knutsson article have said, they are after all only opinions, I do find the way we judge our great riders slightly odd. I realise that we all trying to find some yardstick that will act as a magic wand but the bottom line is, there just isn't one. The other part of the deal is that we tend to put the riders we have actually seen ahead of those that we haven't which I suppose is quite natural. I guess, however, that it will always be the number of World Championships that a rider has won that will decide his position in the list of all time greats. Too bad for nobodys like Vic Duggan, Jack Parker and Tom Farndon! "
Stephen Eatenton:

"I agree very strongly with the comments in the article about Bjorn Knutsson. I wonder how he fared overall in races against Peter Craven? I admire Knutsson greatly as he was a Hammer. Good luck with the excellent website."
Colin Lavender:

"Totally agree with the sentiments. I saw Bjorn win the world title at Wembley, and have never since heard a crowd roar as it did that night. It appeared as if everybody in the stadium was supporting him. One of the most stylish riders I have ever seen. Seeing him come out of a bend, leaning low off the bike with his left leg tucked behind the front wheel was awesome."
R. Amos:

"I watched Bjorn Knutsson throughout 1964 at West Ham and agree with everything Geoff Langley said. He was the most exciting rider I have ever seen. The way he went into the bends after those long West Ham straights was almost frightening!"
Ian Tyrie:

"I saw Bjorn Knutsson ride many times and on many tracks he, like all the big 5, was great to watch. They proved they were great by giving the likes of Nordin, Harrfeltd, Nygren, Mckinlay, Booccck etc a 20 yard handicap and still beating them. Mauger was a great gater and that's how he won his races, he wasn't so good when he missed the gate and if he would have been of 20 yards there is no way he would have beaten them. Bjorn Knutsson was also a very good ice racer winning the 1st major ice meeting before the world championship started a year later."
Cary Cotterman:

"I'd like to respond to Ian Tyrie's recent statement that 'Mauger was a great gater and that's how he won his races, he wasn't so good when he missed the gate and if he would have been off 20 yards there is no way he would have beaten them.' To the contrary, I saw Ivan Mauger ride many times in California, over a period of several years, on a variety of tracks from 150 to 880 yards in length. In the late 1960s and 1970s half of every meeting in the U.S. was handicap racing, in which riders of the calibre of Mauger were set back as far as 70 yards behind the gate at the start. In those races, Ivan would often weave his way through the five riders who had started in front of him and would come out in front by the finishing line. In the years following his initial trip in 1968, those riders were not just a lot of easy-to-beat local boys who came out at the weekend to have a go. They had developed into experienced professionals who rode several times a week, eight months a year on the California ovals, while Mauger only visited for a handful of meetings at the end of each season and had to adapt quickly to unusual track conditions. No rider who was just a gater could be World Champion six times (plus three times on the long track). Getting out of the trap first is perhaps the surest way to win, but when that tactic didn't work, Mauger was always ready and quite able to overtake other riders."
Allan Orrick:

"I only saw Bjorn Knutsson once, at Brough Park in Newcastle, when he was a member of the Vagarna touring team. He was absolutely awesome and scored a 12 point maximum against a Newcastle team featuring, yes, Ivan Mauger on his own track. I seem to recall he even broke the track record on his first ride on the track. I was lucky enough to see Briggs, Fundin, Nordin, Olsen, Michanek, etc, but Bjorn was just the best. "
Shaun:

" I had the pleasure of seeing Bjorn on many occasions at Southampton, he and Barry Briggs were unbeatable at times. I remember a meeting against Norwich at Bannister court, Bjorn was behind Ove Fundin on the last lap, Bjorn opened the throttle and overtook Fundin on the last bend to win. The best race I've seen in my lifetime.he was simply the best."
David Pickles:

"My childhood hero at my beloved West Ham. "Knutty" - never forgotten. "
Brian Mulholland:

"Although an avid Belle vue fan I loved this guy. What a rider, went to Wembley in 1965 to see him win the World Crown. Wish he had signed for Belle Vue,"

[ Use Mobile Version ]

Comment on this Article | Contact Us | Go Back to Main Menu