Edinburgh v Barrow 1984
By Ray Davidson
I was raking through old boxes of photos and came across ones of Edinburgh v Barrow - probably taken in 1984? Images are a bit grainy as I think I was trying out new 1000 ASA film around that time.
I have tried to identify some of the riders but may well have got some wrong - it was 30 years ago!
CLick on the pictures for a larger view.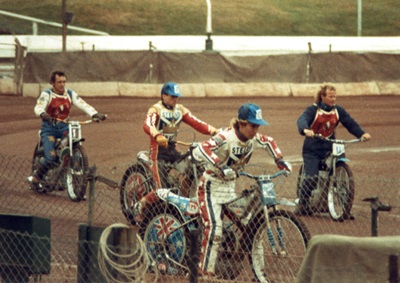 1) Eric Broadbelt, Roger Lambert, Mark Fiora, Steve Wilcock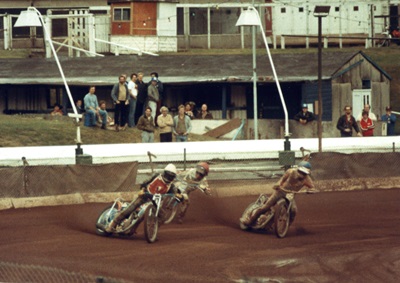 2) White ?, Red Fiora, Blue ?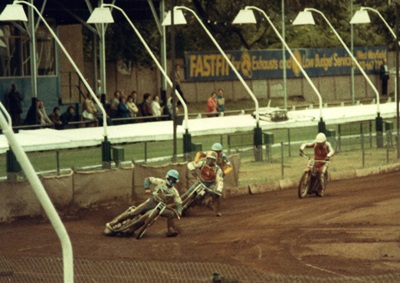 3) Phil Jeffrey leading Eric Broadbelt, other two unknown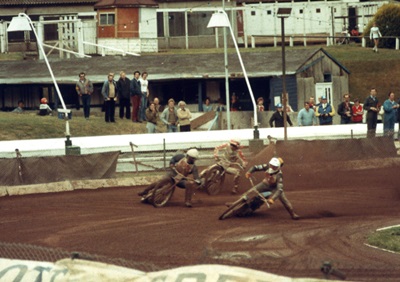 4) Yellow out of shape ? White Wilcock, Red Fiora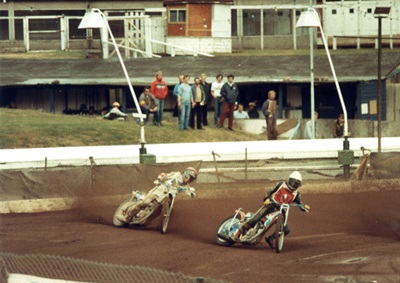 5) White ? Red Fiora.

6) Blue Phil Jeffrey, Red Fiora (lost helmet colour?)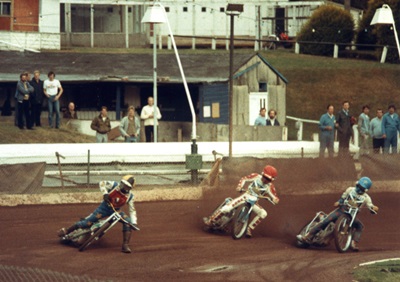 7) Yellow Broadbelt, Red Fiora, Blue Jeffrey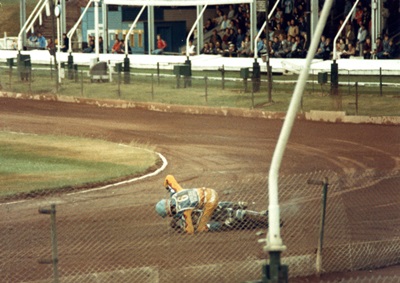 8) At first I thought the fallen rider was Paul McHale but on closer inspection I now think that it could be Tony Rizzo?
Over to you experts!
This article was first published on 2nd February 2014
---

Dave Allan:

"I think you're mixing up Fiora with Sean Courtney in some of these grand old pics. Here's what I think: 1. Correct. 2. Brett Saunders (w), Mark Fiora (r), Roger Lambert (b). 3. Other two riders are Tony Rizzo (r) and Michael Irving (w). 4. John Walmsley looking stylish, Wilcock (w) and I think Sean Courtney (r). 5. Brett Saunders in white. 6. Again I think Sean Courtney behind Jeffrey. 7. Ditto 7 above. 8. It is Tony Rizzo. Paul McHale didn't ride in the meeting, Rizzo took his place in the programme. The meeting took place on Friday 27th July 1984, Stelrad Monarchs running out 44-34 winners."
Mike Hunter:

"2) White Brett Saunders, Blue Tony Rizzo. 3) 3rd Rizzo 4th Michael Irving. 4) 3rd Sean Courtney Out of Shape John Walmsley. 5) White Saunders. 6) Red Sean Courtney. 7) Red Sean Courtney. 8) Tony Rizzo."
Steve Baker:

"I have some names for the unidentified riders on the Edinburgh v Barrow pics. Pic 2, white is Brett Saunders and blue is Roger Lambert. Pic 3, blue is Tony Rizzo, white is Michael Irving. Pic 4, yellow is John Walmsley, red is not Mark Fiora its Sean Courtney. Pic 5, white is Brett Saunders. Pic 6, not Fiora with no helmet colour, its Sean Courtney again! Pic 7, in red, once again, Sean Courtney. "

[ Use Mobile Version ]

Comment on this Article | Contact Us | Go Back to Main Menu