Born In Another Time
Details of the latest book from Speedway Fiction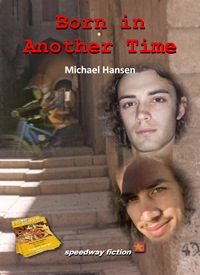 IN 1979, a speedway flag-waving tour of the Middle East saw British League stars such as Peter Collins, Dave Jessup, John Davis and Dave Morton take part in the Craven 'A' Middle East Masters Championship on tracks in Egypt, Kuwait and Abu Dhabi. It followed in the wake of a smaller tour of Kuwait the previous year.
But the first speedway tour to that simmering region occurred in 1977 when a Wimbledon side took on a Gulf League Select in two demonstration matches to promote Israel's national stadium at Ramat Gan on the outskirts of Tel Aviv.
Poster-boy for the tour, Joe Barnes finds himself up against his nemesis, Archie Ross, who gets a last-minute place in the League side. But if Joe thinks this will be his biggest challenge on the tour, he will find that greater dangers await him in this cauldron of culture and politics.
A chance friendship struck up with two Arab waiters at his hotel proves to be not so innocent. Rafi and Jamal show him the night life of Tel Aviv and come to watch him practise at Ramat Gan but their interest in speedway is not their only motivation.
When Joe discovers the truth, it proves a shocking introduction to the hatreds that burn in this sun-baked land. In a race against time, he must try to save the meeting and, if he can, to rescue his friends from their own self-destruction.
And three decades on, Joe has another job to do. He must try and heal some wounds that he inflicted himself ...
(ISBN: 978-0-9574214-3-1)
This article was first published on 3rd March 2013
[ Use Mobile Version ]
Comment on this Article | Contact Us | Go Back to Main Menu