A Tribute to Brian Brett
by Mark Dell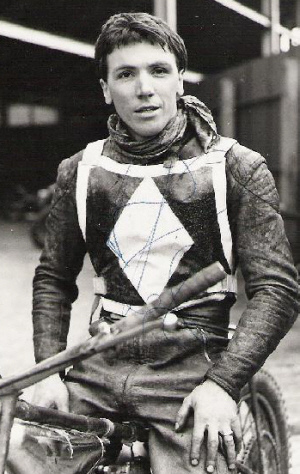 Brian Brett
Former speedway rider Brian Brett died in November aged 68. Brian was born in Stanstead Abbots, Hertfordshire in 1938 and had his first rides on the speedway track at Rye House in 1956, when it was mainly a training track to produce upcoming stars of tomorrow for the cinder sport.
Riding alongside other teammates Vic Ridgeon, Dave Slater, Gerry King and Bobby Croombs he made good progress and was able to move to Southampton for the 1958 season, who were in the National League, the sport's top division. He made only a handful of appearances for the Saints in two years there and moved to Swindon in 1960, where he joined up with another East Herts man, Mike Broadbank, a Swindon legend, eventually making his debut for the Robins on 23 June. He finished that season with a match average of 2.45 from eleven outings.
Brian made steady progress during the early 1960s with the Robins, increasing his average to 4.93 in 1961, 5.42 in 1962 and 6.44 in 1963. The next four years were to represent the pinnacle of his career as he boosted his scoring power at Swindon in 1964, with an average of 7.14 by the end of the season, and collected the track record there on 13 June at 71.6 seconds, which he held for a month before Barry Briggs lowered it.
He also represented Great Britain at reserve in the World Team Cup final in Germany and gained a bronze medal. Brian announced his retirement at the end of the 1964 season to concentrate on his business interests, having made 156 appearances in the Robins colours.
The lure of the track brought Brian Brett back to riding for Newcastle in 1965, for his most successful season yet. Riding with the emerging star, and future six times World Champion Ivan Mauger, Brian topped the Diamonds averages with 8.82 and recorded six maximum scores.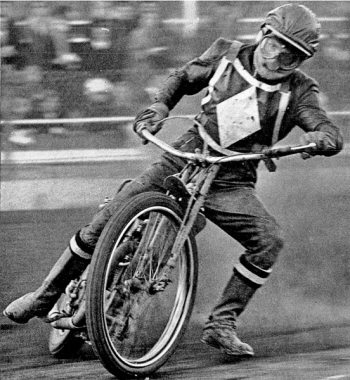 Brian riding for Newcastle
After qualifying through the various rounds, he reached the World Final at Wembley in 1965, and in front of 70,000 fans, he finished sixth with nine points from five rides, the highest placed Englishman in the Final.
The following season he remained at Newcastle, registering an average of 7.74 from 35 matches, before racing one final season in 1967 at Cradley Heath, where despite starting mid-way through he managed 20 matches for a 7.34 average.
Brian made his international debut for Great Britain on 4 July 1964 in a test match against Soviet Russia at Wembley and scored 7 plus 3 from six rides. In all he rode six times for Great Britain or England against the USSR, with his highest score being 12 plus 1 in 1966, and five times in internationals against Scotland.
He was also an accomplished footballer and appeared regularly for Stanstead Abbots Football Club, the forerunner of the current St Margaretsbury FC.
With thanks to Robert Bamford, www.newcastlespeedwayhistory.co.uk and International Speedway.
This article was first published on 5th January 2007
---

Nigel Bown:

"I can't remember the details of the meeting but I well remember seeing Brian getting a flyer from the gate at Poole with a determined Ove Fundin chasing him but unable to catch him up! The race time was extremely fast and the track record may have been equalled or beaten. Ove always hated to be beaten and told Brian afterwards, with a grin, I'll beat you next time!"

[ Use Mobile Version ]

Comment on this Article | Contact Us | Go Back to Main Menu