Riders to Remember....Bruce Cribb
By Tracy Holmes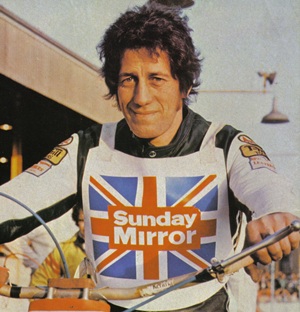 Bruce Cribb
I will never forget the first time I saw Cribby. Early 70's, Gisborne, NZ. He had taken on Freddie Timmo, Colin Farquharson, Bob Andrews, John Goodall, Jim Wells, Mike Fullerton... What a night!
I took my programme into the pits and got his autograph. He towered above me, scrawled his name and walked into the night. With all that hair, he could have walked right into any one of my brothers LP covers and joined Deep Purple, Led Zeppelin or Jethro Tull. I knew very well who he was and what he had done so far in his career as my trusty Champions Books of Speedway 1 & 2 had told me. League Champion with Poole in 69!
From that night on, I followed his racing exploits closely and was so thrilled when he won the NZ Championship in 72. That may mean very little to outsiders but here, it was big news. He had travelled to Christchurch and beaten the local guns Roger Wright, Graeme Stapleton and Tom Black, on a borrowed bike, to finish the night unbeaten! Brilliant!
Over the NZ seasons, Bruce had also been a regular sight in NZ Test colors, taking on the British Lions, Sweden and even the U.S.A.
Cribby's career in the British League is well documented in Backtrack and the Cradley websites but this is a little piece that looks outside League box. Could Bruce ever be a World Champion? Unlikely BUT a World Champion he became!
Cribby rode for NZ in the World Cup every year from 1974 to 82 and when the Kiwi's won the Gold Medals in 1979, his long service efforts were well rewarded. Then after a 5 year break, Bruce was needed in the same competition, riding for NZ in the 1988 campaign.
Another competition where Bruce got a shot at stardom was the World Pairs Championship. In 1975, NZ was to be represented by Ivan Mauger and Barry Briggs. However, Briggo got dinged up and couldn't ride while Mauger chose not to take the selection. So, Cribby got called up alongside Gary Peterson. They went to Frederica in Denmark for the Semi-final where only the first 3 of the 7 teams would join Poland in the Final. Well, they didn't make it. The hosts by Ole Olsen/Bengt Norgaard won with 24 points. 2nd were Sweden, Anders Michanek/Soren Sjosten 22 then Australia by John Boulger/Phil Crump 22. The Kiwis were 4th on 20 points. Pretty close but sadly, not close enough.
It was the same year that a truly bizzare situation occurred that may have robbed Bruce of a shot at a place at Wembley, for the World Speedway Final itself.
In the World Speedway Championship, Bruce had made it to the British Semi-Final stage a few times. If the World Final was at Wembley, the British Final was the last hurdle for Commonwealth riders. In other years, there would be further rounds. A British/Nordic Final then a European Final. But in '75, it was change about. Kiwi and Oz riders would compete in 3 British rounds, then split to a new round, the Intercontinental Final before the European Final. The Poms only would ride in their British Final. Well, only 2 places were made available to NZ in this Intercon... round. And when Barry Briggs was injured in a Longtrack smash, he was seeded direct to one of those spots! It appeared that the Kiwi 'old boy network' was in full steam.
Bruce rode in his 3 qualifying rounds and scored a splendid 34 points out of a possible 45. But this did NOT secure him a place in the next round. Ivan Mauger was brilliant, 45 points the maximum. So he joined Briggo. Now it must be said that Briggs did offer Cribby all of his equipment should he decide not to ride. But, ride he did.
Instead of Bruce lining up at Gothenburg for the biggest meeting of his career, for which his hard earned points had justified, Briggs got himself doctored up and scored a single point! 3rd in round 1, he got smacked-up in the second and was unable to take any further part. This fiasco was a disgrace and poor Bruce was cruelly denied his rightful opportunity to grace the World stage.
Could he have qualified? Not the point. Bruce went into print, "I'm annoyed as any man has been but I've seen what happened to other riders who have shouted their mouths off in public."
In 1976, it was all change again for Australasian riders with their own qualifying rounds in NZ and Australia. But Bruce decided on staying in Europe where he had the opportunity of riding in the World Ice Championships.
Taken from Backtrack, "Bruce qualified for 3 World Ice Finals, although he only remembers his last appearance- at Eindhoven in 1988- for the fact he failed to score a point after suffering from gout in his knee, although he only found out what was causing the problem 4 weeks later."
In the last several years, Bruce has been frightening the life out of people, roaring around tracks on his ice bike, as 'The World's Fastest Maori'. Still the entertainer and still with that wicked but endearing smile.
Looking through the years of his career, it's amazing to see his name linked with Poole, Exeter, Cradley, Bristol, Wolverhampton, Oxford, Berwick and Birmingham, have I missed any?
From his first rides in 1963 to still blasting around in the 2 k's, Deep Purple's hit Black Knight could well be his anthem.
We want to feature similar articles on riders from any era of the sport's rich history. If you'd like to contribute a piece then email us at speedwayplus@hotmail.com or fill out our form here.
This article was first published on 1st April 2010
---

Adrian Pavey:

"Cribby - the Black Country Maori! What a hero, he was hard as nails too. My best memories of Cradley are from the late 70s when the likes of Cribby, Dave Perks and Arfur Price were there. In later years he had an engine tuning business not far from Dudley Wood stadium, he may still be there, (I haven't been home for 15 years so I don't know) and his ice exploits with Paul Evitts, (another Black Country hardman) were the stuff of ledgend in the Cradley pubs. Nice one Tracy, thanks for bringing back some bostin memories."
Andy Daly:

"I remember Cribby at Brough (although I'd seen him ride at Halifax and Belle Vue before). The occasion was (I think) the Tyne Tees Trophy, or failing that some sort of Pairs match. I guess 1984. Anyway, it was raining stair rods; I think we had got through the 6th heat, then it was called off. Typical! especially as I'd brought friends along for a first time visit. Everyone was pretty cheesed off. I think Cribby caught the sense of the crowd, and so, after a bit of build up, came out on his ice bike, and in the mud, rain, plague of frogs etc. produced a faultless few laps, really leaning over proper ice-style, thrilling stuff, by way of compensation for us sodden punters. What a nice gesture! Things like that don't get forgotten."
Irene Nixon:

"I live with the madman maori, he's still mad as a bucket of frogs, but a lovely man."
Andrew Farrar:

"The Brough Park meeting was in 1984 and was called the "Marlboro Best Pairs". As the Diamonds were British League that season, I think Cribbie only got the invite because he was then doing something of a mini-tour breaking track records on his ice bike."
Tim Court:

"Please excuse any inaccuracies in my recollection as I was only a young kid at the time. Now I'm a silly old fool. I was a keen Poole Pirates fan and my hero was Ross Gilbertson followed closely by Bill Andrew. I am sure (here we go!) that Bruce was introduced to British Speedway by Bill in 1965. My memory of Bruce was that in his first few outings he just went flat out usually ending up in the fence before completing a lap. The sages in the crowd put this down to the larger tracks down under and each week we willed this exciting young man to hang on for four laps. Each circuit he got faster and faster and nearer and nearer to the fence.... Every time he went down the crowd went silent - until he eventually got up with a big grin and a cheery wave - sending the crowd wild with cheers of relief... Over the next five years as I grew up I watched this young nutter grow into our hearts and become a cracking rider - then he went and (gasp) joined our arch rivals Exeter bl**dy Falcons! Great memories probably tinged by gross innacuracy.... "
Neil Corbett:

"I have met and worked in the pits with Bruce back in the 80's when he rode for Wolves. He was a true profesional always looking after the younger riders regarding set up and a like. I still see him around Wolves from time to time, he hasn't changed much. Great rider and guy to have on your side, speedway misses the riders of the seventys and eighties - what a great time to watch speedway."
Neil Wheeler:

"My memories of Bruce Cribb are from when he first started riding at the speedway in Palmerston North before he went to UK. There were a lot of good riders around in those days including Ronnie Moore, Barry Briggs , Bob Andrew , Ray New and of course Bruce's father Kiwi. One particular Saturday afternoon I was at the speedway, I think it must have been a practise meeting. A bike race lined up, including Bruce.The field throttled up waiting for the tapes to drop at the start. Bruce must have overdone things as when the field took off his bike reared up and Bruce was left sitting on his backside on the track as the rest of the riders accelerated away. What a great career he has had since."
Alan Dunesby:

" Bruce Cribb, met at Poole Speedway Dance 1965, photo with my girlfriend Barbara, now my wife of 45 years, neatly installed in our photo album. Still love speedway, but no rider comes near to my appreciation of Bruce. 100%every race, terrific style, never had any money, seen riding a vespa scooter in the winter of 65. Remember a meeting when announcer stated Bruce had bought a brand new bike, which he couldn't afford and first ride crashed, got up and walked away not being able to look at his bent "investment". I felt sick for him. Watched his career closely and was dissapointed to be told that he had attended Poole's 60th dinner in 2008(which we had not). Often wonder if he's still in Britain, but he must be as a Irene Nixon above says she lives with the "madman maori". Good luck to him. Is he still doing engines as I remember him being brilliant with speedway motors."
Jerry Willmott:

"Cribby was one of my favourite riders at Poole, where I was introduced to the sport by my Dad in about 1961 (gulp!). A true giant, both literally and metaphorically. Irony is that I now live in the land of his birth! Tim Court - I think we went to school together in Wimborne ..."
Tim Court:

"Hi Jerry - we sure did! Hope you are well. "
Tony Parrry:

"I've known Bruce since his Cradley days and can confirm that he is indeed as mad as they come! He is however a great guy and I have many memories of Bruce's exploits most of which no one would believe unless they were there. I can also say that Bruce has a handshake best avoided if you need to use your right hand during the next 24 hrs! All in all a great whole hearted rider ,a true Cradey legend and most of all a really good laugh and someone I am proud to say I know."
John Horsley:

"Sadly, my team Hull Vikings are no more, but I remember Bruce. He rode for Cradley at Dudley Wood when I first saw him. Going toe-to-toe with Bobby Beaton and Graham Drury were among my favourite moments. Good old fashioned racing and proper speedway. Later, in 1979, for the first time ever, a few friends and I were invited to go ice-racing with the guy who had Cradley's (amongst others) track shop, Dave Rattenberry. Dave also did tours for TEE-MILL. They sponsored Bruce and that year we went to Inzell in Germany. I have still got the ice spike, which we got when we booked. I think Bruce rode under the TEE-MILL banner for a few years after that. The highlight for me was when Bruce won the World team Cup with New Zealand at a damp Reading. By that time, the Vikings had Ivan Mauger. Great days, nice to hear he is still fit and well AND as mad as a box of frogs! Why change anything!"

[ Use Mobile Version ]

Comment on this Article | Contact Us | Go Back to Main Menu