Riders to Remember....Bruce Penhall
By Tracy Holmes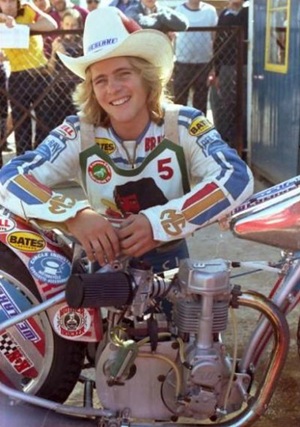 Bruce Penhall
I first saw Bruce at Templeton here in Christchurch when he toured NZ with the Mauger/Briggs travelling circus in '77, his wheelie competitions with Zenon Plech were outstanding. The way he kept up with the World Champion Peter Collins and Mauger himself was also hugely impressive.
A couple of years later, he arrived unannounced and made Larry Ross really sing for his supper. Borrowing a bike from Patrick Pawson, which stopped a couple of times, his wheel to wheel dices with Larry were a rear treat and a wow factor 10 for us locals.
Another couple of years later, he was back as World Champion. And thankfully it wasn't for exhibition races. Kenny Carter wasn't here for a holiday and he was hell bent on winning the meeting, which he did with his partner Craig Pendlebury. The World Pairs Champions, Penhall and Bobby Schwartz were second after Schwartz beat Larry Ross in a titanic battle that went to a photo finish. So Ross and Ivan Mauger were third. While Bruce wasn't going to get into a scrap with Carter, neither did they give anything away. Templeton sure got its money's worth. And from entertainers like Penhall, I didn't expect anything less.
One of his most outstanding performances, well before his World Title was at the '79 World Pairs Final, 22 June, Vojens, Denmark. He had qualified with Kelly Moran who was now injured and unable to ride. Then, Steve Gresham was stranded at Heathrow by a strike and Bruce represented the USA all by himself. This brought out the best in him and from his 6 races, he won 4 with two 3rd places. In those races, he was beaten only by the Gold Medalists Denmark; Sir Ole Olsen/Hans Nielsen and the Silver Medalists England; Malcolm Simmons/Mike Lee.
The scorechart read Denmark 25, England 24, Poland 20, Australia 19, USA 14, NZ 12 and Finland 7. This was a massive, single handed effort and one all but ignored in certain books and doco's of the time. But it was equally a massive wake-up call to any that may have doubted Bruces 'true grit'.
Of course, he also won the 'Master of Speedway' series that year. For some super-stars, this event wasn't anything but 'paid practice' but for Bruce, it was a major stepping stone in his quest for the Big one. As the 'starshine' of Ivan Mauger and Ole Olsen began to fade, not forgetting that the last 3 World Finals of the 70's were won by Mauger/Olsen/Mauger, the crown princes; [Tommy Jansson remembered], Mike Lee and Bruce Penhall were polished and ready to pounce. Which is exactly what they did.
The 80's began with all sorts of excitement and promise...that ended in disaster. Wembley was lost, as twice World Champion, Penhall quit, the Norden fiasco, the Moran brothers, the Lee debacle, Billy Sanders, Kenny Carter, the Danish domination that was only ended by the Gundersen horror crash in '89.
As for Penhall's part, I will never forgive him for what he did. Which shows what a selfish sod I am.
I can only ask for people to think back to 1972. If Ivan Mauger had have quit after winning the World Final at Wembley. Imagine the rest of the decade without Mauger. Well, it would have sailed on. Yes and so did the 80's. But without its Number One super-hero, it was never quite the same, somehow.
The same thing happened to the 90's when Jan O Pedersen's career ended in '92 with injury. Not forgetting Per Jonsson two years later. But Penhall! I know he had to do what he did. Anyone who cannot see it just has to listen to the song, "It never rains in California" by Albert Hammond, I think. That song puts into words just why Bruce had to accept the offer he could not refuse!! Speedway's Golden Eagle became Speedway's lame duck!
For me, and many others, Speedway could never be and was never the same again. That's how big Bruce Penhall was and its that way I choose to remember his oh so glorious , 'Superstar' career.
We want to feature similar articles on riders from any era of the sport's rich history. If you'd like to contribute a piece then email us at speedwayplus@hotmail.com or fill out our form here.
This article was first published on 4th June 2009
---

Bri:

"Saw him ride at Ellesmere Port and assisted the St Johns when he bashed his ankle in a crash. I was muddy and they were clean so I removed his boot for them to work on him (I am a first aider). His manager was distraught but Bruce was as laid back as his character in Chips."
Maribel:

"The first time I saw Bruce was in CHIPS and I thought who's that really handsome guy? I would like to see him again in movies."
Mike Willis:

"Tracy, I too have never forgiven Bruce for quitting when he did. I was a Cradley Heath supporter and for nearly 20 years we had had with dreadful teams. In fact the Wolves fans called the Heathens the Spoons because we always finished bottom of the league-but the fact we still supported then shows how loyal speedway supporters are!. Anyway, we were league champs in 1981 and looked ike being champs again in 1982 and it was really great after years of watching rubbish (no offence to the riders!). We were top by a few points when Penhall quit with a few meetings to go. How do you replace a rider with an 11+ average-answer-you can't. So we were overhauled and didn't win the league. Penhall quit to make sure he won the World Championship as his Hollywood career depended on it. Anyway, we won again in 1983 without him-with a team often described as the greatest speedway team ever (total average was 63.00). He went on to become a champion in several other sports and has been described as the man who was too big for speedway. He was without doubt the best rider I ever saw at Dudley Wood and was a big loss to the sport in general. The best you can say I suppose is that he followed his dream and you can't really argue with that. "
Paul Gillingham:

"Met Bruce in Calfornia 18 months a go. Very good bloke had time to talk to us, signed photos. I do remember him when he rode over here for Cradley."

[ Use Mobile Version ]

Comment on this Article | Contact Us | Go Back to Main Menu