Brummies Hall of Fame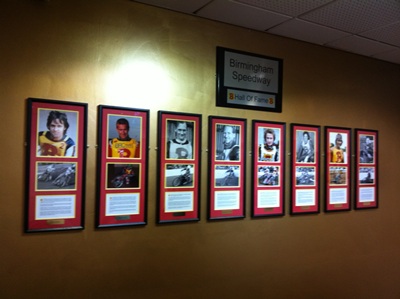 Birmingham Speedway opened a permanent Hall of Fame at Perry Barr Stadium on August 11th 2011. A 'team' of 8 riders were initially inducted following consultations with Birmingham Speedway Supporters Club, who incidentally, were the biggest financial contributors to the project.

A further four riders will be inducted at the end of the 2011 season, thereafter, supporters will be able to nominate their favourite riders to the Supporters Club for consideration to be inducted.

The initial eight inductees were: Graham Warren, Stan Dell, Alan Hunt, Phil Herne, Jason Lyons, George Major, Hans Nielsen and of course, Arthur Browning.

Brummies promoter Mick Bratley said:

"It has been a season long labour of love for me personally and I have learnt an awful lot about the Brummies past and feedback from the Brummies faithful has been extremely positive. One Speedway Plus (pun intended) is the fact that thousands of Greyhound punters will now be walking by the display on an almost daily basis and is therefore an added bonus in our promoting the sport in the second city."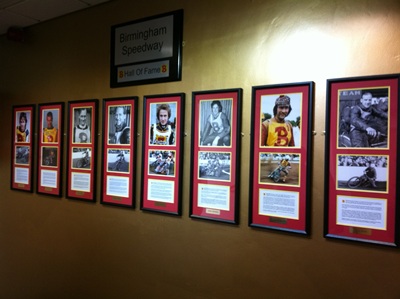 Pictures courtesy of Mick Bratley
This article was first published on 27th August 2011
[ Use Mobile Version ]
Comment on this Article | Contact Us | Go Back to Main Menu