'"Ghosts in the Bull Pens" Celebration Day
By Steve Magro
It was a parade of champions and former competitors who turned out in force at PJ Gallagher's Hotel, Entertainment Quarter, Moore Park, to celebrate the "Ghosts in the Bull Pens" Sydney Showground Speedway history book release on Sunday, June 9.
Over 650 people attended what was a wonderful day of nostalgia, reflecting on a magnificent era at one of the most famous speedway venues in the world.
Car and bike stars from yesteryear mingled with competitors of the modern era in what represented one of the biggest gatherings seen in Sydney for many years.
Nigel Boocock, Greg Kentwell, Garry Rush, Steve Brazier, Bryan Cunneen, Brian Mannion, Sid Middlemass, Peter Bowland, Kevin Gormly, Alan Streader, Bob Pymble, Phil McCurtayne, Greg Griffiths, Craig and Steve Brady, Darren Jenkins, Ken Jenkins, Bob Tunks, Wayne Forrest, Carl and Steve Askew, Craig Watson, Mick Wilde, Gary Guglielmi, Bob Baker, Bob Caslick, Garry Treloar, Warren Sullivan, Steve Rychvalsky, Mick Lillis, Ken Barlow, Bruce Maxwell, Gordon Smee, Chas Kelly, Ray Noble, Arthur Briggs, Mick McCoy, Reg McCarthy, Neil Grant, Geoff Watson, George Liebrand, Gordon Nelson, Dennis Farr, Brian Linigen, Gary Stacey, Tony Bennetts, Graham Hartman, Larry Simons, Ron Mudford, Jack Belshaw and 88 year old Graham Williams were just some of the competitors who made the curtain call for the afternoon's presentation.
Journalists Dennis Newlyn, Peter White, Peter McKay and Jim Scaysbrook were also present.
Race footage from the fifties, sixties, seventies, eighties and nineties was screened as part of the day's book release activities.
Interviews with many of the stars from yesteryear were conducted on centre stage. The man who brought down the curtain on the 70 year history of speedway racing at the Royale, David Lander, was one of the guests who spoke of his memories of the Sydney Showground, firstly as a fan, then competitor and ultimately promoter who etched his name into Sydney Showground Speedway folklore.
Proceedings commenced at 1PM sharp with an introduction by Steve Raymond.
Nigel Boocock told the big gathering that not even riding in front of 100,000 fans at London's original Wembley Stadium on World Final night could match racing at the hallowed Sydney Showground Speedway.
His statement aptly described what the venue meant to so many people.
The 520-page "Ghosts in the Bull Pens" coffee table edition is truly a collector's item,with over 1300 images and 28 enthralling chapters.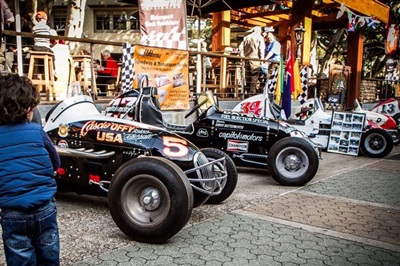 Speedcar display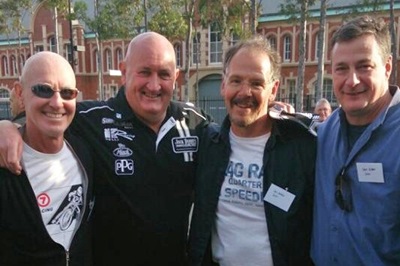 Bob Baker, Wayne Forrest, Carl and Steve Askew - Solos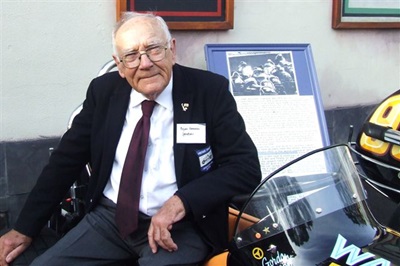 Bryan Cunneen - Speedcars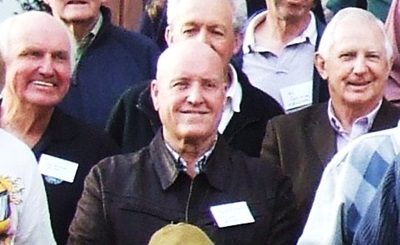 Bob Blacklaw, Bruce Maxwell, Garry Rush
Sprintcars/Sedans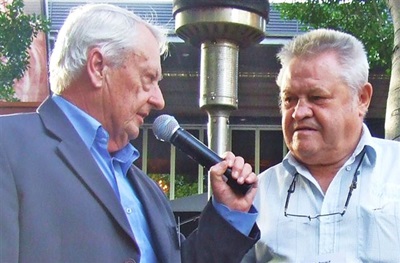 Dennis Newlyn and Nigel Boocock - Solos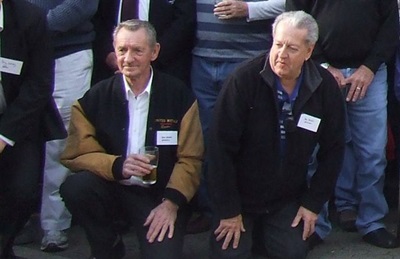 Steve Brazier and Ken Jenkins - Sprintcars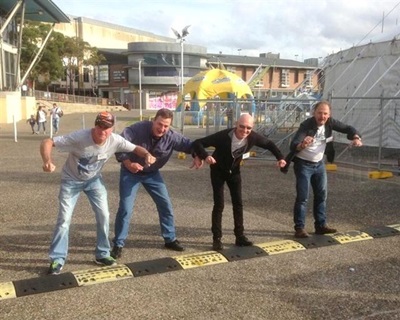 Mick Wilde, Steve Askew, Bob Baker, Carl Askew - Solos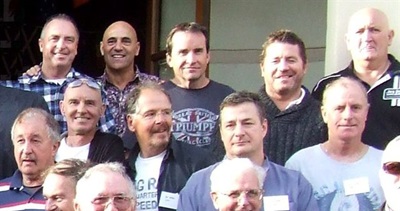 Mick Lillis, Gary Guglielmi, Mick McCoy,
Scott Stevens, Wayne Forrest, Reg McCarthy,
Bob Baker, Carl and Steve Askew and Mick Wilde - Solos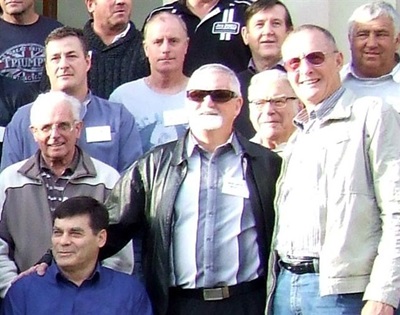 Phil McCurtayne (right), Warren Sullivan,
Bill Dudenhoeffer, Alan Streader and Brian Linigen,
Steve Askew, Mick Wilde and Larry Simons.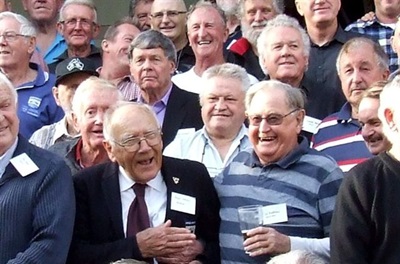 Kevin Gormly, Bryan Cunneen, Sid Middlemass,
Nigel Boocock, Greg Griffiths, Reg McCarthy,
Greg Kentwell, Graham Hartman, John Church.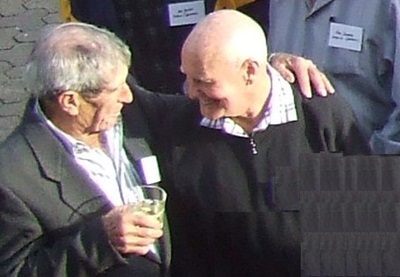 Brian Mannion and Peter Bowland - Speedcars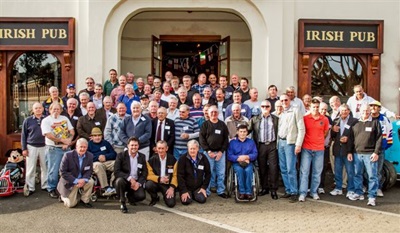 Group Photograph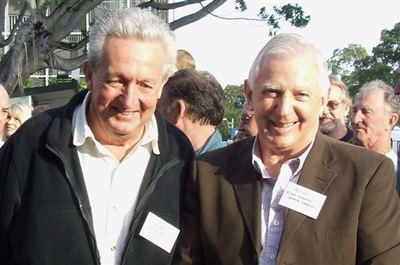 Bob Tunks and Garry Rush - Sprintcars
This article was first published on 16th June 2013
---

Cheryl Timms:

"Great to see some of the people that raced at the Ekka when I was going there. Garry Rush was a favourite of our family, Sid Middlemass and Brian Mannion were others I saw race. Shame that our tracks are disappearing. Lovely memories. Thank you for sharing."
Ivan Blacka:

"It was nice to see Gary Guglielmi attending the reunion. Great place the Sydney Showgrounds were. I used to sneak in the place at night when I was there in 1979 and make all my long distance calls from the speedway trailer to my mother in the USA. The window was always left open and being the poverty stricken rider I was. I wonder if they ever found out..Little speedway story for you."
Ron Turton:

"Wish I had known it was on. Would have ben there for sure. Oh well I still have great memories of the 60's. Saturday nights at the Royale Wow! Just the best. I have a copy of Ghosts In The Bull Pens. Great photos but full of mistakes. Also purchased the souvenir T Shirt. That was a joke too. The side cars were going the same direction as the solos. Dear Oh me. Who put this crap together. A disgrace to the best sport in the world. "

[ Use Mobile Version ]

Comment on this Article | Contact Us | Go Back to Main Menu