Riders to Remember: Byrd McKinney
By John Hyam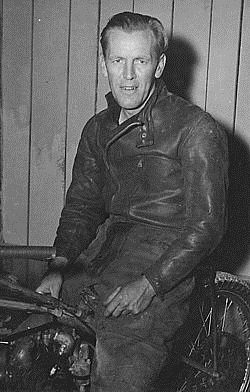 Byrd McKinney
AMERICAN rider Byrd McKinney had a brief spell with Wimbledon in 1937. I believe he also raced in the UK in 1936 as a member of Putt Mossman's teams. In Britain, McKinney does not rate alongside his more famous fellow countrymen, but it seems he built a good reputation in the USA.
Here is some information passed on by an American contact:
"McKinney was third at the very first USA National Championship in 1934 for what they then called night speedway. For some reason what we call speedway today was spun off by itself or at least was identified as a special form of dirt track racing. This was probably due to what was happening in the rest of the world. "Class "C" (or flat-track) didn't exist in the early days and only spotty in the run up to WW2. After the war it took over and Class "A" which once was everything, sidecars included, all but died.
In 1934, the USA Nats were held at the Los Angeles Coliseum and McKinney came third behind winner Cordy Milne and Lammy Lamoreaux. He was third again the next year at Fresno State College Speedway. Cordy Milne won it and brother Jack tied with Miny Waln for second, McKinney tied with Pete Coleman for third. I don't have any run-off info so presume these were the final results.
McKinney also won the 100 mile Ascot race in 1934. Speedway bikes ran longer races with bigger tanks, mounted the usual way like a regular bike, on top of the diamond.
When speedway revived after WW2 in California, McKinney came back for several seasons and was again a leading rider in California."
This article was first published on 15th November 2015
[ Use Mobile Version ]
Comment on this Article | Contact Us | Go Back to Main Menu