California-in-England Reunion 2012
By Stuart Towner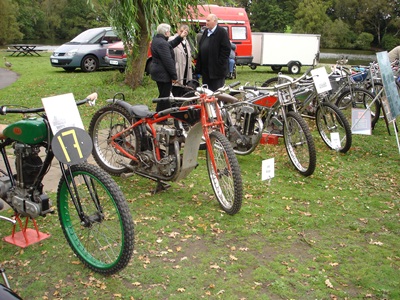 Part of last year's display of machines
That time of the year is fast approaching for the Friends of Speedway organised Seventh California-in-England Speedway Reunion on 7th October 2012.
The full address is: California Country Park, Nine Mile Ride, Finchampstead, Wokingham, RG40 4HT. This is situated on the B3430 coming from the A322 junction 3 off the M3. There is a large sign at the entrance to the park and a pay and display car park; then there is a short walk to the display area which will include a selection of machines covering over 80 years of speedway.
If you have any memorabilia/memories please make your self known to any of the Friends of Speedway members bearing their name badges. We are still searching for any cine film not only of the racing, but of the park in general that could be loaned to be copied. It is a never-ending search for items of interest of all the different activities that that went on in the park; not only speedway.
Also on display will be speedway photographs and team body colours including a reproduction California Poppies one.
Here you will be able to talk with riders from the 1950's California Poppies team. You are invited to ask questions at any time and all officials will be sporting their name badges.
Machines will be started at various times during the day; you will smell the intoxicating aroma of Castrol R and Methanol to bring back memories of those earlier un-silenced days of speedway. Also we are hopeful of a celebrity guest of international fame and are keeping our fingers crossed that he will be able to attend. Also attending will be the family of Poppies Captain, Ron Sharp and Neil Roberts junior.
At the time of going to press the organisers are waiting confirmation from one or two new personalities whether they can attend or not.
Part of the presentation will be a guided walk where you can see the original children's paddling pool from the holiday camp days which has been cleared by Friends of Speedway personnel and part of the railway track that took clay up to the brickworks which is how the lake was formed. You will be able to stand on the concrete start/finish line with marked out starting boxes (the only surviving one that we know of); where a member of the original track staff will give a short talk of his duties there. For those interested you can walk the racing line (stout footwear recommended) as it is very overgrown.
The park offers a wealth of historic interest in itself, plus a cafeteria with toilets including one for the disabled.
The display will be open between 11am 'till 4pm.
For further information please call Stuart Towner on 0208-397 6599 or stuart.towner@blueyonder.co.uk
[ Use Mobile Version ]
Comment on this Article | Contact Us | Go Back to Main Menu