Celebration of Speedway 2020
By Tony Hurren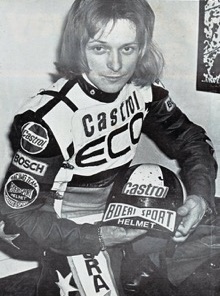 New President - Egon Muller
The committee of the World Speedway Riders' Association has now finalised the detail for the Celebration of Speedway to be held at Paradise Wildlife Park on Sunday 23rd February 2020. A record attendance is expected.
The incoming WSRA president is former World Champion Egon Muller, who will succeed Mike Broadbank. Egon has not attended a speedway event in England for many years and his presence is being widely acclaimed.
To mark the occasion there will be two x twenty minutes signing slots where Egon will be signing a limited edition photograph of himself. The cost of the autographed photograph will be £2. All the proceeds will go to the Speedway Riders' Benevolent Fund.
It will be a case of first come, first served because there are only one hundred of these photographs. The first signing session will be at noon in the marquee.
The WSRA's Anual General Meeting is scheduled for 2.10pm in the Discovery Centre and all members are asked to attend. Egon Muller will be formally inducted as president - but the big handover of the chain of office will take place for all to see in the marquee at 2.45pm.
There will be a significant new initiative taking place in the marquee. Visitors will see the unveiling of a very special work that has been lavishly put together by sub-committee member Grahame Atkinson. No clue now - you will need to be there to see it.
The marquee will be packed with memorabilia which will include programmes, books, magazines, speedway clothing, DVDs and much more from 1928 up to the present day. If you're thinking of going further afield to see a Speedway Grand Prix, tptours executive James Easter is the man to see. He'll be there.
The WSRA will have a stand where non-members can join the Association and a new initiative will be an on-going tombola bottle stall with countless prizes.
The National Speedway Museum has had a spring clean and everything looks gleaming. If you've been before you will still marvel at what's in front of your eyes. If you haven't been before you will be overcome with emotion.
Outdoors there will be a pits area where pit marshal Richard Greer will oversee speedway bikes of all eras fired up on the hour. You can almost smell the aroma reading this.
The Isle of Wight, Kent, Peterborough and Swindon will have specific exhibits. Colin Knight will be showing his wonderful range of vintage speedway bikes; with other displays managed by Martin Hagon; Julian Wigg; Chris, Claire & Sam Norris, spares man John Carpenter, speedway historians Sue & Stuart Towner and many more.
Speedway's top announcer Craig Saul will be the Master of Ceremonies and he will be interviewing riders, officials and fans both inside the marquee and outside.
Admission to the Celebration of Speedway is £10 and the medium-term weather forecast is good. It promises to be a wonderful day. See you there.
This article was first published on 16th February 2020
[ Use Mobile Version ]
Comment on this Article | Contact Us | Go Back to Main Menu