Classic Speedway 13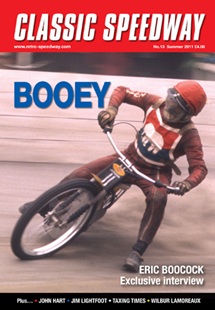 Issue 13 of Classic Speedway - the quarterly retro magazine - is out now. It's another feast of speedway nostalgia, including . . .
ERIC BOOCOCK Exclusive interview
Eric Boocock, the new President of the World Speedway Riders' Association, looks back on half-a-century in speedway and considers how much the sport has changed in that time.
One of the most enduring and charismatic characters in speedway celebrates 50 golden years in the sport this season.
Rider, team manager, promoter, World Team Cup-winning England chief and currently Sheffield Tigers team boss, Booey has certainly seen some changes in that time.
Not all of them have been for the best either, but he maintains that it's still the same sport he fell in love with half-a-century ago and insists: "It's still four blokes on motorcycles turning left."
JOHN HART Exclusive interview
John Hart about a life in speedway, taking in spells with Stoke, Cradley Heath, Sheffield, Leicester and Birmingham.
Few, if any, speedway riders of any generation can claim to have been brought up in such close proximity to the sport as 60s and 70s crowd favourite John.
The son of Birmingham legend Phil 'Tiger' Hart, and himself a hugely consistent performer with a string of mostly Midlands tracks, John actually lived inside a speedway stadium as a child.
JIM LIGHTFOOT Q&A
A World Finalist in 1963, former Coventry favourite Jim recalls the highs and lows of his career.
WILBUR LAMOREAUX
In the latest in the Legends series, a look back at the career of the former American star and World No.2 who brought personality and points to post-war Wembley and Birmingham.
CHARACTERS - TIM TEMPLETON
Meet the fan with one of the most impressive collections of vintage machinery and autographed race jackets.
Plus . .
How government ministry proposals could have had serious repercussions for the sport.
The Dutch 'pirates' who rode in Holland under assumed names.
Tributes to the late Bill Holden, Phil Malpass and Kym Bonython.
Full page colour photos of Barry Thomas and the Cradley Heathens.
AVAILABLE NOW FROM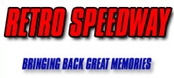 www.retro-speedway.com
This article was first published on 12th May 2011
---

Chris Stockwell:

"Congratulations BOOEY. Being involved in the World's Best Sport for 50 years a truly remarkable milestone. I'm sure both riders and supporters have fond memories and stories about Eric. My own particular memories of Eric are the years he spent at Long Eaton as manager. Booey was never the shy and retiring type. During a centre green interview he was asked about being banned from the home changing room at Sheffield, as the Invaders had beaten the Tigers, and the then Sheffield promoter (I think it was Cliff Carr) was convinced Eric had talked the Tigers riders out of winning, hence the ban. The Mike man asked Booey what His reply was and without turning a hair Eric said "I TOLD HIM TO GET STUFFED!!" MAGIC.

But not only was Eric never short of a word or two, he also took an under achieving Invaders team and turned them round and produced a team the Long Eaton Public could be proud of and a team others feared. Thanks a Million Booey. Finally it been suggested that Len Silver should be given a KNIGHTHOOD for his sevice to SPEEDWAY, and Rightly So. I also think the name ERIC BOOCOCK should be added to that list. ARISE SIR BOOEY!!"

[ Use Mobile Version ]

Comment on this Article | Contact Us | Go Back to Main Menu