Competition Result: Speedway - The Classic Era
Last week we offered you the chance to win a copy of Philip Dalling's latest book - "Speedway - The Classic Era".
About the book: SPEEDWAY The Classic Era covers the sport's first four decades, starting with its early mushroom growth and the subsequent development of league racing, aWorld Championship, and test matches pitting England against Australia. It chronicles the sport's almost miraculous survival duringWorldWarTwo, and its astonishing impact in the immediate post-war era, when eleven million people watched racing at its UK peak in 1949. Punitive entertainment tax and the arrival of television, brought a mid-1950s slump, but speedway fought back, first to stability and then to renewed popularity in the 1960s, the final years covered by this book.With a lively and informative text and more than 200 evocative and nostalgic photographs, SPEEDWAY The Classic Era is a fascinating guide to the days when for many the sport was at the height of its interest and appeal.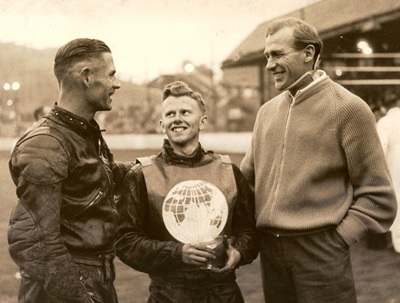 We asked - this picture shows English World Champions Tommy Price and Peter Craven, but who is the third man in the picture? The answer is former Manchester City goalkeeper Bert Trautmann. Bert was famously a German P.O.W who stayed in the U.K. and is also remembered for breaking his neck in the F.A. Cup final - hence the neck brace he's sporting in this picture. The randomly selected winner of the competition is: Vic Hinchcliffe from Stockport and he'll receive his copy of the book in the near future. If you weren't lucky enough to win then you can still get your hands on a copy by buying one from Amazon.co.uk for the bargain price of £14.99, a saving of £5 from the RRP.

This article was first published on 29th September 2011

[ Use Mobile Version ]

Comment on this Article | Contact Us | Go Back to Main Menu