Until The Ink Runs Out....
Filling in the programme is an integral part of the speedway experience for most fans. Partly to perform the essential function of scorekeeping, partly to fulfil some strange need to record the results for posterity.
Those who like to complete a neat programme should spare a thought for those attending the Coatbridge Tigers v Halifax Dukes meeting on 28th September 1973. Due to a strike at the printers there was no programme produced, surely one of the very few occasions on which this can have happened for a British League fixture?
In these days of home computing and photocopiers it wouldn't be too difficult to rush out a home-made programme but these advantages were not available to the Coatbridge promotion at that time. Instead they opted to distribute an array of unsold programmes from earlier in the season. The obvious problem being that they didn't reflect the composition of that night's meeting.
Contemporary reports described it as a cold and miserable night, so the lack of programmes probably didn't go down too well with those that had braved the elements. The fans made the best of it and one suspects the track shop did a roaring trade in pens to replace those that expired throughout the evening.
Normal service was resumed the following week, when the programme explained the Halifax meeting debacle as follows:
"Once again, apologies for the lack of programmes last week, this was due to circumstances completely out of our control. Our programme this week, which we are you sure you will find an improvement, has been produced by our old friends Edward Hough & co of Bradford whom I would like to thank most sincerely for coming to our rescue at such short notice."
Here's a copy of the racecard from the Halifax meeting, meticulously completed by an unknown hand. The individual in question was unlucky to receive a programme from three months previously, meaning that they had to contend with five changes to the Coatbridge side in addition to the necessary substitution of the entire Halifax team for the King's Lynn one. It's little wonder that the second half remains incomplete in the programme - I wonder if the ink or enthusiasm ran out first?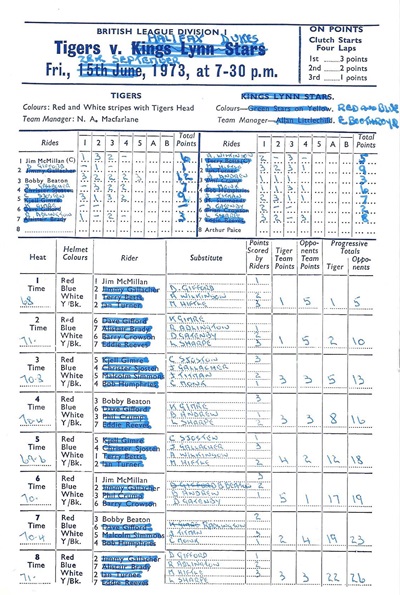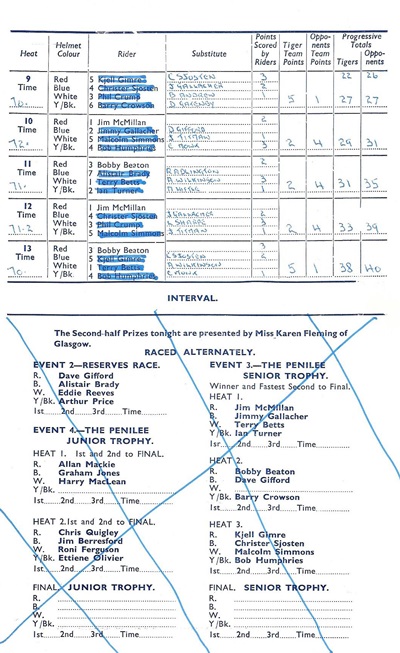 This article was first published on 17th January 2016
[ Use Mobile Version ]
Comment on this Article | Contact Us | Go Back to Main Menu