Collins v Simmons in 1976
By Tracy Holmes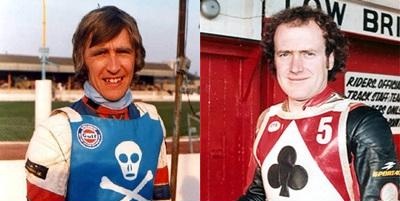 Simmons & Collins
If you have read his book, Malcolm Simmons will tell you that despite Peter Collins winning the World Final, 1976 should have been his year!
"I beat PC to win the Internationale with a maximum, did the same in the British Final... things couldn't have gone much better for me all year until we got to Katowice for the one that really mattered. PC was well looked after by Dave Nourish, his engine tuner who knew speedway inside out, but the Weslake factory took my 3 engines back to overhaul them just before the World Final and they were never the same again. I don't want to take anything away from Peter but he had so much more speed than me and the rest of the field in Poland that day, he shouldn't have been able to come past me the way he did."
Now I'm sure we have all watched that race a hundred times. Collins had 20ks on Simmons and went past him effortlessly. If only Simmons had not had his bikes 'sabotaged'?! I said that not Malcolm. I could be breaking the tapes here but it was almost as if Collins, as 'Crown Prince' was to be England's next World Champion, that 'someone' was behind making sure no-one else got in the way?!
When you listen to Dave Lanning's commentaries from 1973 onwards, it's like all the English lads were only in the World Final to help Collins become Champion. And when the defending World Title holder, Ole Olsen was knocked out of the competition, it looked even better.
The 74 Champion, Anders Michanek only qualified as reserve so the stage was set. Only Ivan Mauger and Simmo stood in his way. Phil Crump was never going to win THE big one, he has gone into print saying as much. Simmo could be taken care of and if it all went wrong for Mauger, PC was the Champion! The way I see it, that's what happened.
On the day, Simmo was beaten only by Crump and Collins. Much was made of Mauger's round 2 engine failure but Simmo beat him no trouble and had Collins have needed to, he would have had no trouble beating Ivan in heat 20. As it was, He just tucked in behind Ivan for the 2 points he needed for the Gold Medal. My point to all this? Does Simmo have a claim to 1976 being his year? Well, let's look back at his races against Collins and see how they went.
There may be more races than this and it would be good to hear of them but I have not included any 2nd half matches. And according to history sources, the two did not race each other in the Golden Helmet that year.
So it was April 15 at Wimbledon for the Daily Express Spring Classic.
Heat 12 C.Pusey, SIMMONS, COLLINS, T. Betts.
1st D. Jessup 13 2nd T. Jansson 12 3rd P. Crump 11.
SIMMONS scored 10 and COLLINS 9.
SIMMONS 1 COLLINS 0
On May 16, both rode for England in the World Cup q.round at Ipswich. PC scored 11 and Simmo 8 but England was knocked out of the competition by Australia who went on to win the World Cup Final. Four days later, the Speedway world was plunged into shock when Tommy Jansson was killed. Although not a favourite to win the World Final that year, any winner from 1978-1983 has to have it in the back of his mind that he would have had to beat Tommy for it first! He was THAT good!!!
May 31, again at Wimbledon this time for the 'Internationale'.
Heat 9 SIMMONS, C. Morton, COLLINS, M. Ashby.
1st SIMMONS 15 2nd C. Morton 13 3rd M. Lee 11. COLLINS scored 9.
SIMMONS 2 COLLINS 0
June 2 for the British Final at Coventry.
Heat 3 SIMMONS, COLLINS, B. Kilby, D. Morton fall.
1st SIMMONS 15 2nd C. Morton 13 3rd D. Wyer 13. 4th COLLINS 12.
SIMMONS 3 COLLINS 0
Simmo was selected to ride with John Louis in the World Pairs Championship and on June 6 at Miskolc, Hungary they were unbeaten to win the Semi Final.
June 12 saw the British league match Belle Vue V Poole at Hyde Road.
Heat 11 COLLINS, SIMMONS, K. Praestbro, S.Sjosten.
Heat 13 COLLINS, SIMMONS, N. Middleditch, R. Hodgson.
SIMMONS 3 COLLINS 2.
It was then off to Sweden for Simmo to Eskilstuna, the World Pairs Final on June 17. At the end of the day, he and John Louis were World Pairs Champions scoring 27 out 30 points. Malcolm was now 'riding moonbeams' and eagerly looking forward to Katowice. But before that came the last round of the World Championship;
June 26 The Intercontinental Final at Wembley. The two met in heat 7 and Collins held the lead from Simmo only for Malcolm to suffer an engine failure that knocked him back to last. The fault cleared and he was able to re-join the race but finished pointless.
heat 7 COLLINS, B. Sanders, B. Jansson, SIMMONS.
1st COLLINS 12 2nd I. Mauger 12 3rd P. Crump 11 4th SIMMONS 11.
Crumpy won the run-off.
SIMMONS 3 COLLINS 3
It was back to Wimbledon on July 1st for the Q.round of the Daily Mirror Grand Prix.
Heat 4 SIMMONS, COLLINS, S. Gresham, E. Stangeland.
1st SIMMONS 15 2nd COLLINS 14 3rd D. Jessup 13.
SIMMONS 4 COLLINS 3
The Grand Prix Final was staged at White City on August 4.
Heat 1 SIMMONS, COLLINS, J. Davis, C. Morton.
1st COLLINS 14 2nd G. Kennett 13 3rd SIMMONS 12.
[Overall results; 1st COLLINS, 2nd G. Kennett, 3rd O. Olsen, 4th SIMMONS.]
SIMMONS 5 COLLINS 3
So that's how they went to the World Final but I'm picking it was soon after that, Simmo had his motors 'done'.
From a 'Five-One' May 1997 interview, "I had three engines from Weslake and used them at a meeting at Poole in the week of the World Final. They were crap, absolutely rubbish..." Malcolm returned the engines and had them re-done. "I went to the World Final with those engines done but they were far from being quick enough." And so it proved. On September 5 at the Slaski Stadium, Katowice Poland, the World Final was held before 120,000 spectators.
The two met in heat 7. Simmo gated and Collins found himself having to get by John Louis. This he eventually did but Simmo was well in front. But with that extra 20ks advantage, PC had no trouble reeling in the British Champion and effortlessly riding by.
Heat 7 COLLINS, SIMMONS, J. Louis, J. Rembas.
1st COLLINS 14 2nd SIMMONS 13 3rd P. Crump 12
SIMMONS 5 COLLINS 4
There is no way anyone can knock Collins, he really was magnificent. And his years of effort paid off handsomely, becoming King and he so wonderfully carried the Title, Champion of the World. Should Simmons have won? Let's say he was on motors as quick as Collins. Could he beat Crump? If not, he would certainly have beaten Collins. So Collins would have had to beat Mauger in heat 20, which he would easily have done. And that would have set up a Gold medal run-off. Imagine that?! You could run that race 10 times and the score would have been 5 all. But that was the magic of the World Final. One-off pure excitement with no room for error or engine trouble. Who would have won? Sadly we will never know.
Simmo later said, "If I'd had the right engines, he'd have had a job to beat me."
Two nights later on September 7, they met again at Leicester's Golden Gauntlets.
Heat 14 COLLINS, J. McMillan, SIMMONS, J. Louis ns.
1st COLLINS 15 2nd M. Lee 14 3rd SIMMONS 11
SIMMONS 5 COLLINS 5
The following night, September 8 was the Blue Riband at Poole.
Heat 11 SIMMONS, D. Wyer, COLLINS, D. Jessup.
1st SIMMONS 15 2nd E. Broadbelt 11 3rd P. Crump 10 COLLINS scored 9.
SIMMONS 6 COLLINS 5
It was again at Poole for the next clashes, British League Poole V Belle Vue on September 29.
Heat 6 COLLINS, SIMMONS, N. Middleditch, G. Pusey.
Heat 12 COLLINS, SIMMONS, A. Wilkinson, R. May.
COLLINS 7 SIMMONS 6
Their next clash was on October 16 at Belle Vue for the British League Riders Final. So often, this field of dreams was stronger than the World Final itself and this year was no exception.
Heat 3 COLLINS, SIMMONS, D. Wyer, P. Crump.
1st O. Olsen 15 2nd COLLINS 14 3rd J. Loius 13.
Malcolm's second place saw his only 2 points as he fell in his next ride, did not finish the third and took no further part.
COLLINS 8 SIMMONS 6
The end of the month saw them both at Kings Lynn, on the 30th for The Pride of the East.
Heat 5 COLLINS, M. Ashby, SIMMONS, C. Morton.
1st COLLINS 14 2nd M.Lee 12 3rd M. Ashby 12.
SIMMONS scored 10.
COLLINS 9 SIMMONS 6
So there you have it. Would 1976 really have been Simmo's year had it not been for that Weslake fiasco? One can play 'ifs & buts' until the boat comes in. Fun though it is. I'm a huge fan of both these Giant Superstars so am happy either way. I do hope you have enjoyed this little project and I'm very grateful to my fellow Speedway Plus enthusiasts who helped me with the missing pieces. Would love to hear what yas think!
This article was first published on 12th May 2011
---

Ivan Blacka:

"I think the article was brilliant. I love controversy. There is only one person who can answer the question. Weslake. You need to find the names of the engine builders at Weslake maybe they will come clean. Was the engines tampered with? Man that is some strong accusing. But like you said we will never know. I really feel for Simmons after reading that. He should have been World Champion. Maybe not in 76 but sometime. Great article. Thanks so much."
John D:

"Faulty logic in this re: Mauger. Suggesting that people make a big deal about Mauger's engine failure, but it wasn't really that important because Simmo beat Mauger without trouble later - well, after Mauger's engine failure, he was no longer on his number one bike, for one thing. Furthermore, Mauger claimed that he had to race Simmo on a cold second bike. Would Collins have beat Mauger had they both been unbeaten in heat 20? It's for the gods to decide. Certainly no-one can begrudge Collins his win though - he was a worthy champion, and too good to have only won one title."
Tracy Holmes:

"Update; June 28. Westernapolis. Exeter. Heat 11. SIMMONS, COLLINS, D. Wyer, K. Holden. Semi-Final. COLLINS, SIMMONS, C. Morton. K. Holden. Final. COLLINS, SIMMONS, D. Morton, R. Eide. So going into the World Final was closer than I thought; Simmons 6, Collins 5. And that makes the final score; Collins 11, Simmons 7. "
Tracy Holmes:

"Update on update; September 19. Vojens International Classic. Vojens, Denmark. I don't have heat details but Collins won with 14 points, beaten only by Ivan Mauger. 1st COLLINS 14, 2nd O.Olsen 13, 3rd G. Kennett 13. Simmons scored 4. So final score; Collins 12, Simmons 7."

[ Use Mobile Version ]

Comment on this Article | Contact Us | Go Back to Main Menu