Cordy Milne
By Doug MacFarlane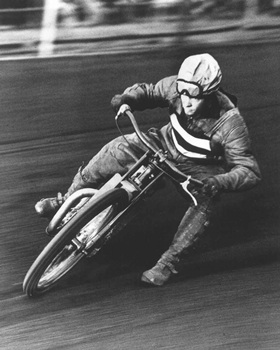 Cordy Milne
In 1934 the AMA decided to hold their national championship at the LA Coliseum. Yes the venue that was later to host the famous 1982 World Final. It was interesting, not only that it was a change from the previous years, when points were collected over the season to decide the championship, but that it would be held over 3 consecutive days. The first two days being qualifiers for the final day and the points scored would be carried over into that final.
As well as the best of the local Californian riders, efforts were made to get Goldie Restall and Palmer Tamburro released from the contracts on the East coast and a couple of riders from Dallas, Texas were also said to be participating. After the first two days all the favourites from California were through including the old master 'Sprouts' Elder, future World Champion Jack Milne, both carrying injuries, his brother Cordy, current champion Wilbur Lamoreaux and two future Wimbledon riders, Miny Waln and Byrd McKinney.
Going into the last round of heats, Lamoreaux 'The flying frenchman' as he was known and Cordy Milne were unbeaten over their two meetings and faced off for the title. In a thrilling climax Cordy held a small lead from start to finish and set a new track record to take the title from Lammy. Byrd McKinney took the bronze medal.
But that wasn't the end of the story. The dethroned champion, Wilbur Lamoreaux was upset that Cordy had used a 'trick machine'!!! His frame was smaller than the standard 53 inches. According to Lammy, this gave him an unfair advantage on the bends.
Bill Meyer, the promoter at Emeryville Speedway held a series of conferences with the riders and it was announced that they would meet at the track in a head to head to settle the argument. Lamoreaux agreed on one condition. That Cordy use a standard bike. Then Hap Alzina, president of the AMA stepped in and stated Cordy would face a lifetime ban from all tracks if he didn't agree to this. To which Cordy agreed as long as the track was specially prepared so he could race full throttle with his bike.
Milne then sent a telegram saying he would bring two bikes, the short frame and a standard one and said 'understood race to decide best man.Why not trade machines? Will beat him anyway'. When told of this Lammy replied 'All I want is a chance to meet him again on even terms. Let me at him'.
It was to be a two lap duel with a huge cash prize.
On the night Milne again proved he was the better man winning not only the match race, but beating Lammy in the scratch final as well.
This article was first published on 12th April 2020
[ Use Mobile Version ]
Comment on this Article | Contact Us | Go Back to Main Menu