The Last Days of Crystal Palace
By John Hyam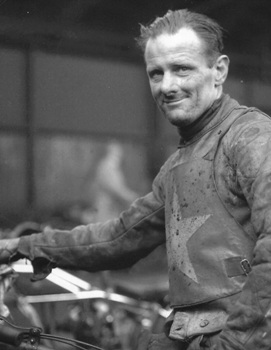 Keith Harvey
TWO war time speedway meetings took place at Crystal Palace in 1940, the last time racing took place there.
On Easter Sunday, March 25, Arthur Atkinson (West Ham) won the Holiday Cup, heading Colin Watson (West Ham) and Keith Harvey (Norwich) in a top scorers final. The known points scorers (each had three qualifying rides) were: Harvey 9, Phil Bishop (West Ham) 7, Watson 7, Atkinson 6, Wally Lloyd (Harringay) 6. Other starters were Harold 'Tiger' Stevenson (West Ham) and Arch Windmill (Hackney). In heat two, Harvey set the meeting's fastest time and a new track record of 79.8 seconds.
In the programme notes, spectators were advised: "In the event of an air raid warning, all visitors living within five minutes walk are advised to go home." They were also told that air raid shelters were provided "under the centre steps."
On May 13, another Holiday Cup meeting was held. This was over 12 heats with two semi-finals and a final. The qualifying scorers were: Phil 'Tiger' Hart (Hackney) 9, Archie Windmill (Hackney) 8, Bill Longley (New Cross) 7, Ron Johnson (New Cross) 6, Mick Mitchell (Crystal Palace) 5, Charlie Page (Hackney) 5, Fred 'Friar' Tuck 5, Ken Brett (West Ham) 4, George Craig (Bristol) 4, Ron Howes (West Ham) 3, Bob Hall 2, George Gower (Crystal Palace) 2, Vic Weir (Norwich) 2, Les Trim (Crystal Palace) 1, Alex Gray (Wimbledon) 1, Keith Harvey (Crystal Palace) 0. FINAL: Hart, Windmill, Tuck, Johnson (no finish).
Programme changes were Langley (not Longley) for Charlie Appleby (Crystal Palace), Page replaced Wally Lloyd (Harringay), Gower replaced Jeff Lloyd (Newcastle).
The 'South London Press' (May 15 1940) reported that New Cross and Australia star Ron Johnson was leading the final by five yards when he ground to a halt with a puncture. This let Phil 'Tiger' Hart clear to win by two lengths from Arch Windmill. An early posting lists Fred 'Friar' Tuck as the other finalist - it would be interesting to know if he finished the race".
There remains one major query on the qualifying scorers which were not given in the South London Press. It concerns Bill Longley who on a scribbled list of scorers is actually given as LANGLEY. Indications are that it could not have been Longley as West Ham were staging a meeting at the same time and Longley was racing there. One possibility is that as Phil Hart was at Crystal Palace, it have been his pal the Australian rider Steve Langton? Who knows? More importantly - will we ever know?
This article was first published on 29th April 2012
---

David Briggs:

"Very interesting article, I live so near to The Crystal Palace but so far away in time regarding the Dirt Track racing all those years ago. Maybe, and it's probably just a dream, when the 2012 Olympics are done and dusted, perhaps the athletics stadium at the Palace will become redundant, wouldn't it be wonderfull if the old oval could be re utilise d for a much needed return of speedway racing to South London......sorry, just day dreaming again."
John Hyam:

"Sadly, Crystal Palace speedway is now long forgotten. As mentioned in the article the last racing there was 68 years ago. The sport is long forgotten in the local area. The nearest there has been to a mention of speedway in Crystal Palace has been the speedway displays by former Wimbledon rider Jon Stevens. In 2016 and 2017 he staged exhibitions in regard to speedway at the now annual 'Motorsport at The Palace' events. At the moment Stevens has still to decide if he will again feature a speedway display at the 2018 motorsport show."

[ Use Mobile Version ]

Comment on this Article | Contact Us | Go Back to Main Menu