Cycle Speedway
By Dave Beecroft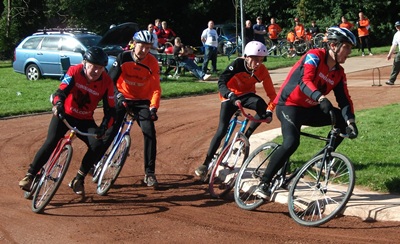 Edinburgh Falcons
An odd moment caught me surfing the wealth of old articles that is the Speedway Plus archive and I came across one from September 2005 by Robert J.Rogers asking if cycle speedway could be the answer to lack of awareness of speedway on the part of today's youth.
This season has found me hurled completely unexpectedly into the world of cycle speedway and most Sunday afternoons now find my wife and I plus two grandsons at the Redbraes home of Edinburgh Falcons.
What started as an interest based around one of the lads wanting to have a go has developed into a full blown commitment to all the Falcons teams and both grandsons now racing.
There is much value in what Robert suggests in his article. I have been greatly impressed by the "come and have a ride" attitude displayed throughout cycle speedway which encompasses all ages and genders. At the Falcons there are riders from 6 years old to over 70, regularly taking to the track and to competition, of which there is plenty. That's another good thing though, participation rather than victory is very much the trend.
Sure, the A team riding in the Northern League will always try to put out the strongest team but there is also a Northern Combination for B Teams but rather than fill this with the "reserves" it has recently been the preserve of kids from 8 to 16. Most matches may be lost but the margins are becoming narrower and the aforementioned "reserves" they are on the sidelines cheering the young 'uns on.
I believe that Cycle speedway is a wonderful way to introduce kids to speedway and I believe that speedway clubs could do much worse than encourage participation amongst their supporters. How about those clubs who could, building a track inside the main speedway track and having a cycle speedway meeting as part of a main speedway night?
You can find out more about Cycle Speedway at Spokesman-Online
The picture in this article shows Edinburgh Falcons v. Sheffield, Northern League match from 12.9.2010. It was taken by Tommy Lee.
This article was first published on 30th September 2010
---

Chris Stockwell:

"WOW, This brings back memories. I used to ride Cycle Speedway way back in the early 1970's, not with a great deal of success' but just being part of it all was great fun, the laughs, the banter and bumps and bruises were all part of the deal. A great great time. My two local teams were LONG EATON BEES and the TRENT LOCK TIGERS. Both sadly have gone the way of the LONG EATON SPEEDWAY TEAM Into the DUST OF HISTORY, but we've still got our memories."
Steve Baldock:

"I used to ride for Long Eaton Bees cycle speedway team from 80-82, we used to ride in the English league mainly in the midlands & yorkshire area. We had 3 or 4 real good riders who could hold their own, but we lacked a few more committed riders and we used to get hammered most weeks. I remember we went on tour to Edinburgh as our captain George Syme was from there. I have actually raced on redbraes track! We raced against Broomhall, Meadowbank and Annfield and won all 3 matches, which was great to win for a change. Can remember the bumps, bangs and cuts like it was yesterday! We didn't wear safety helmets either back then. Still got the programmes. Used to write the match reports into the LE advertiser which like the cycle speedway and the speedway stadium have all now sadly gone. Great memories though. I'm now 49."
Robbie Mason:

"I raced for Annfield Aces back in 84/5 ish and remember racing at Davidson Mains track which now has houses on it, Jack Kane centre, the Gyle which I think you can still make out under the grass and is where I came second in the Gyle jnr championship in 84 losing to my cousin Garry. I also raced once for Edinburgh down south with lads from the Broomhall Panthers."

[ Use Mobile Version ]

Comment on this Article | Contact Us | Go Back to Main Menu