Dag Lovaas Returns to Oxford
By John Fray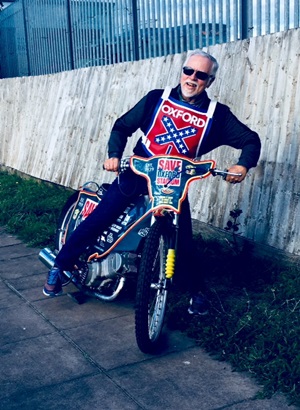 Dag Lovaas
Great to be able to report that Oxford's number one favourite in 1975 Dag Lovaas returned to visit and see the Sandy Lane Stadium and dis-used track. It is still there and waiting to be raced again.
As part of a group I walked the track with him. The weeds have grown that's true, but the shale is still just a scratch away under the surface and the terraces would soon be freshened up as soon as the supporters are let back in.
Dag, looking as fit as ever, was given a warm welcome as he took time out from his honeymoon with his bride of just a few months. His supporters also took time out to celebrate his return with an evening drink at the Ampleforth Arms a local community run pub.
Dag was very moved to have such a warm welcome from the fans after nearly forty five years since his last visit. He shared all our concerns about the loss of Oxford Speedway and clearly wished to give our hard fought campaign to Save Oxford Stadium all his support.
This article was first published on 11th November 2018
[ Use Mobile Version ]
---

Steve Haire:

"I don't know why the BSPA don't try to buy the stadium. It had two enclosed grandstands, a bar on the 4th bend, a gym underneath the main stand and a reasonable size car park with a fair amount of street parking and as a frequent visitor over the years I found it always produced good racing. I'm sure as long as it was run as a community asset the council would give their backing and it could be developed into a successful business.

I met Dag Lovaas at the Hackney Reunion at Paradise Wildlife Park where the Speedway Museum. In 1977 when White City won the league Dag was signed to them but they finished up using rider replacement for the whole season (think Wolverhampton had done it previously with Jon Erskine), I jokingly asked him if he got a winners medal, he didn't.

So daft decisions happened even back then and if memory serves me right White City had finished their season early and Wimbledon wanted to sign Trevor Geer and Paul Gachet. They weren't allowed to but it goes to show what they tried to get away with. Lets hope someone can get Oxford up and running and there's enough riders to go around. "

Comment on this Article | Contact Us | Go Back to Main Menu