Darcy and the Golden Helmet
By Tracy Holmes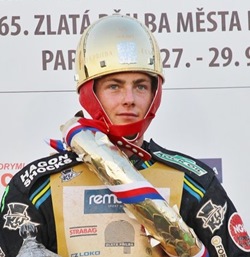 Darcy Ward
In winning the 2013 Czech Golden Helmet, Darcy Ward becomes the fourth Australian to win this Grand Slam event.
This amazing race goes all the way back to 1929, a grass track meeting staged at the famous Pardubice racecourse, interupted by the 2nd World War and economic crisis. It really got going again in 1961 and has not stopped since.
In 1963, Antonin Kasper chose to stay home rather than line up as reserve for the Wembley World Final! Why? The Golden Helmet was on the same weekend. His move paid off as he won the Helmet from Martin Tatum, Kelvin's dad! [ Kelvin himself was second in 1986 & 1987 ]
That was the last grasstrack event and in 1964, the CZ GH became a true Speedway event on a proper Speedway track, still in Pardubice where it is to this day.
The first Aussie on to the podium was the legendary Jim Airey, 2nd to Sir Ole Olsen in 1971. Twenty-six years later, 1997, Ryan Sullivan was the next and first Aussie to win. He beat the 3 time winner Tony Rickardsson from Sweden and Brit, Mark Loram.
Leigh Adams was next, winning 3 in a row, 1999, 2000 & 2001. [ This equalled Ole's Triple Crown of 1970, 1971 & 1972 ]
Jason Crump was the winner in 2002, Ryan Sullivan again in 2003 and Adams in 2004! So for 6 straight years, Aussies struck Gold!
Crumpy won his second helmet in 2006 and now Darcy Ward 2013.
Two other Aussies have stood on the podium, Todd Wiltshire in 2000 and Davey Watt, 2009. And by the way, Greg Hancock is one of a handful of World Champions who have tried but failed to win this one. He was second to Adams in 2000 and second to Ward this year, 2013!
Others include Ivan Mauger, three times 2nd and twice 3rd. Barry Briggs, twice 2nd. Mike Lee, twice 2nd. Sam Ermolenko, a 3rd place. Mark Loram, twice 3rd. Jerzy Szczakiel, Anders Michanek, Jan O Pedersen, Gary Havelock and Tomasz Gollob also made unsuccessful appearances. Many others never got to ride in this meeting because of commitments elsewhere and the timing of the event.
Six riders have died trying to win this one!!!!!!
So well done Master Ward; treasure this trophy kid because treasure it is, Speedway's Golden treasure !!!
This article was first published on 3rd November 2013
---

Tahlia Buckley:

"OMG u are the most best racer Darcy! I hope u have fun."

[ Use Mobile Version ]

Comment on this Article | Contact Us | Go Back to Main Menu