Book Review: Dave Jessup - A Speedway Journey by Peter Lush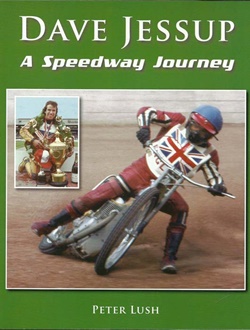 Peter Lush was a Wembley Lions' fan during their revival at the Empire Stadium at the start of the seventies. That love of the sport, and of the Lions in particular, has inspired him to write a series of books about the club and its riders. His latest work is "Dave Jessup - A Speedway Journey", an authorised biography of the former England skipper who was one of those Wembley heroes half a century ago.
The book itself is very well put together, printed on 200 glossy pages, illustrated throughout with many pictures from Dave Jessup's life and career. The main cover picture shows him in action for England, wearing a familiar looking pair of red, white and black leathers, indicating that, for a while, he was one of "Briggo's boys".
Jessup's story is told in chronological order, with a chapter dedicated to each year of his racing career, along with other sections on his early life, his time in team management and his successes on the golf course. His love of golf is a running theme throughout the book and it's difficult to escape the conclusion that it's usurped speedway as his true sporting love.
The book covers all of the key meetings of his speedway career, mixing quotes from the contemporary press (primarily Speedway Star) with comment that Dave has recently provided in discussions with the author. The effect is a factual account of his career, rather than relying too heavily on the misremembered or embroidered anecdotes that can often be encountered in sporting biographies such as this.
His career had many highlights, so there's no shortage of material to work with. His club associations with Eastbourne, Wembley, Leicester, Reading, King's Lynn, Wimbledon and Mildenhall are all covered in detail. Recording his on track successes, plus insights into why and when he moved clubs, how he got on with riders and promoters and what he thought of some of the circuits he had to race on.
There were also international appearances to reflect on, with more than a century of England caps accumulated, including five World Cup wins and a World Pairs title.
Even in the off-season, there was often time for some overseas action, with trips to Rhodesia and South Africa covered. The South African trips inevitably affected by the political situation that surrounded that country's international relations while Dave was at his peak.
Many will always associate Dave with the mechanical misfortunes that impacted his World Final chances in both 1978 and 1981. Perhaps surprisingly, those are underplayed a little in this book. Reflecting on the broken pushrod that cost him in 1978, he says "What happened was disappointing, and still grates now, but it's time to move on".
His best performance on the big night was in Gothenburg in 1980, when he finished second behind Michael Lee. Jessup had actually been the pre-meeting favourite, principally due to winning the British Final, Commonwealth Final and Internationale earlier in the season. The author speculates whether the World Final itself came too late in the season for Dave, suggesting that has form had dipped slightly by time it came around. An interesting notion, showing that many factors can determine who wears the laurels at the evening's end.
After his career ended, he moved into the management side of the sport, at both club and international level. It's clear that while he enjoyed both, there were frustrations for him on the safer side of the fence, including having to manage the aforementioned Michael Lee. He's seemed happier to concentrate on his golf in recent years, though he's still a familiar face around the tracks, particularly at Kent Kings' meetings.
He's led a remarkable and varied life, clearly an intelligent man, who was also sensible enough to ensure he capitalised on his sporting successes to live a comfortable and happy retirement. His is an interesting story and Peter Lush deserves great credit for recognising that and committing it to paper. It's well written, covering a lengthy career in the requisite level of detail and reflecting on its various highs and lows. The up to date comments from Jessup help to put all of it into context, though the general impression is that he's happy with the career he had and isn't one for raking over the coals or settling old scores.
The book can be ordered from London League Publications.
This article was first published on 22nd November 2020
[ Use Mobile Version ]
---

Duncan Pemberton:

"Regarding deejays book, being a big fan of his I ordered it straight away, as the reviewer says it's more a summary of his carreer but a thouroughly good read. Was hoping I got a mention being his number 1 supporter in the North lol (says me tongue in cheek). Always got time for me and couple of times waved me in the pits to warm his bike up or drop me off at a train station like Sheffield after the meeting if I went on public transport. So try the book people you will enjoy and to Dave thanks for the memories."
Duncan Pemberton:

"Just to bore you with one more show of support of DJ, a couple of us Leicester lads decided we would go to Ipswich to watch him race against Tiger for golden helmet ( Sheffield was the opposition on the night). We got stuck in traffic and arrived running through the gates just in time to see the 3rd and deciding race which Tiger won! We then had to suffer watching a dire meeting after, which Sheffield got about 23 I think. How many supporters would do that these days to show support of there fave rider? lol"

Comment on this Article | Contact Us | Go Back to Main Menu