Book Review: Dave Morton - Tapes, Breaks and Heartaches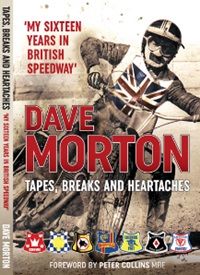 There was no shortage of big-name British riders during the seventies and eighties, so a number of those who didn't quite make the breakthrough on the world stage can often find themselves overlooked when conversation turns to those decades. One such individual is Dave Morton, a very special talent, but not one that ever made it as far as a World Final.
His story has now been told in "Tapes, Breaks and Heartaches", his autobiography published by Retro-Speedway.
It's a remarkably honest and detailed account of his career, also touching on his upbringing and his life since he retired.
Morton was one of the famous "Partington lads", a posse of young speedway hopefuls that included the Collins brothers, Dave Trownson and Dave's younger brother Chris. He recalls their early riding experience, racing old bikes around the fields as they pretended to be their Belle Vue heroes.
When he was old enough he progressed to organised grasstrack racing and then inevitably to speedway. Finding opportunities limited at Belle Vue, partly due to the surfeit of promising riders already filling up the second half races, he tried his luck at nearby Crewe and quickly progressed to team standard. Once he got his chance there was no holding him and he developed into a fine heatleader during his time as a Crewe King.
He clearly enjoyed his time with Crewe, including a memorable league and cup double in 1972, though his own contribution was restricted through injury, something that was to become a recurring theme throughout his career.
He recalls a famous KO Cup tie where the Kings dispatched Scunthorpe Saints by 118 to 38 on aggregate. He also shares an interesting anecdote about the track preparation at Crewe. Colin Tucker had famously constructed the circuit virtually single-handedly and remained in charge of preparing the track each week. Unbeknownst to visiting riders, he would hide particularly grippy strips in the track and point them out to the homesters. A neat bit of home advantage, though it was scarcely needed as visiting riders were already quaking at the mere thought of racing the likes of Dave and Phil Crump around the massive bowl.
By 1974 it was clear that Dave was ready for top-league action, so he linked up with Hackney Hawks. The Hawks were under the same "Allied Presentations" banner as Crewe, so he came under some pressure to make the move. Although his years at Hackney were his best, he admits that he regrets ever making that move, feeling that a move to a larger and more northern circuit would have been better - Halifax or Sheffield being his preference.
He continued his progress at Hackney, eventually racking up double figure averages. Despite that high-level of performance he never made much of an impression on the world stage. He doesn't really explain that in the book, other than admitting to being overawed at times.
One thing the book does cover in detail are Dave's various adventures on foreign tours or trips. Whether it was tours of Australasia, or trips to the middle-east, he seems to have made the most of the opportunities that presented themselves. Forming fleeting relationships with several young ladies around the world.
He's equally honest about his personal life in the UK, candidly discussing the tragic loss of his young son (Jamie) and the breakdown of several long-term relationships.
A bad leg-break in 1976 ended his season and also his association with Hackney. He recalls ending up in an East End hospital and begging to be moved to somewhere quieter. He was transported some 370 miles to Peel hospital in Galashiels, in severe pain all the way. Peel was the hospital where speedway "miracle doctor" Carlo Biagi was based, hence the seemingly unusual choice of destination.
He recovered in time for 1977 but decided it was time to move on from Hackney, hoping to cut-down his travel time from Cheshire and/or find a track more suited to his all-out style. Hackney played hard-ball and wouldn't release him until a suitable replacement could be found, which severely limited his options. He ended up at Wolverhampton, swapping places with Finn Thomsen who agreed to move to London.
He seems to have enjoyed his years with Wolves, though the tight circuit was no better suited to him than Hackney had been. He was however fortunate enough to ride with a young Hans Nielsen.
He stuck with Wolves until they withdrew from the British League and joined the National League in 1981. He was on the move again and finally ended up riding at one of his favourite tracks by becoming a Sheffield Tiger. The move gave him new enthusiasm and he was determined to use it as a platform for ever greater achievement. An old arm injury proved problematic, but a lengthy spell on the sidelines would have been required to rectify the problem, so he soldiered on.
After four seasons with Sheffield, he was one of many riders impacted when the number of clubs in the British League shrunk dramatically. He was forced into the National League, linking up with Ellesmere Port Gunners for a memorable title winning season. A triumph overshadowed by the cruel injuries that ended the career of skipper Joe Owen.
Newcastle was his next port of call, with Dave filling a heatleader role for the club in both 1986 and 1987. He was again back on a small track, which he was finding increasingly slick and unsuitable. He eventually agreed to return for the 1988 season, but matters were taken out of his hands when the club closed down shortly before the season began.
Dave toyed with the idea of retirement, before agreeing terms to become a Long Eaton Invader. By this stage his enthusiasm had waned and he admits that a fear of getting injured had crept in. Unhappy with track conditions, he withdrew from the Invaders match with Milton Keynes on 25th May 1988. He never rode again.
He doesn't seem to have any regrets about the decision, perhaps proving that it's best to keep riding until you're sick of it, rather than living with any feeling that you have unfinished business.
Despite not achieving all that he might have, the book leave the impression that he's generally content with his career and certainly enjoyed many great times along the way.
Although Dave Morton initially seemed a slightly unlikely candidate for the auto-biography treatment, he's got an interesting story to tell. He certainly lifts the lid on some speedway happenings that haven't become public previously. A very enjoyable and insightful read.
How To Order
By Phone : 01708 734 502
By Post : Send a cheque for £16 (payable to Retro Speedway) (add £6.00 if outside UK) to:

Retro Speedway
9 Nursery Close
Glossop
SK13 8PQ
Online : At Retro-Speedway.com
This article was first published on 6th November 2016
[ Use Mobile Version ]
---

Graeme Frost:

"I agree Dave Morton was a very good rider. I went to Britain in 1975 (from Australia) on went to around 90 meetings, and two groups of riders have always stuck in my memory - Doug Wyer, Reg Wilson and Arnold Haley at Sheffield; and Dave Morton and Barry Thomas at Hackney. Of course there were better riders, but those five always produced exciting and memorable racing, which I stil l remember clearly 40 years later."

Comment on this Article | Contact Us | Go Back to Main Menu