Dave Thomson - Signing Steve Lawson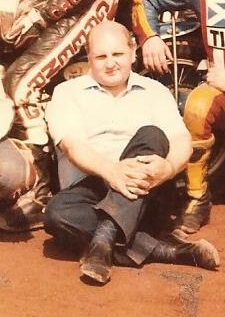 Dave Thomson
Sad news this week with the passing of former Glasgow Tigers promoter Dave Thomson. Thomson (known to many as D.L.T) was in charge of the Tigers' daily operation from the mid-seventies until the end of the 1987 season, a tour of duty that took in Coatbridge, two different tracks in Blantyre and even an aborted season at Workington.
There can be no question that one of his most significant actions was to secure the signature of Steve Lawson. Lawson was a Belle Vue asset when the Tigers snapped him up and he went on to achieve legendary status in the red and white stripes.
Speaking at a supporters function in 2006, Thomson recalled how that 1978 signing came about:
"Eric Boocock phoned me one afternoon about three o'clock and told me if we wanted to sign Lawson then we'd better move quickly as Edinburgh were going to sign him that night and had arranged to meet him at the Crest Hotel at Carlisle. So I quickly phoned my co-promoter Jimmy Beaton and asked what he was doing, I don't know what he was doing, not a lot probably and he came and picked me up and we drove down to Workington.
We met Steve and we twisted his arm a wee bit and got him to sign. We wanted to change the structure of the team and were convinced that Steve was the right man for the job. Once we got hold of Steve he signed the contract right there and then and we put it in our pocket and told him not to bother going to Carlisle.
We phoned Eric Boocock when we got down the end of the road from Steve's house and told him we'd signed Steve and that the deal was done.
Then we went to Carlisle to meet the Edinburgh promotion! Lawson's name never come up once in the conversation that night but we did manage to sell Brian Collins to them and that paid for Steve's transfer fee."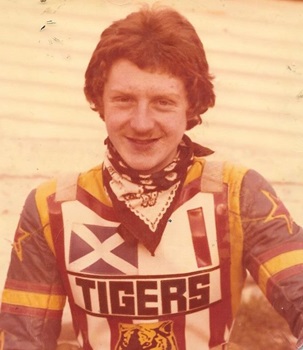 Steve Lawson in 1978
It was a long and happy relationship, with Lawson remaining with the club until his retirement at the end of the 1992 season. A fifteen year association during which he scored an incredible 4,981 points in league matches alone.
Thomson said there was only one occasion on which that relationship was in danger.
"The only time we nearly lost Steve was on a sponsored cycle around Millport. Most people went round cycling gently but one or two of our riders, including our esteemed number one, had different ideas and decided to race. If you know Millport then you'll know the steep hill that heads down towards the pier. This was a wet day and it was the first time I'd ever seen Steve struggling to control a bike as he ended up dropping the bike just before he ended up in the water."
This article was first published on 21st February 2016
---

Ian (Tich) McLean:

"I don't think many people knew how much time and money Dave put into Glasgow. It's just a pity that he drifted away from the Tigers and was never inducted into the Glasgow Hall of Fame. R.I.P. old friend."

[ Use Mobile Version ]

Comment on this Article | Contact Us | Go Back to Main Menu