Dream Team: Dave Walley
I followed Crewe Kings during the entire period that they operated in British League Division 2 and although I rarely attend many meetings these days, my interest in Speedway continues unabated. The teams I favour these days are Belle Vue ( for geographical reasons ) and Edinburgh because they are the only team to feature a crown on their race jackets.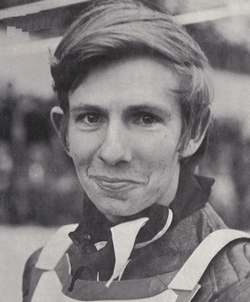 Gary Peterson
Ivan Mauger
Quite simply, the greatest rider I ever had the pleasure of watching.
Peter Collins
He had his first rides at Crewe and everyone could see the potential from his first rides in the second half of meetings. I still consider him to be the one that got away at Crewe.
Phil Crump
A legend at Crewe and later became a legend at Newport and Swindon. In 1972 Crumpie was virtually unbeatable at Division 2 level and for sheer consistency was an automatic selection for any team of mine.
Geoff Curtis
Crewe's original superstar and later became a heat leader with Reading. Sadly a track crash at Sydney ended his life. A true gentleman and sadly missed.
Mark Loram
Even though Mark's career was after I had finished watching speedway live as it were, I still followed his career via Speedway Star and watching him in action both domestically and internationally on television. I always thought that Mark was a bit of a throwback and could have ridden in the era when I was watching live with very much the same level of success.
Dave Morton
Mort was a great rider at Crewe and barring injuries would have been an even bigger legend than the one he later became.
Gary Peterson
Simply put, when he rode at Crewe, everyone watched because he was the type of rider that made speedway compulsive viewing. I consider him to be the best visiting rider to Crewe that I ever saw, considering some of the quality riders that appeared, that is some accolade. Tragically another rider no longer with us.
Submit Your Own Dream Team
This article was first published on 31st January 2016
---

Trevor Kimberley:

"A good team selection. Glad to see Gary Petersen remembered. Some of the best races l have ever seen were between Malcolm Shakespeare and Gary at Long Eaton (also between Malcolm and Ian Turner). What a tragedy when Gary was killed. Come and watch Speedway again Dave, you will not be disappointed."

[ Use Mobile Version ]

Comment on this Article | Contact Us | Go Back to Main Menu