Dream Team: David Pickles
As a Londoner, born and bred, I'm focussing my "Dream Team" on a selection of 7 riders who were stalwarts of London teams in the 60's and 70's. I first saw speedway at West Ham in 1964, have been obsessed with it ever since, and have a vast knowledge of the sport before my first meeting. I hope you enjoy my selection.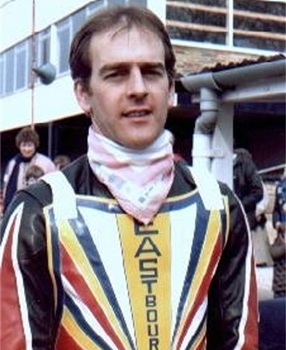 Gordon Kennett
Ken McKinlay
Ken started riding in the early 50's and after a spell at Coventry in the 60's moved to West Ham. There he became a local idol, always leading from the front (literally) and was many a schoolboy hero. His smooth laid-back style, reminiscent in many ways of a former Hammers hero Jack Young, makes him my no.1 team inclusion.
Ronnie Moore
Uniquely, Ronnie only rode for one team, the Wimbledon Dons. From 1954-59 and again in the 70's until 1972, Ronnie was the one household name on everybody's lips you mentioned speedway to in south-west London. A stylish rider, always willing to team-ride, he is still missed from the UK speedway scene after over 45 years.
Jimmy Gooch
A solid middle-order rider, and a heat leader for a time at Oxford, Jimmy began riding at Wembley in 1956 and ended his career at Hackney, finally hanging up his leathers at the end of the 1971 season. A very friendly amiable person who was always willing to sign an autograph book, Jimmy's friendly persona often belied his tactical riding skills, and could be relied upon even at the end of his riding days to lead the other three riders home when least expected.
Les McGillivray
Les, an unsung hero and stalwart of the Hackney team. In fact, an ever-present from 1965-1971, a record that has never been, and probably never will be, equalled. Because of Les's very "wide-legged" style, if he got out of the gate it was very difficult for an opponent to pass him with ease. In his earlier days at Rayleigh he was a heat leader, and at Hackney regularly made the coveted 1-3-5 spot at times. A solid and dependable rider and an excellent team man.
Gordon Kennett
A rider who rose through the ranks quickly at Eastbourne, ending up at White City, winning the Gulf British League Division One title with them. Often overshadowed (at least in London terms) by Dave Kennett, Gordon nevertheless went on to finish on the world final rostrum, coming 2nd to Ole Olsen in the Wembley world final of 1978.
Christer Lofqvist
If ever a rider was designed to excite and, briefly, resurrect a sadly dying team, it was Christer. Bought over from Sweden in 1970 to ride for West Ham, Lofqvist became an instant hit, especially with the younger female legion of fans. His legendary fourth bend "high wide and handsome" fence scraping antics had the West Ham crowd on their feet every Tuesday evening. When the Hammers closed, Christer moved on to Hackney, but his eventual fatal illness was unknown and he left UK shores under somewhat of a cloud. To loyal Hammers fans of 1970 and 1971 Lofqvist was probably the most exciting rider ever to grace Custom House.
Garry Middleton
What can be said about "Cass" that hasn't already been said? A very hard, exciting, give and take no quarter rider, who joined Hackney at the invitation of Len Silver, and with "Banger" Jansson, led the Hawks to a stunning KO cup victory over Cradley Heath in 1971 after a series of 39-39 draws with Kings Lynn earlier in the season. Middleton was a superb from the back rider, and could always be relied on to give 100%. The sight of him tearing up Waterden Road in the early 70's will live in my memory forever.
Submit Your Own Dream Team
This article was first published on 26th February 2017
[ Use Mobile Version ]
---

Judith Aldridge:

"Ronnie Moore joined the Dons in 1950 and reached the world final that year at the age of SEVENTEEN and became the youngest ever world champion at the age of Twenty-One. Both Barry Briggs and Ivan Mauger have said that Ronnie was the greatest rider ever, though I think it is a toss up with Peter Craven but they are for sure the best two riders I have ever seen race and who both rode together for Great Britain (As did Barry & Ivan)."

Comment on this Article | Contact Us | Go Back to Main Menu