An interview with: David Walsh
David Walsh rode for eleven different clubs in a career that lasted eighteen years and saw him capture league medals with Newcastle, Ellesmere Port, Glasgow and Bradford. Walshie took time to talk to us about his career and the crash that brought it all to a sudden end.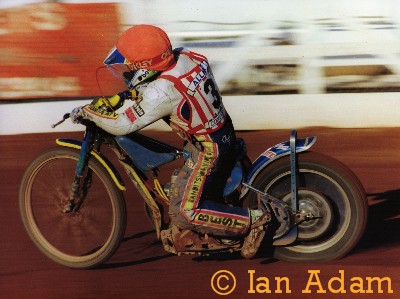 David in Action
Were you a speedway fan when you were growing up, or was your interest solely as a competitor?
I was very much a fan. As a kid my dad took me, along with my brothers, to Halifax speedway regularly - almost every week. I can't remember the first time we went because I was so young, but we grew up watching from the third and fourth bend terraces. I was completely captivated and thrilled by the sport. All my childhood heroes were speedway riders.
What kind of names are you thinking about, who were your big heroes?
It's difficult to pinpoint any individuals from the early years. I don't want to overstate it but riders represented almost God-like figures. I found that just being a speedway rider was enough to transform some very ordinary, down to earth names into those that described super-human daredevils, chariot racers of the twentieth century! The earliest Halifax team that I remember included names like Greg Kentwell, Terry Lee, Eric Boocock, Dave Younghusband and people like that. It was just magical to watch what these people did, and no brakes! As I got a little bit older I followed Ole Olsen's career. He was something of an idol but was then usurped by the emergence of Kenny Carter. A local lad who was an obvious candidate for us to follow. He was great to watch, week in, week out and was very exciting.
You started your own career at Sheffield rather than Halifax, why was that?
For very practical reasons. When I first decided to have a go to see if I could become a speedway rider, Sheffield ran a training school through the winter and I got my very first bike in the October of 1982. The training facilities that were available at that point were either the little training track at Sheffield or Belle Vue's Hyde Road. There weren't any training facilities at Halifax so I decided that it would be more useful to master the little track at Sheffield rather than the big track at Belle Vue. I never missed that winter, I was there every Saturday and developed quite a good relationship with the Glovers who ran Sheffield. It seemed a natural thing for me to sign for them at the start of the following season.
As well as that, there was another reason why I was happy to sign for someone other than Halifax. I bought my first ever moped from Terry Lee who had a motorcycle shop in Sowerby Bridge. When I bought the bike off him, me and my dad sat for half an hour chatting with him about speedway. He said in the course of the conversation that one of the mistakes he made was to sign for his local team. When things were going well it was great, but speedway's very much a confidence sport and if you have a bad spell then you never hear the last of it, he said. You get people coming up to you and talking about a bad meeting you've had. You can't forget about it and I've found in my own experience that it's very much the case. If you have a really bad meeting or a bad spell then you want to drive away and forget about it. You want to try to build yourself up for the next meeting. Different riders may feel differently, but I bore in mind what Terry Lee said and thought in the long run it may be best to ride somewhere other than my own doorstep. Especially starting off in the sport and more likely to have bad meetings.
Your first break came when you got offered a chance with Glasgow. Riding at Craighead Park must have been a culture shock after Owlerton?
It certainly was. It was a peculiar little track but the culture shock wasn't just down to the stadium! When I got the call to try my hand with second halves at Craighead Park I'd never been to Scotland before. Once I started riding speedway it opened up the whole country, by that I mean Britain of course! I found that all of a sudden I was travelling round to places that were well off the radar previously. Getting the chance to get into the team at Glasgow was a culture shock in all kinds of ways. I found it very difficult initially with the West of Scotland accent and then Craighead Park was a very challenging place to go. It was very advantageous to have the inside gates, but in those days there was a pecking order for gate positions and I remember more often than not having to struggle off gates three and four. I was very glad of getting a chance and really enjoyed my initial spell at Glasgow.
At that time I was fearless to the point of being reckless and it didn't matter which track I rode on. I just gave it everything and I had one or two good moments there at Craighead Park. I broke my wrist riding for Glasgow at Milton Keynes and getting injured then actually did me a lot of good in the long run. I struggled when I came back from the injury and had to start thinking more about what I was doing. That actually tied in with something that Guy Allott, another wise old speedway head, said some time afterwards. It sounds like a peculiar thing to say but he thought injuries, as long as they're not too serious obviously, can do speedway riders a lot of good. You have to start thinking about what you're doing and stop riding as recklessly as you otherwise would. The chance I got at Glasgow constituted the break I needed - no pun intended!
I was in a rush to try and establish myself though. With support from my parents, I decided to give speedway twelve months to see if I had any sort of potential. I certainly did not want to be scratching around in the juniors for years. Getting a chance in the National League so quickly encouraged me to carry on.
Unfortunately, I lost my place in the team following that injury but I was picked up by Newcastle towards the end of the season and I ended up with a rather fortuitous championship medal, which encouraged me further.
The first of many!
As it turned out, yes! It was an interesting first season. I think back to my time at Craighead Park, even though it was quite a difficult venue, with fond memories. I was fortunate to get the chances that I did. I played a very minor role at Newcastle for a month and ended the season on the sidelines with injury again. But I certainly felt very encouraged to continue and was always looking from that point on to see some sort of improvement as I went along. In the early years, including that first one, I certainly felt that I did make reasonable progress.
The following season you were farmed out again, this time to Berwick, what do you remember of that?
I very much enjoyed it, the small track at Berrington probably suited me as I'd started on the Sheffield training track. I did okay, then again I was very fortunate since I'd ridden in 1983 and had a proper average - just over three I think. Berwick had an unsettled bottom end and they'd signed Phil Kynman who'd just returned from South Africa. He was on a reassessed average below mine, so by bringing me into the team they were able to run Phil Kynman at reserve. It meant that for as long as Phil Kynman's average didn't change I had an extended run in the team. It was very difficult because I was riding at number two, but it gave me a few meetings to familiarise myself with the track. So, I got a little bit of a 'leg-up' there and it worked out great. When Phil Kynman went up into the team I dropped to reserve and started scoring points. I held my place until the end of the season.
It was a good team spirit and I enjoyed going up there. Just like I'd found at Glasgow, the people were very welcoming and that's where my most enduring friendship in speedway began, with Mick who was my mechanic for many years. It was a very fortuitous chance I was given and I managed to use it to make a little bit more progress. When I first started at Sheffield I wanted to be a British League rider immediately, but I was told that it takes years to learn to ride a bike, which indeed it does. The chances I got early on in the National League allowed me to develop relatively rapidly.
In 1985 you moved onto Ellesmere Port and won the league again. Did you appreciate at the time how significant an achievement that actually was?
Not on a personal level. When you win anything in a team, that's exactly what it is, a team effort. We had some great riders in that side, the three heatleaders were fantastic and they obviously played the leading roles in that championship win. I played a supporting role, but again I felt as though I'd improved on my previous season. The difference for me that season was that I learned how to race, rather than just ride the bike. It is a different thing. Sure, there were times when I went away and struggled, but around Ellesmere Port I always felt in control and was racing people rather than just getting around in one piece. It was a significant psychological difference between 1985 and 1984. So, in those terms I was pleased and felt I'd achieved something. The championship win was a team effort and I was fortunate to be a part of it. I got the call to Ellesmere just before the season started and the team just fell into place. It was a brand new promotion, brand new team and everything clicked. There were some very professional riders there and I felt the benefit of riding with those lads.
You moved into the British League with Sheffield the following season. Was it a difficult decision to move up, did you have any doubts about it?
Not at the time, because I was in a rush. My ambition, probably somewhat misplaced, was to be a top British League rider. I always regarded junior racing and National League racing as a stepping stone and I couldn't wait to get into the British League. At the time I felt it was completely the right thing to do. The first meeting of '86 was a challenge match at Stoke against Ellesmere and I remember going there and scoring double figures and felt that if I could score double figures in the National League then I should move up immediately. What I didn't want was to fall into a trap, which I think a lot of riders used to do, and stay in the National League too long. To fall into a comfort zone and never really push myself was something I wanted to avoid. However, getting the timing right is pretty important and in retrospect I perhaps moved up too quickly. Obviously, I didn't feel like that at the time and gave everything I had to the British League. I probably didn't appreciate just how difficult it was but I was always looking ahead and moved up with Sheffield with relish.
You moved onto Cradley after that, that must have been exciting?
Of course. I seemed to have embarked upon this journey that seemed to be moving in the right direction. I got a chance to go to Cradley Heath and be part of another successful side. I was riding with and against the very best in the world. It was a terrific experience. Again, very challenging but I obviously did enough in my first year at Cradley to warrant a recall the year after. Unfortunately, my second year at Cradley was the first year that I didn't really progress. It was difficult at the time to identify what the problem was, but when you look back over your career you see things in a different light. I think there were certain opportunities at Cradley that I wasted, the standout reason was that I was a little bit slow in investing in machinery. I had good standard equipment but was always a bit cautious about investing heavily with tuning and experimentation, especially when I was attempting to get into a position to make my racing support itself on a day-to-day basis. I think there definitely comes a time, especially riding in the top division, when you've just got to throw caution to wind, not only in your riding but also in your financial input as well. I think that's probably one of the things that I let myself down with.
Is that why you dropped down to the National League the following season? Was that a conscious decision on your part or was it forced upon you?
It wasn't so much a conscious decision, but in the second year at Cradley there were times that I struggled badly. I started to question what I was capable of achieving and when Cradley released me I just had to weigh up my options. At the time two National League tracks showed an interest, one was Newcastle and the other was Berwick and more or less because of my previous links with Berwick I thought that I'd be happier, more settled and perhaps more successful going back there. I've got no regrets about that. I think by then I'd established myself as a useful team member and I was just happy to get the chance to continue riding speedway. The high-falutin ambitions I had when I started out had probably been tempered by then.
You'd only been riding for five or six years at that point and it now seems to take riders around ten years to reach the top of the tree. So may you have been premature in drawing those conclusions?
Perhaps so. If ever I felt I hadn't done very well then I always had a tendency to blame myself. Which again is a mistake, I've encountered riders who if they have a bad meeting will blame anything and everything except for themselves. I think that can be construed as arrogance, but actually, it's also a valuable method of maintaining your own sense of confidence. I think when you become a bit too self-critical it automatically has a negative effect on your self-confidence. It's another element of my own make up that affected my career in those early years, those difficult years in the British League.
You were still with Berwick when they went into the First Division. That must have been a season to remember?
Well it was. It was an extraordinary season for Berwick speedway. I don't know for sure, but I suspect that it may have been the financial burden of that season in the first division that led to the eventual closure of Berwick at the end of 1992. I've spoken about that period with numerous people in the Berwick area and everyone that I've spoken to wouldn't change that season in the first division for anything. Even if it did lead to the financial troubles that beset the club the following year. To have first class racing and all those world stars coming to tiny Berrington was just magical. People loved it and it was extraordinary. I loved being involved with it and it gave me the chance to rub shoulders again with the British League stars. It was another challenge, speedway riding always is a challenge, if you have a competitive spirit then you ought to respond to the bigger challenges. It was very enjoyable and we had a good team and were successful. We won the Gold Cup, so speedway-wise it was very worthwhile. I think the audacity of Terry Lindon's move into the first division shocked a few, but it brought a lot of pleasure to people for that season. Thankfully, Mike and Yvette Hope led heroic efforts to resurrect the team a couple of years later and the Bandits live on.
After Berwick, you moved onto Glasgow and whilst there you won back-to-back league and cup doubles. You also probably hit your best ever personal form - would you agree with that?
Undoubtedly. Perhaps not the first season, on a personal level I had a bit of a mixed year but, again, to ride in any successful team is very rewarding. The Glasgow management put together a very strong team in '93 and it was great to be a part of that. We managed to maintain a strong team for the next season and '94 coincided with a change in my own personal life. I moved house to Glasgow and though it's difficult to pinpoint why, I felt a new sense of purpose. Living independently in the city made me more 'hungry for the points' - to borrow a cliche. 1994 was a great year for me, and everybody in the team. For a good while that season, there were three of us on 10 point averages, for most of the year in fact.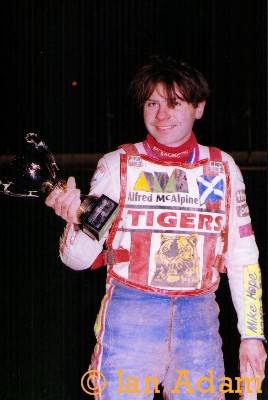 David the Glasgow Tiger
Yourself and Crabby (Nigel Crabtree) both performed so well that there were rumours suggesting you enjoyed some kind of mechanical advantage. I take it there's no truth in that?
Absolutely not. I think the rumours you mention were that our engines may have been oversize. I can't speak for Crabby but I just felt my confidence start to soar. The other significant part about my form was that, apart from the second year at Cradley, I've tended to do well generally if I've stayed at a club for more than one year. It does take some time to readjust to new surroundings and you often need to adjust your machinery to suit conditions. Everything just clicked in 1994 and I was very happy with everything that I was doing. Living in the city was great for me, I was very happy with my machinery and I just managed to raise my performances that little bit more. I also became obsessed with making the start and would set my bikes up solely to achieve that. I managed to keep it going throughout the season, there was no big secret. I suppose it was just about time that I pulled my finger out!
The following season saw the introduction of "one big league", the new Premier League and riding against the best in the world you had an eight and a half point average and qualified for the British Final. Was that your best full season?
Again you'd have to say yes. With it being one Premier League it was that bit more challenging and I went into that season very determined again and totally focussed on doing well at speedway. I became very driven and I was made captain that year. Often there doesn't seem to be that much to be done as a speedway captain - unlike, say, a cricket captain, you're not responsible for the team selection or other club administrative matters. There's an old joke that all a speedway captain has to do is toss the coin, but I took it seriously. I wanted to try and keep some momentum going in the team and that included pushing myself and trying to use that extra responsibility to spur myself on. I managed to remain focussed and thoroughly enjoyed it. When you're entirely happy with your circumstances and enjoying yourself as much as I was, I think it's only natural to do well.
I suppose at that period of time I felt as though whatever potential I may have had as a speedway rider, I was beginning to make it count. I was very disappointed with some things. For example, you mentioned the British Final. To find myself, as a former fan on the terraces, riding in the British Final was something a childhood dream come true. Unfortunately, it's no doubt true to say that when it mattered most I was probably still half-asleep! Actually, I did all right in my second British Final but in the other two I struggled badly.
After Glasgow you really became quite nomadic. First of all at Middlesbrough in their last season. Was that an enjoyable season or was it a bit depressing with the impending closure?
It was ultimately depressing. The previous season they'd made changes to the track. It used to have quite long straights and tight corners but they made it a bit wider. It suited me much more and I thoroughly enjoyed riding with Middlesbrough. I always got on very well with Malcolm Wright and felt very much at home there. I would have been more than happy to stay at Middlesbrough for a lot longer, I had no intentions of moving. I was very happy there and I'd had a good enough season in '96 to suggest I could really establish myself there as well, but it was taken away. Those were very unfortunate circumstances, the place closed and that led to something of a nomadic period in my career, which became quite frustrating really. I was always keen to find a place for myself and put down some roots again, try and establish myself in the same way that I did at Glasgow. A succession of tracks closed down, first of all Glasgow, then Middlesbrough and the year after at Bradford.
Yes, the following season you finally realised your ambition to become a Duke, albeit a Bradford one rather than one of the Halifax variety. Again you ended the season with a league winners medal.
That's right. It did mean something a little bit extra to spend a season riding for the Dukes. It wasn't quite the same for me personally as had it been Halifax but it gave me a lot of pleasure to be at Bradford and have a successful season. My father and grandfather used to watch there in the post-war years, as well as Halifax, of course.
It was a season that was quite mixed really, I missed three months through injury. In separate incidents I broke both scaphoids and had another crash that damaged my shoulder and broke a rib, so I really had a poor season's health. Even so I felt fortunate to get the chance to win the inaugural Elite League championship.
The standard of the Elite League was higher than it is now. You were facing superstars in each race.
The format was incredibly tough. They changed a few things, there were six man teams and to ride in that league as a reserve was so much more difficult than it is now. Of course that was the original intention of setting up the Elite League. They introduced a format to reflect the whole concept, each team was supposed to be the strongest team possible. For a rider like me, in the long run, it was probably just a little bit too difficult and could well explain the injuries, pushing it too hard. It was relentlessly tough and during that season I did suffer something of a crisis of confidence again, but that's the risk you take, it was very challenging. To a certain extent, I felt that winning another team championship as a Duke was compensation enough.
You stuck with the Elite League the following season by moving to Coventry. You only lasted half the year there before you dropped down. Was that a bad move for you in retrospect?
As I remember it, I don't think I had much choice. As I recall my options at the beginning of 1998 were very limited and I only got the call from Coventry when Shane Bowes decided to stay at home in Australia. I was happy to take the opportunity and fill that gap. I did struggle, it wasn't the best move that I made. It was frustrating in the end as that season I did make the effort to try and spend my way out of the rut I'd got myself into. I bought a brand new GM, it was the first short stroke that I'd ever had and I thought it would put me in good stead. I struggled on it and the old tendency was to blame myself and my head just went down. It wasn't until the end of that season, during the winter, that I did some more experimentation with the engine and realised, far too late obviously, that it had the wrong camshaft in it. I changed the camshaft and straight away it felt like a different bike. If I'd have realised that when I was still at Coventry I might have done enough to avoid getting dropped. I was wise after the event, it may sound peculiar to people to admit that, after so many years experience in the sport, I was unable to sort out my machinery problems when it mattered. Sometimes things get a bit confusing and in the end I didn't give myself a chance at Coventry with the mistakes I made with machinery.
It was still a very difficult league, though, but ultimately you'd have to conclude that I was perhaps a little bit out my depth. Having the right machinery would have been a start, I messed up badly with Coventry and had to re-establish myself. I saw the rest of the season out at Berwick and didn't pull up any trees really. I was just trying to salvage what I could from a very poor season. The season after I'd made the changes to the GM that I'd bought and I had a much better year at Newcastle. I always felt frustrated that I hadn't been one step ahead of the game at Coventry, it was a low point, definitely.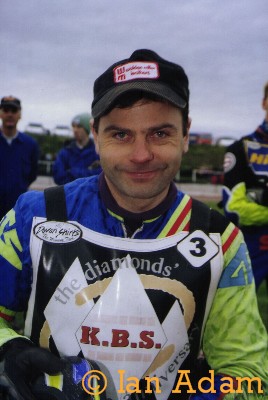 David the Diamond
After Newcastle you moved onto another club - Stoke. What prompted the move to Stoke?
Again I wasn't really sure that I had much choice. I changed track so many times that I can't recall the exact circumstances but I believe that Newcastle made their team plans without me so I had to look for a new club. Stoke were looking for riders and I managed to get my chance there. I started off very indifferently and it took me a few weeks to readjust to the conditions at Stoke. It was being used as a stockcar track at that time and I found track conditions at times difficult for me. It was certainly a lot heavier than Newcastle, that tended to be on the slick side. It took me a few weeks to adjust, that included making changes to the bikes in order to cope with the conditions. I ended up with a half-decent run at Stoke and quite enjoyed my time there.
You mentioned that the points limit worked in your favour in your early days at Berwick. Later in your career it probably worked against you, so it's something of a double-edged sword for riders.
It is. Opportunities for a team place often come down to decimal points on your average rather than merit. It can work for or against you in any position in a team unless you're an out-and-out number one, then you're the first name on the teamsheet. You just have to remain philosophical about these things and make the best of the options that arise. That's all you can do. Circumstances being what they were, took me to the tracks they did. Actually I was very busy at Stoke as I got a lot of guest bookings that season, Swindon used me a lot as Frank Smart was banned at that time. I felt I had a really good season in the end but the way you start off can often cast the die for how people relate to you in the coming months. I had a slow start but there were reasons for that. It was mainly due to having to readjust and adapt to new track conditions and routines. Speedway riders can get into a routine and do things by habit, by repetition, doing certain things off certain gates. When you spend a few years at the same track these routines work there way into your whole approach to the sport and you can make them work for you. It can become easier if you prepare yourself in a certain way on racedays. This is something that takes time and, to a certain extent, I suffered from not having the chance to put down some roots in the last few years of my career.
You were on the move again and reunited with Malcolm Wright in 2001 when you moved to Hull. Was that through the connection with Malcolm, did he own your contract at that point?
Yes, from '96 I was always loaned out from the old Middlesbrough promotion. It was the first year for quite a while that I felt that the team I rode for planned to have me in the team. In fact, if I recall rightly, Hull dropped down into the second division at the start of 2000. Malcolm wanted me to go to Hull then but I'd already agreed to ride for Stoke. It was always likely, being a Hull asset, that Malcolm would use me in 2001, it was a natural move to make. During the course of 2000 I'd had some really good meetings at Hull so I was looking forward to going there. During the winter Malcolm had intimated that I was part of his plans so I felt quite boosted by that.
Your career came to a sudden end on the 5th of September 2001 when you suffered back injuries in a crash at Craven Park. What do you remember of the accident itself?
It was something that could happen anytime. No one was at fault, I was racing Jan Andersen for second place and Jan's bike packed up coming off the last bend. I was right behind him and tried to swerve to miss his back wheel but I caught his elbow going past and it pushed me into the wire fencing. Once I'd touched the fence the bike just stopped dead and I went over the top, it was a big mess. I think I broke my back by hitting my head on the top of the fence. The front of my crash helmet had completely collapsed. Initially, Jan hadn't come off, but the impact with the fence snapped my handlebars which severed the cut-out wires and ripped my throttle cable out. My bike just revved up again and careered into Jan and wiped him out as well. It was a sudden end but you take your chances. I always had a bit of a cavalier attitude to injuries, I think you have to when you're a speedway rider. I was always very wary of back and head injuries but anything else I viewed as an occupational hazard. That was the big one though, and it kind of put me off!
I'm not surprised! Did you ever think about a comeback or were you definitely finished from that point onwards?
I'll probably be thinking of coming back when I'm seventy years old! I'm not sure it's something you ever get fully out of your system. It may be different depending upon the circumstances under which you finish. I've spoken to other riders who retired because they got sick of all the travelling and cleaning or were struggling to score points at the end of their career. But when your career ends before you're ready to stop, that's quite different. It no doubt depends on the individual, but I certainly found it very difficult to readjust to life without speedway. In my case I have to remember how lucky I was, though. You could say I was unlucky to have had the crash but under the circumstances very lucky for it not to be more serious.
Looking further on the bright side, I don't think there are many speedway riders who finish their careers on a paid maximum, which is something, at least. Fortunately, the record books won't show that I crossed the finish line of my last race while bouncing on my head! That aside, one of the most notable things about the crash was that it ended the careers of two riders. I haven't seen Jan Andersen for a few years now but I wish him well.
Do you think you still might have been riding if it hadn't been for the accident?
I'm not sure. Although I wasn't ready to finish, I was already thinking about what I was going to do afterwards. It seems to me that as soon as a rider reaches thirty years plus, the questions start to come on when you're planning to retire! That sort of thing does tend to make you start to wonder just how long you can go on for. Prior to the accident I'd started to pursue this other interest that I have in studying which began when I lived in Glasgow, actually. I'd already put myself in line for a place on a degree course but I did intend to defer it and keep my options open. In the end having the crash made my mind up for me with regards speedway. I still wasn't sure for a while whether I should pursue the opportunity to start a degree in earnest and I did actually defer it until I decided it was the right thing to do. I've just completed the third year of an American and Canadian studies programme and I'm committed to the course. Hopefully when I'm finished it will lead to some other opportunities, though I'm not exactly sure what those would be at this stage. Whatever, it's certainly an interesting time to be studying that particular subject.
Do you still keep in touch with speedway?
I still keep in touch, yes, though I haven't been around to go to any speedway this past year as I've been in Canada. I did actually go to Sheffield for the first time last night. I don't go to that many speedway meetings but I check the live updates page for the results. A lot of my time is devoted elsewhere for now.
This article was first published on 24th August 2006
---

Chris Backhouse:

"Fantastic interview with my old mate David Walsh, really enjoyed reading about the old days. David, good to hear what you're up to these days too. "
Norman Clark:

"1991 a year never to forget. The news that little old Berwick Bandits were in Division 1 - first thoughts were - are we going to be the whipping boys of the league? Then an announcement was made that we had signed Richard Knight, a reliable rider, then we signed Jimmy Nilsen! By now we were in dream world, all of a sudden - newsflash - Kelvin Tatum signs for Berwick! Then another signing Michael Blixt! Other riders David walsh, David Blackburn & Scott Robson thrived in this league. Gold cup winners at Oxford but sadly a horrific injury to both Blixt & Tatum without doubt cost us the league. To Terry Linden - thank you for the experience and wonderful memories!"
Keith Dwyer:

"Great interview with David Walsh and a true sportsman he was. I watched him at Ellesmere Port in that 1985 season and I also had the privilage to meet him recently at the Gunners reunion. A true gent who kept in touch with me constantly leading up to the reunion. In fact we are still in touch to this day. Let me just say thanks to Dave for travelling all the way from Scotland to be at the reunion."

[ Use Mobile Version ]

Comment on this Article | Contact Us | Go Back to Main Menu