Speedway Tonight
The Story of Davies Park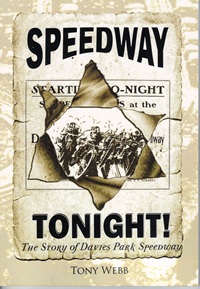 This 140 page soft cover publication just released by Boolarong Press, Queensland Historical publishers, of Brisbane, traces the history of speedway racing at Davies Park, Brisbane 1927-1932. This well researched book by Tony Webb includes a study of the legendary promoter A.J. Hunting, commentary on the Australian riders corresponding seasons in England, details of company structures, Council decisions and social connections.
There are over 60 rare photographs, many from private collections, riders statistics, a list of Davies Park riders, bibliography, interviews with speedway personalities, endnotes and index. Separate chapters have been devoted to A. J. Hunting, the late Jack Arnott and speedway riders who became aviators. Also included are biographies on all the members of the original Australian party to England.
The book has the approval of the A.J. Hunting family who granted the author a rare interview with access to family documents. The author's objectives were to firmly state the part that Brisbane played in the export of the concept of speedway racing to the world and to claim its place in the heritage of speedway racing. Recognition is also given to the late Jack Arnott of New Zealand who was the sole fatality at Davies Park.
Many little known facts were uncovered during the author's research which make interesting reading. Advice on the manuscript was received by four well-known speedway historians in the UK and Australia to ensure the book was as historically accurate as possible.
Reg Fearman, former rider, and chairman of the British Speedway Promoters Association, a man who has a close connection with speedway worldwide, wrote the foreword.
Price is $29.95 [approx. £17] Available now from the author:
15 Tranquil Street
Sunnybank Hills
QLD 4109
phone: 061 7 3711 5885
email: binbooks@iinet.net.au
web: http://www.abebooks.com/servlet/BookDetailsPL?bi=3109433527
web: http://www.boolarongpress.com.au/content/bookstore/bookDetails.asp?bookid=499
This article was first published on 12th August 2010
[ Use Mobile Version ]
Comment on this Article | Contact Us | Go Back to Main Menu