Speedway at Deagon: The Untold Story
By Tony Webb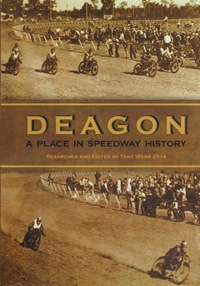 Many books have been written on the origins of speedway racing in Australia. Nine times out of ten the credit is given to Maitland Showground NSW in 1923 as the birth place of speedway racing. Subsequent dedicated research has proved that there were a dozen tracks operating pre Maitland, from 1921. They were overshadowed by the Maitland story which has been perpetuated over the years without due comparison to other venues.
My opinion was that the Brisbane Exhibition ground and later Davies Park were contenders in the historical stakes. I had published two books on those tracks. Then I discovered Deagon, a venue that pre dated my previous understanding. Local historians Grace Beecher and Barry Forsyth had researched the newspapers and compiled valuable unpublished information.
My own work was complimented by a photo album given to me in Sydney, believed to have been the property of a NSW rider who rode at Deagon in 1926. It became clear to me that Deagon had a place in speedway history comparable to Maitland.
"Deagon: A Place in Speedway History" is the third of my three published books. Davies Park and the World wide Speedway adventures of A J Hunting which contain dedicated research to challenge the in grained beliefs in Australian speedway origins. I am sure the reader will discover in the pages of this book that Deagon is significant in speedway history for many reasons. The many local riders who made their first public appearances at Deagon then became international stars is just one of the points that validate my story.
"Deagon: A Place in Speedway History" price $25 posted in Australia or $35 worldwide
Further details from binbooks@iinet.net.au
This article was first published on 8th June 2014
---

Don McLeod:

"I found it very interesting to read comments on Deagon and Davies Park. My Dad rode under an assumed name until he had a fall and had to admit his real name. "

[ Use Mobile Version ]

Comment on this Article | Contact Us | Go Back to Main Menu