Death of the Speedway Supporters Club
By Steve Haire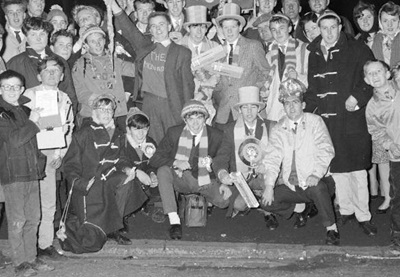 When I was growing up, the son of a working class family I would finish up like most people spending most of my life watching other people do things. For most people life would have been working Monday to Friday 9-5 with Saturday as the only day of leisure. Remember back in the day you weren't allowed to buy tickets for sporting events on a Sunday. When Rye was a training track it ran half a dozen or so meetings a year and got around it by having the programme as entrance ticket which you would have to buy from outside the stadium.
As a youngster swimming and water polo was my one participating sport but my first love of watching sport was stock car racing. At school there were a few class mates that were speedway fans and I was persuaded to give speedway a go and was given a lift to Hackney Speedway on the back of a school mate's scooter. Anyway one week he had his scooter stolen from the stadium and he stopped going but I found myself still going on my own every week, I was hooked.
I joined the supporters club and started doing the away meetings. I was fortunate that the company I worked for allowed me to take my holidays in days. The football supporter tended to be tribal whereas speedway supporters were more like a village. For instance many of the fans that supported Hackney for instance would have gone to West Ham and Wimbledon as well and any rivalry would be good natured.
Snowy Beattie ran the supporters club and the only down side was he always left way too early, one year getting to Halifax in time to see the 2nd half of the football against Exeter City. The upside was if any London Football club was playing in the area we were going to Snowy would take in the football as well. My 1st match was Man City versus West Ham which finished up 4-3 so was spoilt for football because I thought all matches would be that entertaining. At the time West Ham had what I think was the 1st professional black player Clive Best.
At that time there would have been six 1st division Saturday tracks, Kings Lynn, Swindon, Cradley Heath, Halifax, Coventry & Belle Vue so got to go to quite a few football grounds including Man Utd. And talking of Manchester, when doing the BLRC (British League Riders Championship) at Belle Vue also known as the BBBF (Barry Briggs Benevolent Fund) as he won it 5 years on the trot, the best dressed coach would win a prize.
Besides organising the away trips and the usual fund raising activities, during the off season the club would have weekly social evenings at the stadium. The highlight of this was the formation of a speedway supporters darts league and would have consisted of a first and second division with most supporters clubs having two teams. You would have had Hackney, Crayford, Wimbledon, Rye House, White City, Haringey, West Ham and in later years even Canterbury and Milton Keynes ran for a year.
It was run on a speedway format, seven as side, the 13 heat format, with the double finish winner getting 3 points and the other 3 players having a straight 3 dart throw for 2nd and 3rd spots. Averages determined team order but there weren't any maximum team averages, guests or doubling up. I played for the Hackney 'B' team and managed to finish joint 2nd in the league averages of 8.80, I then signed for Haringey 'A' for 2 pints of beer and a packets of crisps but only managed a 5.5 average, I was said to be a bit of a John Jackson (Ellesmere Port). In fact darts turned out to be my '15 minutes of fame' as I managed to beat the world number 2 speedway rider that year Zenon Plech in a match between supporters and riders and also got to play Keith Deller who was world champion (didn't beat him though).
I also did most of the Crayford away trips especially the northern tours and like Hackney they would make them special days out like the time we went to Stoke taking in Alton Towers, I was driving the minibus and made the mistake of going on the Log Plume as the last ride, very uncomfortable driving in wet trousers.
Most of the friends I've made was through speedway, in fact the 4 friends I have now all were met through speedway including one I went to school with. In the 2000's I still did away trips but by car and ones I enjoyed the drive to was Newport, Stoke and Buxton. Trouble is to have a supporters club it's ideal to have a track to support.
This article was first published on 26th January 2019
[ Use Mobile Version ]
---

David Pickles:

"Great article on supporters clubs Steve. I, as well as you, don't remember the days, but the history books show that in 1949 Wembley Lions had a supporters club membership in excess of 60,000. Utterly unbelievable now in the days of 1-2,000 crowds alone. In fact are there any supporters clubs left? And what about the good old "war cry" days? 2-4-6-8 who do we appreciate? (insert your own clubs initials at this point).

Golden days indeed, never to return in reality, as the younger generation have so many more things to occupy them now. My two daughters, both in their 20's have visited the speedway with me many times over the years, both enjoy it, but both in truth can take it or leave it. The old days of being "hooked" I'm afraid are gone. All we have are memories - but brilliant ones at that. Nobody can take them away or replicate them. Hanging off the safety fence to see giants like Mauger, Briggs, Olsen, Penhall, Collins, Lee, etc will always be there."

Comment on this Article | Contact Us | Go Back to Main Menu