DVD Review: Defunct British Speedway Tracks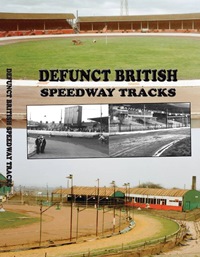 We've reviewed quite a number of the fine DVDs that Retro-Speedway have produced in recent years, but this might just be the most enjoyable yet. It's almost certainly the simplest of those they have issued, an alphabetical trip through many of the sport's 'lost' circuits, generally showing a race or two, plus other odd bits of footage from the tracks. There's no narration, the clips are either shown with race commentary or accompanied by evocative music. Sometimes the music is the theme tune associated with the track in question, for instance 'Those magnificent men in their flying machines' booms out as we watch action from Rayleigh.
As you might expect, not every track is given equal treatment, the quality and quantity of available footage obviously makes it easier to feature Wembley more heavily than (say) Castleford. Best use is always made of whatever has been found and it's great to see action from unfashionable and almost forgotten places like Castleford, Blantyre (1 and 2) and Scunthorpe's Quibbell Park.
Although the objective is to cover as many tracks as possible - and it covers 65 different tracks in the SIX hours it runs for - there are so many great pieces of footage throughout. Everybody will have their own favourites, but some of the highlights are:
Seeing Martin Dugard and Mark Loram racing round Eastbourne's training track many years before they became household names.
A truly remarkable race between Kelly Moran and Gordon Kennett at a rain-soaked Reading in 1979. The conditions were deplorable but since it was an important World Team Cup meeting the racing went ahead. The control both riders showed was astonishing and perhaps proof that good riders can perform in ANY conditions?
Les Collins' brilliant last bend pass on Robert Nagy and Mick Powell in heat one of the all-Scottish KO cup final in 1994. A great reminder of both a fabulous speedway rider and venue.

Not all of the clips will make you smile, for instance:
The footage of the decaying Hackney stadium in 1991 will be distressing viewing for those who made it a date....
The DVD includes a number of bad crashes - including the one that ended Doug Wyer's career and a horrific pile up from Berrington Lough when Jon Gould's bike flew into the crowd in the most spectacular fashion.

The fact that so many tracks can be featured on this DVD at all is also sobering. Lots of great venues gone forever, from big city stadiums to a track in a clay quarry. All gone, all missed.

There are quite a few surprises throughout, did you know that speedway was staged at Greenford in 1928? If so, did you know that it was filmed? You can see the proof on this DVD.

There are a few tracks missing that you might have expected to feature. Carmarthen, Ashby Ville, Skegness and the first Buxton circuit for instance. That's really nit-picking as this is an excellent production that must have taken considerable research.

The six hour running time seems like it requires major commitment from the viewer, but you'll find that the time passes quickly and the quality of the racing keeps you hooked. We can almost guarantee that every long serving speedway fan will enjoy this one.
---
How To Order
By Phone : 01708 734 502
By Post : Send a cheque for £20 (payable to Retro Speedway) (add £3.50 if outside UK) to:

Retro Speedway
9 Nursery Close
Glossop
SK13 8PQ
Online : At Retro-Speedway.com
This article was first published on 27th July 2014
[ Use Mobile Version ]
Comment on this Article | Contact Us | Go Back to Main Menu