Jason Doyle does the CZ Golden Helmet 'Triple Crown'
By Tracy Holmes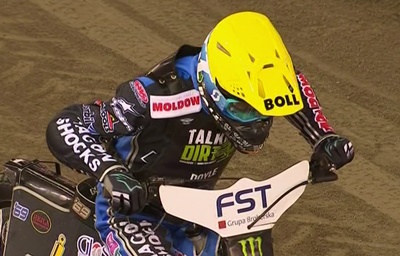 Jason Doyle
I was delighted that Jason Doyle won the CZ Golden Helmet this year, his third straight! And he became only the third rider in the 72 year history of the event to do the 'Triple Crown'. Joining Sir Ole Olsen 1970, 1971 & 1972 and Leigh Adams 1999, 2000 & 2001. The reason for my joy is that, when after his first win, Jason told us all how winning this event was on his bucket list. He knew the history and tradition and when he finally nailed it, he felt total pride and satisfaction as mission accomplished.
To do the 'Triple Crown' for this master of Speedway is justification to his professional genius. Many Superstars never got to ride in this one. Peter Collins and Bruce Penhall for example had duties that prevented them from making the trip. Jimmy Nilsen was another to miss this one while Malcolm Simmons and Phil Crump did get there eventually but not until the mid 80s and long past their best. Bartosz Zmarzlik has yet to make an appearance.
Before we have look at those who got close to the 'Triple Crown', check out this list of giants who tried but never won the coveted prize. None bigger than Ivan Mauger who got to ride in 13 events, making 11 Grand Finals. 3 times second and twice 3rd! Barry Briggs, Mike Lee, Kelvin Tatum and Greg Hancock, all on the podium as twice 2nd. Mark Loram being twice 3rd. Sam Ermolenko was also 3rd.
The following made the Grand Final but were unplaced; Edward Jancarz, Zenon Plech, Chris Morton, Tommy Knudsen, Les Collins, Shawn Moran, Jan O Pedersen, Gary Havelock and Tomasz Gollob. While Soren Sjosten, Anders Michanek , Jerzy Szczakiel, Valeri Gordeev, Grigori Chlinovski, Scott Autrey, Billy Sanders, Larry Ross, Henrik Gustafsson and Billy Hamill all did not reach that Final spot. Tai Woffinden also failed to make it but he may very well make up for that in the future.
Now let's check out those who got the 'Triple Crown' in their sights. Herman Gunzenhauser was 2nd in 1934, then won in 1935 & 1936. The next Helmet was in 1938 and I do not know if he was able to ride. His name does not appear in the list I have but it is not at all complete.
Sir Ole won the record 7 Helmets and including his 'Triple Crown', he won his 6th & 7th Helmets in 1979 & 1980. However, in 1981, it was not a happy day, enduring mechanical problems and so not taking his place in the consolation final.
Jiri Stancl has the next massive haul of 5 Helmets. The last two being won in 1981 & 1982. In the Grand Final of 1983, he had no answer for the winner, Dennis Sigalos but was able to hold off Olsen for second place. That was the last ever appearance for Ole, retiring at the end of the season.
Erik Gundersen was next up, taking the Helmets of 1985 & 1986. But he never did ride in the meeting again. It was Jeremy Doncaster that did the next double in 1989 & 1990. But in 1991, he had to settle for 3rd place behind Toni Kasper and Ronnie Correy.
The following year saw the Super Swede Tony Rickardsson take his first Helmet and then did the double in 1993. The World Champion was not smiling in 1994 as the 'Triple Crown' eluded him, finishing on the podium but 3rd behind Simon Wigg and Chris Louis. He did get his third Helmet in 1995. Tony went on to do a unique 'small triple crown'. Second place over three years; 1997 behind Ryan Sullivan. 1998 behind Hans Nielsen on the 50th anniversary and 1999 behind Leigh Adams. And that was it for Tricks.
The mighty Leigh Adams would go on to take four Helmets and who would bet against Jason doing the same? Would be a brave man to try and tie this Kangaroo down sport!
This article was first published on 25th October 2020
[ Use Mobile Version ]
---

David Cohen:

"Nice summary, including the stats, of an event that maybe hasn't always got the visibility in the UK that it deserved, as it quite clearly *is* a big open meeting. And it's brought to mind those years, especially in the 70's, when there would be tons of open meetings, which were always a good indicator of which riders were really at the top of their game that season."
Mike Coombes:

"Nice piece about a great meeting, the greatest individual meeting in the world. First time I was there was 1986. I had been racing the famous Dr. Joe Bailey 1926 TT Douglas - Briggo rode it a couple of times - in an International Vintage Road Race at the Autodrom in Most, followed the next weekend by an 11 kilometre tarmac hillclimb at Sternberk. I got on the box in both events - it was a really fast bike - second at most, winner at Sternberk.

I was travelling with my wife, our 3 year old and a twelve week old baby. We got to Pardubice in time for the last heats and the two finals. A very young Tomas Topinka won that year. Many Czechs were interested in the old Douglas and after meeting some enthusiasts and getting contact details for the Zlata Prilba club I blagged a ride for 5 Brit veteran riders on Vintage bikes the following year. The riders were myself, Douglas, Roy Nowell, Douglas, Dave Kirby, Rudge, Dave Sparks, JAP and Dickie Brown, Martin JAP. Rudolph Havelka, technical guy in charge of the Zlata Prilba clubs workshops and a fine rider joined us on an early ESO. We must have put on a good show as we were invited back many times as well as getting a skid at the Lubos Tomicek Memorial meeting at the Marketa Stadion in Prague on the Monday night.

In 1986 I fell off in front of a full Stadium during our race at the Golden Helmet. 60,000 fans - they make for a great atmosphere. I have a picture of my wife wearing Jeremy Doncasters Golden Helmet during the after race party.

Wonderful memories. Your 1938 query, Gunzenhauser started IIRC, but failed to finish. The race for the Golden Helmet was run, in those days, around the racecourse used for the Czech Grand National horse race. IIRC one lap was 4 kms, and ten laps were run. It was very fast and dangerous. There is a memorial garden for the six riders who lost their lives racing there. Franta Juhan, Gunzenhausers teamate under the British designer and team manager George Patchett, won on another Jawa. Gunzenhauser took the OHC model leaving the slower, but as it turned out, more reliable OHV bike to Juhan. In 1996 Franta Juhan's brother and Frankie Juhan, Franta's son, sponsored a Memorial Meeting at Pardubice, won by Todd Wiltshire. The Vintage bikes were there too, and it became the start of the Oldtimer Euro Series of Speedway and Longtrack events of which I and a dozen other Brits became a large part of. Great times.."

Comment on this Article | Contact Us | Go Back to Main Menu