Droylsden - The Real Story
By Nigel Bird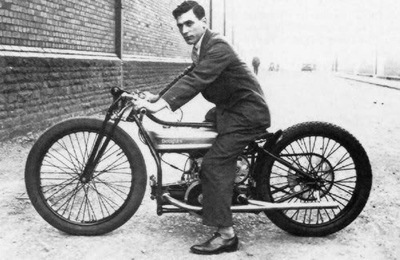 Fred Fearnley seated on a Douglas DT
Much has been said about the first attempts to run Speedway in the UK and no doubt the arguments will continue to rage. The first meeting officially sanctioned by the ACU and given a permit for "Dirt track racing" (as speedway was then known) was the Camberley, Surrey event in May 1927. The Motorcycle press must have felt this meeting was of great importance as the reports and results merited several pages and a centre page spread in "The Motor Cycle" magazine. Little of what happened that day would be recognised as speedway by today's fans.
The second event came a month later at Dodd's farm in Droylsden, Manchester on 25th June 1927. As with Camberley, this event was given a permit by the ACU for dirt track racing and organised by the South Manchester Motorcycle club headed by club secretary and local motorcycle dealer Fred Fearnley along with Harrison Gill. It is often reported that this event took place on a 600yd horse trotting/harness racing track. Evidence I have uncovered from reports in the more obscure Manchester newspapers suggest otherwise.
The track was according to the local press a horse training/exercise facility and as such was very narrow, so narrow that the organisers deemed it unsafe to start a race with the riders abreast. So they were flagged off the start line one by one at timed intervals. It is recorded that the bends were considered wide enough to allow passing. Unlike Camberley the racing was run in the usual anti- clockwise direction. Details of the track surface were not recorded; one can only assume the surface was softish to protect horses' feet but may have been rolled down hard? Little chance there was of any real broadsiding. It was said the club intended to widen the track for future events.
When interviewed, Fearnley is reported to have said, "It was just an experiment as we have no experience in running this type of event". Again, little of what happened that day resembled modern speedway but the seeds of the sport were being sown. Fred Fearnley won the first race, while the winner of the expert's race was Charlie Pashley, later involved with midget car racing and Belle Vue speedway. Fred became good friends with legendary promoter Johnnie Hoskins who was managing the Salford Albion track in Manchester, Whether Fred was involved with the Salford track I have yet to ascertain.
(Footnote) At Fred Fearnley's wedding Sept 1928 the guests included Johnnie Hoskins and Aussie riders Charlie Datson and Ron Johnston. Ron Johnston was later to star for the Crystal Palace team. Fred Fearnley had a short lived speedway racing career and was later involved on the promotional side at West Ham.
This article was first published on 30th September 2012
---

MotoFreako:

"Nice bit of research there Nigel, Droylsden is a fascinating venue. The Blackpool venue in 1928 has a similar story attached to it. Although it was originally built as a horse trotting venue, motorcycles were the first to take to the track. This time it was Wilf McClure who rolled the track to resemble an American dirt-track circuit using a mixture of clay and sand. Again. it was an experiment as they even raced clockwise. Keep up the research Nigel, it's never too late to learn something new. "
Bob Ozanne:

"I enjoyed Nigel Bird's well researched article on Droylsden. What a hazy old venue that is. Amazing to imagine the riders starting at intervals like a time trial. "No passing down the straights lads because they're too narrow!". How speedway has changed since those distant days, but Nigel confirms that this was indeed an officially licenced dirt track meeting. I think that firmly defines it as early speedway. The history of the sport from its earliest faltering beginnings is really being brought out by Researchers nowadays and it certainly makes you think. "
Jon Fearnley:

"I'm desperately trying to find out if Fred Fearnley, rider for Droylsden in the 20's was my Great-Uncle. The only info I have of him, (my Great-Uncle) was that he sold Ford cars in the Manchester area later in his life. Any chance that this is the same man? Does anyone know where the Speedway rider Fred Fearnley ended up? Longshot I know, but hey, it's worth a try. Great site by the way, my father used to take me to watch Yarmouth Bloaters speedway at Yarmouth stadium in the late 50's. Got home filthy from the cinders!! Stadium still very active, but just greyhounds and stock car now. Happy days though. Thanks for any help."
Joe Fearnley:

"Fred was my Granfather on my Dad's side of the family. I never got to meet the man. He did indeed sell Ford cars in the Manchester area. "
George Fearnley:

"Following on from my son Joe's comments. My Dad was Frederick Joseph Fearnley born Manchester in 1902. He did have a younger brother but his parents split up when he was about 8 and Fred went with his Mother Clara Greenhalgh while his brother went to live with his Dad. My Father first got interested in motorbike racing when attending amateur meetings on Southport Sands. After a short career as a rider he became involved in promoting at Belle Vue and Middlesborough, also West Ham where the riders wore vests with the crossed hammer insignia. My Dad told me that the speedway team were called the Hammers before the football team adopted that name. As a boy I attended many Speedway events with my Dad and remember the smell of hot Castrol racing oil on a Summer's evening. My Dad was a very successful businessman and the business side of speedway soon took over from racing. He owned a number of Motorbike dealerships in Manchester and London in the 50s and graduated to Ford dealerships in the 60s. He died in France in 1971 when married to his third wife who was a French national."
Paul Heaton:

"Very interesting story about Droylsden where I was born. My parents lived in Lower Openshaw and as an East Manchester family we were always at Belle Vue, Zoo, dancing, speedway etc; My parents told me that Fred Fernley owned a garage in Lower Openshaw, I would have thought before 1939 as after the blitz they moved to Higher Openshaw. On a private Facebook page called Old Droylsden, there have been several mentions of that first meeting of 1928. As a kid in the late 60's and 70's I knew that area like the back of my hand and from what people have written there were 2 tracks, Droylsden (Dodds) and Audenshaw, near to the Snipe Inn."

[ Use Mobile Version ]

Comment on this Article | Contact Us | Go Back to Main Menu