Gerald Dunn's JAP
By Julian Dunn
My name is Julian Dunn, and my father was Gerald Dunn, who rode in the Coventry junior team in 1952 and 1953. I have recently been trying to trace the races he rode in and found a spreadsheet created by Stuart Staite-Aris and Associates on the Speedway Researcher site very useful.
I had a small number of programmes which my mother had completed at the time. I started collecting programmes off eBay from these years and have now acquired quite a few. I have traced his first race back to the 9th of August 1952 with Cradley Heath. This was for the Ashlawn Supporters club trophy, which I have in my cupboard with his 1953 junior league winners' medal.
I also found an old JAP speedway engine in his workshop, which I now know is an early 'Dog Ear' engine but has no cylinder head. I was hoping someone may know something about this engine, as he came back with it from one of his veteran speedway club meetings. I think this engine may be something really special, even a prototype. I really would like to find out anything about its history as I want to preserve it (and find a head for it).
It has some really interesting measurements and is almost identical in terms of the description of the first speedway engines in Jeff Clew's book. In that it is basically a 350 that has been bored and stroked to about 466cc. It even has the small cracks in the barrels he describes.
I did take it to Paul Muller (JAP Specialist) who eventually agreed that it was what I was saying. But I think he was hoping I would to sell it to him. So I must make it clear that I would not sell it for anything.
Anyway, before I get ahead of myself, the first photo is a photo of the pictures my father took when he stripped it down. This is all that was left so there are a few bits missing although I have obtained a few original parts in the last few years.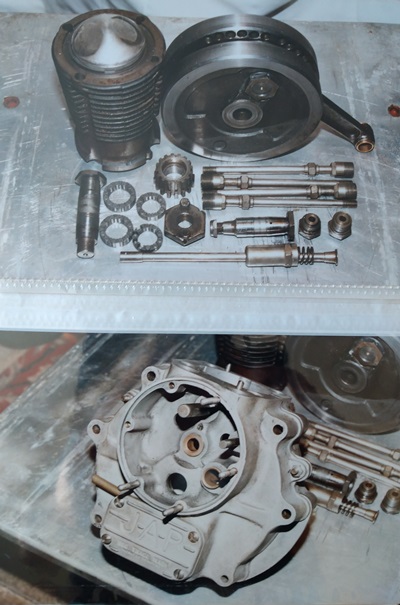 The second photo, I have partly assembled it; just to show the drive side perspective and distinctive layout. It was an ornament for quite a while.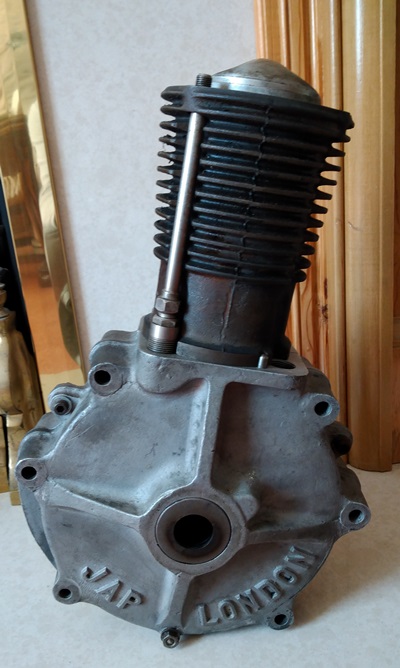 These next two photos I found on auction sites from 2019 as "job lot JAP speedway cylinder heads". Sadly, before I started looking, but it proves they are out there.
The first photo has a standard JAP cylinder head on the left with a stripped 'Dog Ear' head on the right.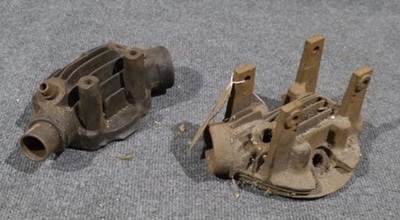 The second photo, the top left head is a complete 'Dog Ear' head. When I found these it gave me hope that one day I might reunite this engine with its head!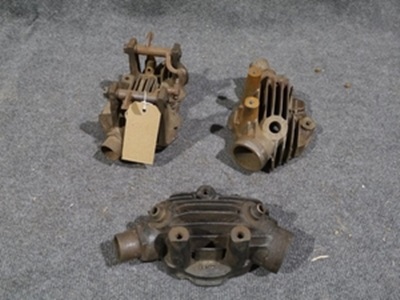 I would be delighted to hear from anyone who can provide any more information about this engine, or could help me to find a suitable cylinder head for it. I can be contacted via email at juliandunn@virginmedia.com
This article was first published on 4th January 2023
[ Use Mobile Version ]
Comment on this Article | Contact Us | Go Back to Main Menu