EBSTORF - Germany
We asked you to identify this track and once again you've come up trumps.
The consensus is that it's Ebstorf in the Uelzen area of Northern Germany.
Andy Reid has found out that British Services racing took place in Ebstorf in 1949. There was also action in the area from 1953-56, presumably at the same track.
John Callaghan points out that the photographer was based in Ebstorf. For additional corroboration he spotted that the advertising poster on the fence promotes the pilsener of the Crown Brewery in Luneberg, which (Google Earth tells him) is 15 miles from Ebstorf, so the track is clearly somewhere very close to either or both those places.
Thanks to everyone else who got in touch with their thoughts, the majority also believing the track to be Ebstorf.
Further thoughts are welcome but we think we've solved this mystery.
Drop us an email if you can help.
Click on picture for larger version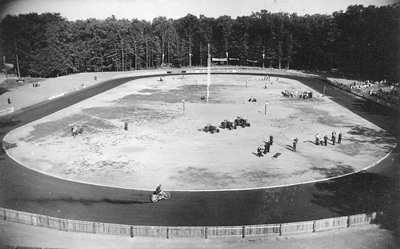 Mark on back of photograph

This article was first published on 26th March 2009
[ Use Mobile Version ]
Comment on this Article | Contact Us | Go Back to Main Menu