England's World Champions
By Tracy Holmes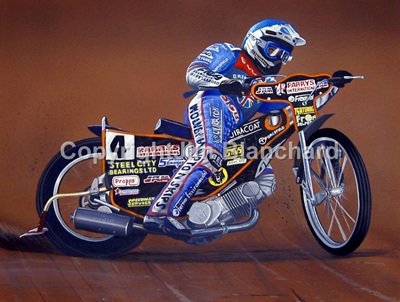 World Champion - Tai Woffinden
(Jim Blanchard Painting)
Well done Woffy! In becoming the Speedway Champion of the World, Tai Woffinden continues a tradition of English World Champions in each post war decade;
1940s, 1949 Tommy Price
1950s, 1955 Peter Craven
1960s, 1962 Peter Craven
1970s, 1976 Peter Collins
1980s, 1980 Mike Lee
1990s, 1992 Gary Havelock
2000s, 2000 Mark Loram
2010s, 2013 Tai Woffinden
Special mentions of course being among others, Roger Frogley who beat Jack Parker to win the English Section of the 1929 Star Championship, forerunner to the future World Championship.
Tom Farndon, 1933 Star winner. Easily one of Speedway's all-time greats, he crashed on the eve of the 1935 Star Final and died two days later.
Frank Charles, winner of the 1935 Star Championship. He missed by one year on becoming the first 'World Champion'.
Eric Langton, 1932 Star winner who in 1936, lost the first World Final, beaten in the Gold Medal run-off by Australia's Lionel Van Praag. Now if, as legend has it, both agreed that whoever had the lead at the end of the first lap would win the race, Langton should NEVER have trusted his opponent!!! Eric indeed had the lead and held it until the last lap when the Aussie shafted him, "BOOO ..."
All those who had their career's ended or stalled by the 2nd World War.
Jack Parker, 1934 Star winner who won the 1947 British Riders Final, post war World Final equivalent and also that the 1949 World Final finished Tommy Price 15, Jack Parker 14!
Split Waterman who lost the 1951 Gold Medal run-off to Jack Young. Then two years later, after 4 straight wins, he lost the last heat decider, coming in third behind the winner, staunch Welshman Freddie Williams and Olle Nygren. So the end result being Freddie Williams 14, Split Waterman 13.
I will mention too that Peter Craven lost the Triple Gold Medal run-off in 1960 to Ove Fundin and Ronnie Moore.
Les Collins who was the only rider to beat Bruce Penhall in the 1982 World Final. Les made just one mistake that night, making a hash of the start in his 3rd race, he was unable to recover and finished 3rd. Winning all his other races but finishing with the Silver Medal. Bruce Penhall 14, Les Collins 13.
Many other Brits made the podium but I have only mentioned those who got Oh so close but just missed out. Have I missed any ? Like Louis Lawson, Wally Green, Brian Crutcher, Malcolm Simmons and Gordon Kennett? Kenny Carter? Noo chunce, placegetter at best. What dya reckon???
Jim Blanchard Art Prints
This article was first published on 6th October 2013
---

Ian Harwood:

"British or English? Seems harsh leaving Freddie Williams off the list of champs because he was Welsh."
John Fray:

"Great piece, bringing back some wonderful memories especially of Peter Craven and latterly Mark Loram both great riders. Mark was great at using all the track to get to the front he was terrific to watch. If GP tracks had been less slick he would have won many more GP points. Tai's achievement has been brilliantly inspiring. I am sure more of our riders will now not want to settle for second best, but to get to the top just like Tiger Tai has."
Ian Graham:

"Great article Tracy - hadn't realised the one per decade pattern before. Whose the next English world champion then - Robert Lambert in 2020..??"
Tracy Holmes:

"Hi Ian, I left out the late and legendary Freddie Williams as a mark of respect to his being a staunch Welshman. I'm sorry if I offended anyone for doing so. It's just a bit of fun !"

[ Use Mobile Version ]

Comment on this Article | Contact Us | Go Back to Main Menu