Eric Jolly
By John Hyam
John pays tribute to Eric Jolly who has passed away.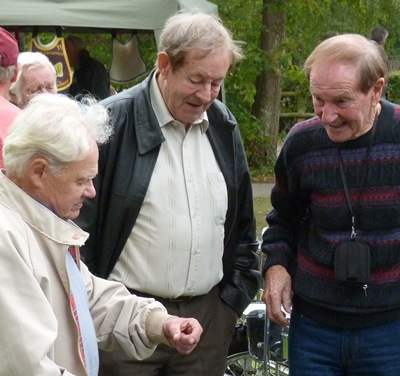 Eric Jolly was a nephew of the Belle Vue and England star Eric Langton.
Eric was a keen supporter of the annual speedway reunions which have been held annually at California since 2007.
He was well known in the 1950s and early 1960s as a junior rider at California-in-England, Oxford, Aldershot and Wimbledon. He was often a helper to Eric Hockaday, with whom he remained a close friend until he passed away aged 83 years on Thursday, October 16.
The funeral and memorial service is at Easthampstead Park Cemetery on Monday, November 3, at 11.15am.
The cemetery is situated in the grounds of Easthampstead Park, near Wokingham Berks.
The cemetery and crematorium are located on South Road, off the Nine Mile Ride (B3430), within easy reach of the M3 and M4 motorways.
The photo shows Eric Jolly, left, with Eric Hockaday and Bob Andrews at this year's California Reunion.
This article was first published on 26th October 2014
---

Dell Legg:

"Eric & I were old buddies from late 1946 when we started a cycle speedway team in Southall , Middx --- Ascot Aces & later the Southall Hammers . We graduated to REAL speedway. Eric bought a bike ( JAP engine ) which I shared with him just before he went into the army. I decided to buy a bike and we tried out at Aldershot track along with Eric Hockaday. I crashed so many times & removed flesh & bones too often so I quit & left the country! I reconnected with Eric Jolly & Eric Hockaday a little over a year ago & I wished I'd done it sooner."

[ Use Mobile Version ]

Comment on this Article | Contact Us | Go Back to Main Menu