The Etihad is Great News
By Ivor Craine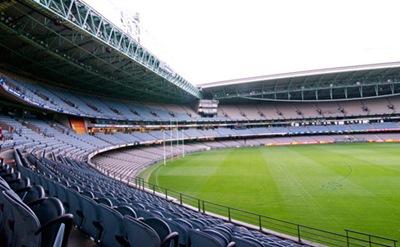 The Ethiad - Melbourne
I believe the decision to stage the GP at Etihad stadium is the best thing that could have happened for the future of Australian motor cycle speedway. Etihad is a prestige stadium, centrally located with great public transport facilities and having a roof will not be subject to the weather conditions such as those which led to the cancelation of the recent meeting scheduled for the Newcastle Showground.
Melbourne is a sports mad city and the event is sure to attract a big crowd if it is adequately publicised and a big advertising budget will be required. At this stage few people in Melbourne are aware that the GP is scheduled and even though most of my friends are motorcycle enthusiasts none were aware that Melbourne is scheduled to hold a Speedway GP.
The fact that Melbourne has not had Speedway for over thirty years is not relevent as this is a totally new concept compared to what was the previous presentation of Speedway here which consisted of a mixture of scratch and handicap racing in four categories. Solos, Sidecars, Midget cars and Stock Cars.
There were some all motorcycle events promoted at the Melbourne Showgrounds, on an annual basis, where the late Simon Wigg was the star attraction but they only went on for about three years despite being well attended. However they were nothing like the scale of a GP.
It would be great if the temporary track could be utilized for a second week featuring a Test match Australia vs the Rest of the World as this would be a competitive match with plenty of overseas stars available and an Australian team based around Chris Holder, Jason Doyle, Troy Bachelor and hopefully Darcy Ward.
This article was first published on 18th January 2015
---

Mike Wilson:

"Yes it is great that big time Speedway stays down under. My only concern is how far away from the action you could be sitting in a stadium of this size as the track will surely be a small one like Cardiff etc."
Phil Rice:

"The images of the Etihad suggest that the action might not be too far away from the terraces. Ok there is an Australian Rules football pitch there which I guess will be a bit larger than a traditional rugby or football pitch. It may be that the track will be larger than that at Cardiff."
Peter Hunter:

"I think this is a great shot in the arm for Australian speedway and I hope that it attracts record size crowds. Etihad was definitely the best choice of venue. And its easy for those around Australia to get to Melbourne with cheap air fares. I also hope that the international riders like Greg Hancock and Nicki Pedersen stick around for a while after the SGP and race in Australia at our local tracks. Other than the the likes of Aussie stars Crump, Adams, Holder, Doyle, Sullivan, Ward, Watt and Batchelor, we really haven't had World Championship riders race here since the Series 500 folded after 2000. Having the SGP riders race on Aussie tracks will definitely raise interest in the sport outside of the die hards."

[ Use Mobile Version ]

Comment on this Article | Contact Us | Go Back to Main Menu