Ever wonder why the Danes are so good at speedway?
By Bobby Duncan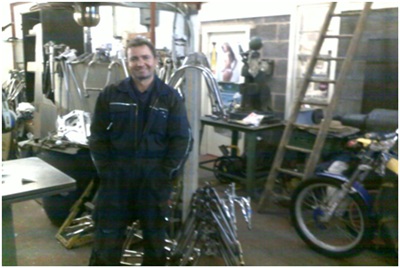 Jon Hughes of JHR Racing
Ever wonder why the Danes are so good at speedway? The answer maybe lies in Swadlingcote!!
Jon Hughes had a spell with the Stoke Potters at the end of the 80's as a regular junior team member, also having several outings for the senior team, as with many other riders a few too many bumps and bangs led Jon to park the bike. As an apprentice welder Jon was working for PJ frames , the frames that Erik Gundersen won his world titles on. This led to him taking over the business and Jon Hughes Racing frames were born.
Many of today's British boys use what are the best handmade frames in the world but at international level all use Jawa frames ( Andreas Jonsson has special made frames from another supplier.)
As a one man firm Jon cannot afford to give the top riders 10 frames a year as well as paying them a cash sum, a frame costs about 1500 pounds. Mikael Max was Jon's last GP rider.
Back to the Danes!
On a recent visit to Jon's workshop in Swadlingcote I met former Danish international John Jorgensen and Rene Ulvedal from Ulvdal's speedway supplies Denmark. Having crossed the North Sea in a storm they were still getting their land legs back but I can tell you that boat would be sitting better in the water when they returned, that van was loaded!!
The reason for visiting JHR? To buy junior frames. The Danes (and Swedes) have small tracks and racing from 80cc up at various ages so when you start speedway you have the correct equipment. In the UK a 125 was stuck in a full sized frame and is difficult to slide, correct me if I and wrong, but that's how it was before.
Reading on the Danish motor Union's site I have translated the following: "Different classes depending on age, experience and machine size. Everyone from 3 years and upwards can start with speedway, micro speedway from 3-10 years on low power machines. 80 cc speedway from 8 years old. You can compete in the season you become 8 years old."
You don't drive a rally car to be a formula 1 driver...you get a cart. It's no problem to stick a 13 year old on a full sized 500, but what if he already has 5 years of racing under his belt, sliding on a speedway bike?
John Jorgensen was in the process of building up several new junior bikes ready for tomorrow's champions. John believes these are the best frames money can buy and hopes that the juniors continue to use JHR equipment when they go on the 500's.
In Sweden you can continue your education as a 16 year old by going in the sport section of Hultsfred gymnasium where speedway is part of your study, home track Dackarna and the school team race in the Swedish third division. Getting an education while you try to become a sports star is very normal in Scandinavia.
The UKs best riders always came up through the grass tracks, I could not afford a grass bike and speedway was my dream so I never tried the grass. I'm sure someone can follow up this article with how the grass scene is in the UK, and why we are not getting the stars we one day hope will make the UK the best speedway nation once again. What training is possible for the Brits? What are the authorities doing (the ACU?) for the future growth of the sport, what is the BSPA doing to help juniors? What are the ex riders doing to pass on their knowledge? Get them more involved!
In Sweden I can ride the track 24 hours a day seven days a week as long as I am not on my own.
In the UK it was hard to get a ride; I see Stoke now does not have training every Sunday as before. Often we could squeeze in a couple of rides after a meeting at Long Eaton or Birmingham, it was only a couple of rides though. Ride , refuel, ride, then home!
In the UK we have people who can produce the equipment, tune the engines and pass on knowledge. Are we simply lacking track time?
JHR junior bikes are used by future Danish stars like Kenni Nissen and Michel Michelsen.
Kenni won the EU and Danish Championship on JHR / Suzuki combination and Michel the World Championship on JHR / Suzuki and Yamaha machines.
You can see from the photos below that as usual the Danes are total professionals with fantastic equipment. Many a race is won in the workshop, not only because of the machine preparation but also the mental " feel good factor " which comes from knowing that you have given yourself the best possible chance before you even get in the van.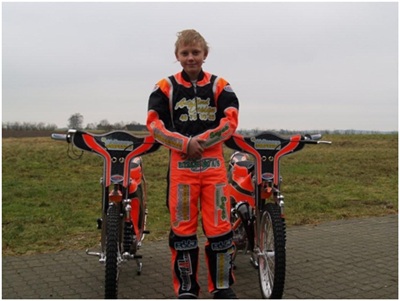 Kenni Nissen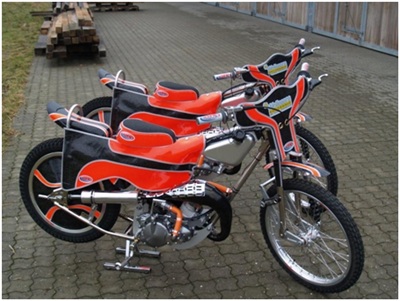 Kenni's Bikes
Let's Hope Sam Ermolenko and Leicester can get a national center going so lads trying to break into the sport get more that 9 minutes on the track each week.
America might just save the day again!
If not, Kenni and Michel will be more than happy to continue the Danish domination!
I look forward to further articles on the way forward for British speedway.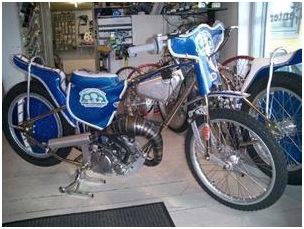 Junior bike from Ulvdals Denmark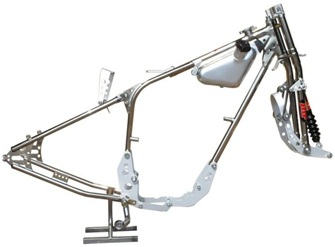 Junior frame from JHR
This article was first published on 14th January 2010
---

Ivan Blacka:

"From the looks of your article Great Britain does not have a chance at ever competing with the likes of the Danes, Swedes, etc. once the only few British riders left retire. Everybody is too worried about making money than joining forces for the good of the sport. That article raps it up in a nutshell."
Malcolm Roe:

"When the Danes do well it's 80cc two strokes, the Aussies we all should be on 125cc four strokes and the Americans in the 80's British Speedway should have gone out and built 3/4 scale 200cc or is it 250cc bikes. British speedway has every opportunity to create talent, truth is British speedway has the best system to bring up new talent it just abuses it instead of embracing it. You want to learn to powerslide a bike ride a grasstrack bike in the wet. A huge number of talented riders have come out of the ranks of junior grasstrack. Several times the whole English speedway team have been grasstrackers. Speedway teams should join forces with their local grasstrack clubs. British speedway should kick down some of that Sky money to help pay for field rental etc. What British speedway needs is a strong grasstrack scene closely aligned with good speedway training schools. The talent will rise to the top, it always does. A Ton of riders came out of the L.G.T.J.R. combo with Belle Vue Monday Nights, Ellesmere Saturday morning plus Crewe and Stoke training schools too. Malcolm Roe former 1970's L.G.T.J.R. member."
Cradley Fan Matt:

"Malcolm Roe hit the nail on the head, great speedway riders don't grow on trees they need somewhere to practice if they dont they wont get better and as the saying goes practice makes perfect. I'd love to have a go at speedway but I havent got a bike or anywhere to learn. I love the sport, I grew up watching Cradley all I wanted to be when I was a young spag was a speedway rider. It was my dream "
Ged Howarth:

"To Cradley Fan Matt,, You can have a skid!!! Scunthorpe have the gear, Wayne Carter runs a school every Sat and Sun,,. We have attended many times, everything provided, helmets, boots, clothing etc,,, Just sign on, pay up, and enjoy, very relaxed and good fun.. Wear something warm!!! It's always windy.."

[ Use Mobile Version ]

Comment on this Article | Contact Us | Go Back to Main Menu