Fancy That!
By John Hyam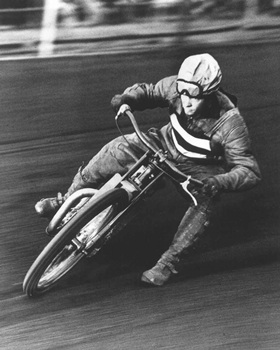 Cordy Milne
AUSTRALIANS Vic and Ray Duggan and Frank Dolan, along with Cliff Parkinson, made speedway history by being the first riders to fly from Australia to Britain in 1947. They were joining Harringay, who were reopening after closing on the outbreak of war in September, 1939.
JACK BAXTER, the Australian with Tamworth in 1947 and 1948, married Muriel, the widow of 1938 world champion Arthur 'Bluey' Wilkinson.
RALPH HORNE, who turned to speedway in wartime meetings at Belle Vue in 1944, was previously a jockey. He later rode for Coventry and Sheffield in a career dogged by injuries.
BOB HARRISON, the pre-war Belle Vue rider, used to brew tea on a primus stove in the pits between races. After the war, he rode for West Ham and later rejoined Belle Vue, where he became team manager. Another Bob Harrison - no relation - rode for Aldershot in the early 1950s.
NEW YORKER Bud Reda, the 1946 USA Eastern States champion, was refused permission to race in Britain in 1950 after a trial at Exeter. He later raced at Shelbourne Park, Ireland, and in Holland. Reda promoted in Florida in the 1980s.
CORDY MILNE, the American who rode for Hackney and Southampton between 1936 and 1939, won the World Midget Car Championship at Hackney in August 1936.
IN 1947, Tamworth had two riders - Ted Gibson and Fred Yates - who wore spectacles while racing.
MANUEL TRUJILLO, billed in Britain between 1936 and 1938 as a Mexican, Argentinean and a Brazilian, was in fact a Texan. He started racing in California in 1935 alongside Jack and Cordy Milne and Wilbur Lamoreux. He last raced in Britain in 1951 as a member of the American touring team.
AMERICAN rider Billy Gray, who appeared as Doris Day's younger brother in the 1951 film 'On Moonlight Bay' and later in 'The Day The Earth Stood Still', followed this with appearances as Bud Anderson in the TV series 'Father Knows Best.' After ending his acting career, he spent the years between 1970 and 1993 racing on South Californian speedway tracks.
ALVIN 'SPIKE' RHIANDO, the pre-war midget car ace, tried speedway at Dagenham and Rye House in 1937 and 1938. He also raced on bikes at Yarmouth in 1933.
SLIDER SHUTTLEWORTH, who rode at Leicester Super in the late 1920s, used to carry a small sachet of red dye beneath his crash helmet. When he crashed, Slider would burst the sachet to give the impression he had suffered a head injury.
FORMER Southampton, West Ham, Rye House, New Cross and Wolverhampton racer Jim Chalkley appeared as an extra in early episodes of 'EastEnders.'
THE British career of Australian rider Owen Gyles ended on his debut at Bradford in 1948. He reared on the starting gate sustaining a serious neck injury which forced him into retirement.
DESPITE his Irish-sounding name, PAT FLANAGAN who rode for Aldershot, Harringay, Newcastle and Exeter in the 1950s and 1960s, was a Londoner. At one time he worked as a porter in London's Covent Garden fruit and vegetable market. Pat was not his first name - it was Ron.
WAL MORTON rode for 15 teams in a 31-year career between 1933 and 1964. The former amateur boxing champion also rode as a team-mate to such greats as Vic Huxley, Vic Duggan, Jack Young, Ove Fundin and Ronnie Moore.
GEOFF DUKE, Britain's first post-war road motorcycling ace, failed to make the grade on speedway at Middlesbrough in 1947.
STEVE LANGTON, who rode for Walthamstow, Lea Bridge and Birmingham pre-war, and post-war was at Tamworth and Southampton, served as sergeant-major in the Australian army in World War Two.
DICK GEARY, the post-war Wigan and Fleetwood star, was a commercial artist before turning to speedway at West Ham in 1937.
ANTTI PAJARI, who rode for Coventry in 1958, was billed as both the Turkish and Egyptian champion champion by sections of the National press. In fact, Pajari was from Finland.
HAROLD McNAUGHTON did not make his speedway debut until he was 38-years-old in 1948. He rode for Hastings, New Cross, Southampton and Ipswich, before retiring through ill-health in the mid-1950s.
IN 1952, Southampton riders Ern Brecknell, Brian McKeown and Mike Tams camped out under the stands between race meetings. They also combined speedway with working on local road construction projects.
BRISTOL rider Mike Beddoe had part of a foot amputated after a 1948 crash. He resumed his career without any major problems.
THERE was a strict rule at the Buffalo Stadium, Paris, France, in 1932. Any rider going off the speedway on to the surrounding concrete cycle track would be docked one place. In a match race, Frank Arthur (Australia) came first but was relegated to second for going off course. Fernand Meynier (France) who finished behind him was relegated to third for the same offence. It meant the two riders were awarded placings in a race without a winner.
AMERICAN rider Charles 'Peewee'Cullum (USA) won the French version of the World Championship in Paris in 1936 - the same year that Lionel van Praag (Australia) won the first official title at Wembley.
NORWEGIAN Leif 'Basse' Hveem is credited as being the first rider to lap a British track at more than 50mph. He achieved the feat at West Ham in 1953.
BRITISH riders Wally Lloyd and Wal Morton had spells as rider-manager of the track at Belfast, Northern Ireland, in the late 1940s.
A TEAM of Spanish riders raced at Wembley in the early 1930s, while a French side appeared at New Cross in 1935
This article was first published on 20th December 2015
---

Tracy Holmes:

"Great fun, cheers !"

[ Use Mobile Version ]

Comment on this Article | Contact Us | Go Back to Main Menu