When the Floodlights Fail
By John Hyam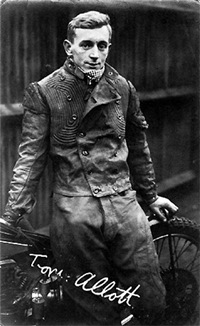 Tommy Allott
It's the nightmare every speedway rider dreads. To be powering flat out round the track and the floodlights fail. That's what happened at Liverpool's Stanley Stadium on Monday, October 17, 1949, during heat 11 of a challenge match between Legtrailers and Footforwards.
On the track were Pete Lansdale, Tommy Allott, Alex Gray and Doug Serrurier. As they went onto the back straight there was a power failure and the stadium was plunged into darkness. There was a gasp of horror from the 11,000 fans on the terraces as they anticipated a horrific accident. Race leader Lansdale found the white line and managed throw his bike down on the grass centre. Allott caught the glimpse of cigarettes being smoked by spectators and rode up against the safety fence, while Gray shut down his engine and last man Serrurier managed to turn round his bike.
After a break, the electricity was restored and the meeting finished with Footforwards winning the match 47-36. For the record, the Legtrailers team was Tommy Allott, George Newton, Syd Littlewood, Doug Serrurier, Charlie Oates, Ted Bravery, Alf Kaines and Phil Day. In the Footforwards side were Billy Bales, Pete Lansdale, Roy Craighead, Harry Welch, Reg Duval, Alex Gray, Angus McGuire and Reg Morgan,
One-time Liverpool fan Bert Hamblet was a spectator at the meeting and vividly recalls the '40 erie minutes' before the electricity was restored and racing continued. In 1960, he was working in the Liverpool pits and two of the riders at that meeting were Lansdale and Craighead. He asked Lansdale what his reaction was when the lights failed and the rider told him: "I felt like jelly!" But on the night in question, when the race was eventually restarted, Lansdale emerged as the winner.
This article was first published on 26th August 2013
---

Grant Crawford:

"Fascinating and terrifying. Makes you wonder if there is any instructions given to rider today on what action is advisable if the same was too occur, God forbid? The consequences don't bear thinking about."

[ Use Mobile Version ]

Comment on this Article | Contact Us | Go Back to Main Menu