You've Made a Fool of Yourself
By Geoff Langley
This article is a response to Castles Built on Sand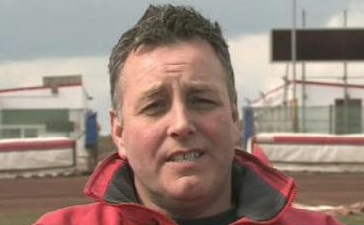 Alun Rossiter
I am surprised that Matt Jackson or anyone else paid any attention to Alun Rossiter's childish outburst on SKY.
Rosco was, as usual talking without his brain engaged. Jon Cook made some interesting comments about this in last week's Lakeside programme notes.
Apparently the contract at SKY is watertight at both ends and SKY are not going to suddenly pull out. The most important thing is viewing figures and, according to Jon Cook these are standing up very well in comparison to other minority sports, so when Rossiter spoke of SKY pulling out there was no basis for what he was saying. He was just scare-mongering because his team were losing.
In all honesty what team manager in speedway or any other sport would get on the phone to the referee, as Rosco did, knowing that upwards of 100,000 viewers were watching and start a sentence with the words " I don't want to make a fool of myself on television but,,,,,,,".
Sorry Rosco but you did, as usual make a fool of yourself on television. If Rosco has a problem about SKY then he should take it up privately through the BSPA, not speak out of turn with such tripe in front of a TV audience. That is very damaging to the sport.
The SKY money for clubs is not all that great, especially as attendances usually fall dramatically when people can sit at home and watch the match on TV for nothing, and the clubs have to wait to be paid by SKY which doesn't help their cash-flow.
Most clubs are losing money and survive only on sponsorship but SKY does have the benefit of giving sponsors access to a wide audience. Rossiter is, I am afraid one of those individuals who do the sport a lot of harm by his inability to keep his mouth shut in public.
He is nothing to do with the SKY contract. He is not a promoter. He is just an employee of a club.
This article was first published on 29th July 2010
---

Ivan Blacka:

"You have a point with your article. But one thing I will say is where can you sit at home and watch for free? You have to subscribe to a premium channel so one way or another you still pay whether you go to the track or sit at home. Someone is making money when you sit at home and watch. If I can sit at home and watch for free where do I sign up?? Nothing is free. Maybe in future Speedway will be a track with no stands and we can all sit home and watch for free."

[ Use Mobile Version ]

Comment on this Article | Contact Us | Go Back to Main Menu