Fred Gray
A few weeks ago, Ray Gray got in touch to share some memories of his father Fred. Fred passed away in 1984 at the age of 77 and often talked about his speedway involvement, though the family were vague on the exact details.
Ray said:
"Like many of your contributors, many of my childhood memories are linked to Liverpool 'Chads'. My father was Fred Gray. I was brought up believing he was a one time team manager, but reading the published history of the team, he does not get a mention.
The only reference to him I have found, is the 'Ainsdale Speedway Training School' organised by Charlie Oates (my godfather). My father is listed as one of the instructors.
One of the only pieces of memorabilia I have, is of my dad, in a white coat, starting a speedway race. I have always assumed this to be at Stanley Road but after reading John Jarvis's account of the Ainsdale events the photo could easily have been taken there.
There were always family stories being recalled about people and events surrounding speedway. Reading the stories on the website, give mention to many of the names linked to those stories. This has brought all the stories flooding back. I was born in 1946 so I was too young to remember any of the events even though I was apparently present at many of them.
One of these was a trip to Ireland. My dad apparently took some team members to ride in an event there. I don't know if it was for a proper match or simply a promotional exercise. Does anyone know? "
Jim Henry from the marvellous Speedway Researcher website, suggested we take a look on there to see if we could track down details of any Liverpool trips to Ireland.
Their records show that sides from both Liverpool and Ainsdale Sands were regular visitors to both Chapelizod and Shelbourne in Dublin. At least one of the sides appearing in 1950, 1951, 1954 and 1961. Presumably Fred Gray was part of the touring party on some (or all) of those trips?
Richard Austin has been a regular correspondent over the years on all matters Liverpool. He dug into his archives and uncovered a picture of Fred in an old yearbook:
"In regard to Ray Gray's query, his father and Liverpool speedway. I found the attached photo of Fred Gray taken from my copy of Liverpool Speedway Yearbook 1950. Maybe you could past it on to Ray. "
Here's the picture, taken from a page entitled "The Lighter Side".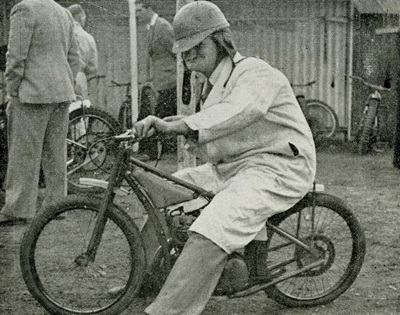 The photograph was captioned:
Bring out the Match-Race Champion, I 'yam' plenty tough!

You may look like "Popeye" but you can't kid us. We'd say that it's starting line marshal FRED GRAY, up to his pranks again.
Son Ray was understandably delighted and said:
"Please pass on my thanks to Richard.
That photo answers one of my queries anyway; he was a start line marshal on some occasions.
The photo actually seems familiar. I think I remember it from my childhood but it was, until now, not among my family collection.
The pose is very familiar too. He had none of his own teeth. Although he did have a full set of very smart dentures he found them uncomfortable to wear so most of the time he didn't bother. Consequently he was very good at gurning. So in the photo, his likeness to Popeye is uncanny isn't it?
It's interesting too that the caption to the photo mentions his 'pranks'. He used to tell funny stories about fooling the journalists; he used to claim that he would invent false rumours to feed to the press. So the author of the caption may have been one of his victims previously.
I've been thinking about the little speedway bike in the photo; I think it might have been used by the team mascot. I have a very, very feint memory of it being ridden around the track in the opening parade. I don't know if the rider will have been a child or someone very short. Perhaps someone out there knows?
Once again a big thank you. Your information and website has brought back many happy memories."
This article was first published on 30th October 2016
[ Use Mobile Version ]
---

Richard Austin:

"Further to the Roger Gray query concerning his father Fred. Roger might visit the Defunct Speedway website, check Liverpool when open check on Liverpool yearbook for 1949, drill down there is a reference & photo of his father plus pictures of the track marshals which are quite small. The Liverpool Yearbook for 1949 is missing from my collection so wasn't to reference it to support Rogers piece on his father."

Comment on this Article | Contact Us | Go Back to Main Menu