Future Track Star and a Nervous Journalist
By Philip Dalling
Speedway's spotlight, quite rightly, usually falls upon the riders, the ones who take all the risks to entertain the fans.
Although crowd numbers have diminished alarmingly, with promoters as benefactors, sponsorship and TV money (and, it has to be said, higher admission prices) filling the gap left by declining gate revenue, the regular fans still play a vital role in speedway.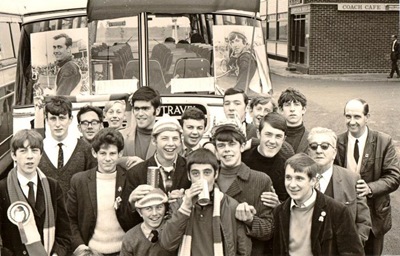 I recently came across an interesting photograph (reproduced courtesy of Long Eaton Public Library) of a group of (mainly young) Archers supporters. The fans are posed behind a coach which appears to have halted for a refreshment stop en-route to a major meeting.
The fact that the coach has large photographs of Anders Michanek and Ray Wilson in the rear window suggests the fans were on their way to Wembley for the 1967 World Final, for which the two Archers riders had qualified.
Several of those who are pictured, who still attend Long Eaton reunions, were involved at the time in cycle speedway. One of them went on to have a distinguished speedway career in his own right.
No doubt eagle-eyed Speedway Plus readers will have no difficulty spotting the star rider-to-be. No prize, I'm afraid, for the right answer, but hopefully readers will leave some feedback.
While on the subject of reunions and other social events, no apologies from me for submitting the second photograph, which appeared in Speedway Star at the time.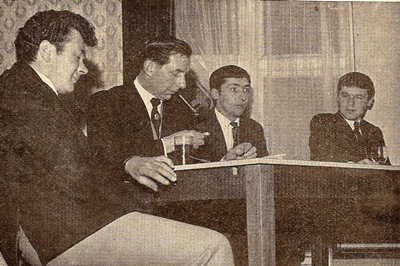 Taken at the Pavilion Hotel behind the grandstand at Long Eaton, I believe in the early months of 1967, it shows the panel assembled by Ron Wilson to answer questions from supporters before the start of the new season.
Pipe-smoking Ron is pictured chairing the panel, with Norman Storer and Norman Hunter as the rider representatives. On the far right is myself, then working as a reporter for the Long Eaton Advertiser.
Predictably, with a promoter and two popular riders in attendance, the questions coming my way were few and far between. For the most part my role was the eternal one of trying to explain why the national press neglected speedway racing.
The glass in front of me, which appears to be empty (?), had probably contained a stiff gin, to settle the nerves caused by appearing in such distinguished company.
This article was first published on 16th February 2014
---

Chris Cooper:

"Alan Molyneux? Was looking at the lad drinking from a can in centre thinking Norman Hunter but he would surely have been riding himself as the pic of Ray Wilson would suggest that being the same era."
Klaus Schwab:

"I think it is Arnold Haley in the front row."
Bob Bath:

"Reckon the future star is Alan Molyneux in turtle neck sweater"
Dom Delia:

"Must be Alan Molyneux"

[ Use Mobile Version ]

Comment on this Article | Contact Us | Go Back to Main Menu