Leigh Adams: The Best to Never Win a World Crown
By Gareth Hinton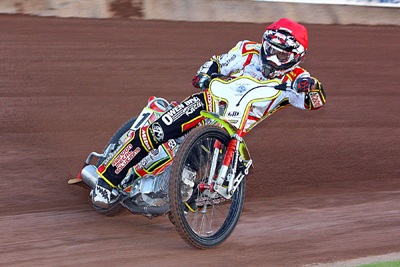 Leigh Adams
Leigh Adams is a former Australian speedway rider, who won the Australian Championship on an unrivalled ten occasions and is known as arguably the best rider to never win a World Championship.
Adams started his racing career in his home town of Mildura, whilst learning the ropes of speedway, he won his first honour by winning the Australian U16 Championship in 1986. His early success culminated into Adams moving to England to have a real go at professional speedway.
His first club in Britain was the Poole Pirates, Adams rode for Poole in the National League and was part of their title winning side in 1989. His success at Poole earned him a move to the Swindon Robins and the following year he broadened his horizons and decided to ride in Poland. By 1992, Adams was the World U21 Champion and won his first Australian Championship. By this time he was really making a name for himself in the sport.
Following his early spells at Poole and Swindon, Adams rode for a few British clubs in his career. Adams had three stints with Swindon and rode for the Arena Essex Hammers, London Lions, Kings Lynn Stars and the Oxford Cheetahs. In Poland Leigh rode for Motor Lublin and WTS Wroclaw before spending 14 years at Unia Leszno.
Adams also represented four Swedish clubs in his career, Elit Vetlanda, Indianerna, Masarna and Lejonen. In his club career across the continent, the Australian won the Elite League, Elite League KO Cup, Elite League Pairs Championship, British League Cup, Elite Shield and Ekstraliga Championship.
Adams also was a regular Grand Prix rider for many years. He will be forever known as the best rider to never win a world crown. Leigh rode in over 100 GP's in his illustrious career and won 8 in the process. His first GP success was the Scandinavian Grand Prix in 2002, it was a place that Adams enjoyed, winning three Scandinavian Grand Prix's, 2002, 2007 and 2008.
Adams also won the Swedish Grand Prix on two occasions, 2004, 2007, the Latvian GP in 2007 and the European GP in 2008. Leigh's closest challenge to a World Championship was in 2007, when Adams pushed the talented Nicki Pedersen all the way to the death, but couldn't overall the Dane and finished second in the world.
The former World No.2, announced his retirement from speedway in 2010, after 20 years of competing at the top of the sport. After 10 Australian Championships, two World Cups and numerous other team and individual honours, Adams decided to call it day. After his speedway retirement, Adams fulfilled a long term ambition of his in 2011 and took part in the Finke Desert Race in Australia's Northern Territory near Alice Springs.
On 6 June, while on a training ride with his brother and other riders, Adams crashed into rocky terrain and in the process sustained multiple injuries including fractured vertebrae, extensive spinal cord damage, punctured lungs, broken ribs, a broken scapula and a small fracture in his neck. He was immediately flown from Alice Springs to Royal Adelaide Hospital where he underwent a six-hour operation to stabilise and strengthen his badly injured spine. Since his horrific injury, Leigh has undergone a vigorous recovery process.
Adams is still confined to a wheelchair at the moment and speaking in 2012, he said:
"Visibly, there probably doesn't look to be much difference (I'm still living life in a wheelchair for now), but I know in myself that I have more strength and control in my legs which enables me to do daily things easier and that's ultimately what it's all about. The walking thing may come with time and exercise, so we'll see. But you can't believe walking can be so hard!"
Leigh Adams was not only a phenomenal rider, with his easy but safe style on the bike, he was and still is a huge ambassador for the sport. We wish Leigh all the best in his speedy recovery.
This article was first published on 1st February 2015
---

Tracy Holmes:

"Great stuff Gareth! I have nothing but respect for Adams and if I may, would like to touch on a few of those other meetings. And I see that Leigh won 3 World Cups; 99, 01 and 02. For me, his winning 4 CZ Golden Helmets makes him one of the all time greats. 99, 2K, 01 and 04. Only Sir Ole Olsen had done the triple before him and no-one has done it since. Also that he won the 09 ELRC and in 90, was second in the World Pairs Final with Todd Wiltshire. I wonder how many times Australia may have won that had it not been blown to bits?! I'm glad for Leigh that when the greats of Oz speedway are talked about, he will be right there alongside them. Here in NZ, all people talk about are the 'Big 3' and Geoff Mardon is ignored. So very happy that will not be the case for Leigh Adams !"

[ Use Mobile Version ]

Comment on this Article | Contact Us | Go Back to Main Menu