Who is Garry Middleton?
By Tony Webb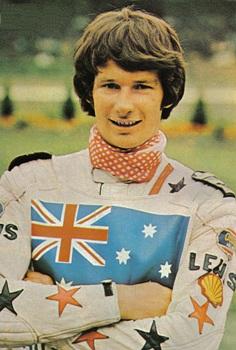 Garry Middleton
One of the most controversial speedway riders of the seventies was Australian born Garry David Middleton. A rider of undoubted talent, Garry hit the speedway scene in England in 1967 in a blaze of self promoted publicity, this impact was to continue through the next decade, barely a week would go by without some mention of the Adelaide rider in the speedway or national press. In an eleven season career he raced for the same number of clubs, on the International scene he was capped for Australia 20 times, reached 4 British finals and was a member of the Australian team who won the 1976 world team cup. He raced extensively in UK, Australia, New Zealand, Sweden, Germany, Poland, Russia, Czech Republic, France, Italy, Austria, Holland and Bulgaria, he ventured deep into East European tracks in the early 1970's racing speedway and longtrack.
The stories of his escapades are legendary and sometimes it is hard to sort out fact from fiction. He was a character with the larrikiness of Bruce Abernethy, the boyish pranks of Howdy Byford and a little of the naughtiness of Bruce Semmens, but in truth more like the latter.
His potential for stardom was unquestionable, he possessed a natural ability, had a sharp mechanical mind, knew how to work the media, gain sponsorship and was never in awe of the super stars of the day. He could have been a World Champion.
Well what happened? My guess is that he lost the single mindedness to win. His European excursions opened up more vistas to make money than racing speedway. He liked to have a deal going and his ventures into business took his focus off speedway. His dealings with the importation of Mercedes cars, electronic equipment and other commodities took priority. That is my personal view. He was also a loner and not always popular with other riders. His bonus points were always low, averaging about 8 per season, which fails to indicate a team commitment..
Sadly Garry's excursion into other ventures eventually caused the star to wane. As the seasons went by he discovered that there were other ways to supplement his speedway earnings which than resulted in a lesser commitment to a sport where he could have gained the top honours. His maximum length of stay with a club was one season, with the exception of Hackney. At the London club showman promoter Len Silver seemed able to control the wild colonial boy for three successive seasons which were the finest times in Garry's illustrious career. How Len achieved this is hard to say as they were alike in many ways with brushes with officialdom, an entrepreneurial streak and a bent for publicity. However I am getting ahead of the story so let us go back to the beginning,
Garry was reported as being born in Corowa, New South Wales on July 19 1948. Son of Paul James Middleton. From the beginning there are differences of opinion and statements that fail to show up as facts. The general story is that he was born of New Zealand parents, moving to Adelaide where he schooled and was planning to be a lawyer. His mother was said to be a psychoanalyst, there has never been a mention of his fathers profession. There has been mention of a brother in Adelaide. Garry was said to at one time have been a member of the Adelaide Fire brigade, another story was he was a Golden Gloves boxer and a martial arts exponent.
He started speedway with Paul Scanlon on the sandhills in the Adelaide suburb of Royal Park, now the site of AFL's Football Park. His early rides were under the flamboyant promoter Kym Bynthon at Rowley Park in the Australian 1966/1967 season. In fact his first recorded ride was 9th December 1966. Resident riders in Adelaide that Australian summer were the Swedish international Gote Nordin and British league star Eric Boocock. The young Middleton gave these experienced riders, as well as home town hero Charlie Monk, a run for their money. Garry was never one to be in awe of reputations of the established stars.
In early 1967 Garry made the famous international reverse charge call from Australia to the plush London Savoy hotel where Kings Lynn speedway director, the late Maurice Littlechild was attending a business conference. Garry introduced himself to Maurice, asking for the air fare to England. The spiel must have been persuasive, the result was that by March he was winging his way to Norfolk to join the Kings Lynn Stars. This did not eventuate into a lasting relationship, Garry took humbridge in being relegated to the second half with as he declared "racing with novices and secondhalfers". After five team outings with a total score of seven points he was on his way again to Belle Vue, via a brief appearance at Glasgow. At Hyde Road he again lasted only 6 meetings under former England star Frank Varey who would have found the petulant Middleton a hard act to handle. By September he was appearing at Wimbledon under the wing of maestro Ronnie Greene who must have recognised the Australian's potential, as he had in earlier years with New Zealanders Barry Briggs, Ronnie Moore and Geoff Mardon. Riding in 11 matches Garry displayed enough promise to be retained for the following year.
Garry returned to Australia for the 1967/1968 Australian season where he based himself at Brooklyn track in Melbourne along with Scotland's Bert Harkins, the late Kings Lynn and West Ham rider Peter Bradshaw and veteran Victorian Johnny Dewhurst as a member of the Melbourne Demons team. That year he was runner up in the Victorian titles after a fuel problem stopped him in the final after three unbeaten riders. He held the four lap record at Brooklyn and Myrtleford and was top scorer for Victoria v South Australia. He gained his first Australian cap for the Adelaide match against the Lions but failed to score
Bert Harkins relates the tale that he travelled back to UK with Garry, during a stopover in Hong Kong Bert returned to the hotel room to find Garry in front of the mirror repeating "you will be world champion"...."you will be world champion"....a self hypnosis book lay on the floor!
Returning to Wimbledon for the new British league season he teamed up with the veteran Swedish world finalist Olle Nygren. It would be fair to say that 1968 was the year Garry, or Cass as he had become known, would complete his speedway apprenticeship, there could be no better master than the widely travelled 'Varg Olle' to teach a willing pupil the tricks of the trade. This was the era when Morris 1000 ex-Post office vans were in vogue for speedway travel, Olle and Garry would have travelled thousands of miles that season sharing one of these rather cramped modes of transport by today's standard. From Garry's workshop under the grandstand at Wimbledon a stream of letters went out to all the continental promoters as he inched his way into the lucrative speedway and long track scene in Europe. The great Barry Briggs was to comment that "Garry learnt more of the angles in two years then I did in twelve".
Named as a reserve for the 1968 British Final at West Ham, Garry caused a panic when he borrowed a 350cc Grass track machine from a member of the Kent junior Grass Track club who were there for an interval exhibition. Finalist Colin Pratt was held up in the London traffic and Garry was prepared to take his place aboard this low powered machine. There was nothing in the rule book that prohibited the use of a lower powered machine. Red faces were saved when Pratty rushed into the stadium at the last minute. One could have imagined the drama if Garry had ridden and scored.
In total Garry rode for the Dons in 38 matches amassing 210 points that gave him a healthy average of 5.874.
When the UK season finished Garry flew out to Sydney where he raced the 1968/1969 season at the Showground and Liverpool. He also appeared in Melbourne and was runner up in the Victorian championship.
On his return to Wimbledon in March 1969 he discovered to his dismay he had been released by the Dons and had been allocated to far flung Newcastle in the north east of England. This was never going to work as already he had a calendar full of continental bookings with a good chance of arriving back in Newcastle tired and possibly battle scarred. It was said that in order to have the important SCB stamp on his license to enable him to ride in every continental meeting, Garry borrowed a stamp from London Underground and stamped his own documents slightly smudging the final result!
At Newcastle after 5 matches a compromise was reached between Mike Parker, the Newcastle promoter and Len Silver at Hackney, which saw Garry donning the Hawks jacket in May 1969.
Based in London again Cass was a happier man, with Len Silver's efficient running of the Hackney time table he had the choice of several ferries he could reach to honour his European bookings. With a workshop at Hackney Stadium, the help of resident Hawks' mechanic Terry "Bert" Busch and West Ham rider Don Smith, with Alf Hagon's shop around the corner Garry was well set up. He gained sponsorship from Rivetts the leather manufacturers of Leytonstone, Wal Phillips helped him with fuel injectors and introduced Garry to a new sponsor, Peter Elleker, Garry was later to marry Peter's daughter Anne. In the Hawks team were the former World Finalists Victorian Jackie Biggs, and the very experienced English stars Jimmy Gooch and Les McGillivary. With this solid background Garry's form began to become more consistent.
In August an incident happened at Cradley Heath which was probably the first of the legendary Middleton stories. During a hard fought race with Cradley's Roy Trigg, Garry ended up in the fence. On his return to the pits Garry pulled a gun from his toolbox and bailed up Triggy. The police were called in and our hero left the stadium under police escort. Eric Boocock would relate a similar story in his book "Going round in circles", when Garry was spanner man for him in the pits during the 1971/'72 Lions tour in Sydney. "You'll have no probs with Airey tonight" said Garry, "I will blow him away", producing a gun from under his coat. Whether it was real or a starting pistol Eric did not know but firmly told Garry to get rid of it pronto. It was also strange that an Aussie should be helping an English rider in this hard fought series!
On the World Final trail he made the British Final scoring 8 points. Garry finished the season in the number 2 position scoring 208 points from 28 matches. This included 8 bonus points, he had proven to be a reliable team member which was pleasing to promoter Len Silver and team manager Dave Erskine. A first Australian cap in the UK on the 28 May at Poole was rewarded with 3 points
He based himself in Sydney for the 1969/'70 Australian season where he was called up for the second test at Perth, perhaps they knew he would travel anywhere for a ride, he scored 5 points but then was not used for the remainder of the series. He was reported in March 1970 as undergoing an operation to remove his tonsils prior to returning to Hackney, which provoked some less than complimentary comment!
Garry upped his average to 8.20 in 1970 and endeared himself to the Waterden Road fans. Headlines were made after the April clash with Glasgow, the late Oyvind Berg was carted off to hospital with head injuries following a tangle with Garry in the last race of the night. There would be many more headlines as the season unfolded!
On the international scene he became a force to be reckoned with showing no fear of the establishment. In the test series against England he scored 3 at both Poole and Hackney, followed by being second highest scorer with 9 at Cradley. The Cradley fans hated him with a vengeance so that would have been an interesting meeting. In the Golden helmet match race series Garry won the coveted prize from Eric Boocock then lost it to Anders Michanek at Reading, then won it back from Ivan Mauger, breaking the Hackney track record in the process only to lose it on his first defence against Nigel Boocock.
Returning to Australia in November 1970 Garry's first meeting was in the Australian side that beat the Lions 61-46 in Western Australia. Surprisingly axed for the third test on his home track at Rowley park he was called up again for the fourth test in Sydney contributing 3 points as the Aussies went down by 4 points on the boxing day meeting. He won the 1970/1971 New South Wales Championship in Sydney.
Arriving back in Britain for the new season, he was honoured to receive the captaincy of the Hawks following Les McGillvary's retirement. It was a more mature Middleton who lined up for the Easter start. To add to his self promotion the Speedway Star ran a weekly Middleton page which was well and truly exploited to the max.
In his personal life he tied the knot with Anne Elleker of Walworth (South London), the nineteen year old daughter of his sponsor Peter Elleker. The marriage took place at no lesser place than the Parish church at High Beech on March 13, West Ham rider Don Smith was the best man. Garry was at this time residing at Busleigh House Paternoster Hill, Waltham Abbey, quite a prestigious address in the outer London stockbroker belt. This marriage seemed to quieten the antics of Cassius.
Garry relieved Jim Airy of the Golden Helmet in June, defeated Sandor Levai and Eric Boocock before losing it again to Nigel Boocock. Trouble struck Cradley's visit to Hackney - reserve Mike Gardner was dumped into the fence following a close encounter with Garry, Gardner arose, took off his helmet and chased after Garry who had stopped at the other end of the straight and belted Garry over the head with the helmet. A total of 42 matches gave Garry 406 points with his best average to date of 8.97. The World Final quest ended as a non riding reserve for the British final at West Ham.
The decision was made to winter in London. He hit the headlines by turning up at the 1972 Sporting motor cycle show in London with a pet monkey in tow. Len Silver gave Garry control of the Hackney Saturday Training school. Pupils were often mesmerised by his Australian colloquialisms, but he put his heart and soul into these training sessions which ran consistently through hail, snow and sometimes sunshine. He also ran a training school for international riders at Motherwell following the lead of Ivan Mauger's popular schools, Garry was very quick to latch onto a moneyspinner.
It was clear that storm clouds were gathering on the Middleton-Silver front, Garry had a high expectation of his worth, the Hackney coffers did not stretch to those expectations. After initially stating a preference for Ipswich, a deal was struck with new Oxford promoter TV presenter Dave Lanning that saw Garry line up for the 1972 season as an Oxford Rebel. At Sandy Lane he became number one and topped a brilliant season with a 9.24 average, his career best. Thursday night meetings ensured he could comfortably fit in his increasing European bookings.
For his assault on the 1972 1000 meter World Long track Championship he invested in the very expensive Kurt Pedersen machinery, regarded as the finest tuner at the time - Kurt rode for Norwich in earlier years. Success came early in the season for Garry with a win at a Sandtrack meeting at Landshut in Germany. Further meetings on the lucrative longtrack circuits in Lonigo Italy with Hackney team mate Barry Thomas and Zweibrucken in Germany with another Hawk, Graham Miles were also successful, the latter was overshadowed when their diesel Mercedes was filled up with petrol by mistake on the way home.
Whit Monday saw Garry appear for the first time in the prestigious Wimbledon Internationale. Against the top world stars he ran a battling 9th place with seven points, however, same time, same place the following year would have a dramatic out come.
The Inter Nations cup was a feature of the 1972 season, Australia caps were gained at Belle Vue 7 points, Hackney 10 and a top score of 12 at Halifax. He again made the British Final scoring 4 points. Racing in the British league Riders championship for the first time he finished mid field with a well earned 8 points. On the world scene, partnered by Geoff Curtis of Reading in the World pairs final they finished in fifth place.
The press reports from the 1972/1973 Australian season do not show Garry riding.
A surprise eve of the season move saw Garry on his travels again. This time to Coventry. The Bees under the strict control of veteran promoters the Ochlitree family raced on Saturdays, which was to restrict the European opportunities for Garry. However only six official meetings were missed and the total point score of 302 gave an average of 8.33, second only to Nigel Boocock in the Bee's line-up. There was only one opportunity to challenge for the Golden helmet held by Eric Boocock and Garry was unsuccessful in this.
The drama of the season was his sensational exit from the 1973 Internationale at Wimbledon on Whit Monday. Garry accused Ivan Mauger of using Nitro in his fuel. Garry at that time was in contention on 7 points, he left the meeting in frustration and was never to receive another booking at Plough Lane from promoter Ronnie Greene who firmly marked his card. The nitro claim was dismissed at a Control board hearing.
Nigel Boocock recalls a harum scarum trip to a couple of longtrack meetings in Germany which Cassius organised with an American rider, the trio travelled in a large American ute which was not the best mode of transport for a wet weekend!
The Daily Mirror newspaper held an International Tournament in 1973 which was a well publicised event by the media. Garry rode for Australia at Leicester scoring 7, Wimbledon (2) and Kings Lynn (6). On the world championship trail he progressed to the reserve spot for the British Nordic final scoring 2 points.
In the 1973/1974 Australian season Garry rode in all four matches for an Australian select against the Rest of the World in March 1974. Meetings were held at Liverpool twice, Canberra and Jerilde Park Newcastle, he scored a total of 40 points, there is no record of his whereabouts for the remainder of 1974.
In 1975 after nine years the prodigal son returned to his first UK base of King's Lynn which was now under the management of Martin Rogers. Although great expectations were made at the start of the season, there was no fairy tale ending, it was a troubled term for Garry and by August he no longer featured in the Stars team. From 23 matches his average slumped to 5.75. Riding for Australia in the revived Daily Mirror Tournament at both Leicester and Poole an out of form Garry failed to score. In August he won an international meeting at Linz in Austria.
Following a below par British season Garry returned to Sydney and rode in the meeting of November 15 at the Royale. His equipment was not up to standard, but then received sponsorship of a new Jawa which helped him regain his 1974 form. He was selected for the third test at Newcastle and scored 2 points in Australia's dramatic slump to the Lions by 32-76. He missed the fourth test at Sydney but was called upon for the fifth meeting at Liverpool recording 3 points in Austalia's fifth defeat of the series.
On the road again for the "track a season man", the Midlands again but this time at Birmingham where the well supported Brummies had been elevated to the British League. For a side that included fellow Aussies Lou Sansom and Bob Valentine, Garry rode 19 matches that gave an average of 6.70. The highlight of his 1976 season was to be a member of Australia's glorious word team cup team at White City. Although not getting a ride he was a major contributor in encouraging and helping his team mates to a long awaited international honours
Based in Brisbane during the winter, Garry rode in two December matches against an England side scoring 7 points and 2 in the second match.
For what was to be the last season of a 11 year career Garry signed for Vic White's Leicester Lions in 1977. This was not a complete success with Garry making the headlines in August when he failed to show up a for an away meeting at Bristol. The reason given in the press was that was that his Rolls Royce and speedway bike had been stolen in London. He did however ride in 32 of the team's 38 fixtures but his average slipped again to 6.60. It is fair to say that Garry did show a rare team commitment at Blackbird road.
The Middleton story from this point is shrouded in mystery, fact or fiction the stories are endless. He turned up in the Hackney pits one night wearing a German SS uniform complete with leather boots. Then he called at the Speedway Star offices wearing the uniform of an airline pilot, claiming this disguise speeded his way through airports!!
He was reported to have ridden on the Continent in 1978. Then he sold his property at Starlings Green, Clavering, Essex to Colin Pratt and simply vanished, there were reports in the late 1980's that he was in California wanted by the FBI on quackery charges. Other unconfirmed reports state he was in trouble for selling snake oil, posing as a doctor and having found a wonder cure for cancer. There was another report in the Speedway Star in 1982, by Dave Lanning, of Garry having joined the Billy Graham Crusade and given himself to the Lord.
None of this has been backed by any concrete evidence but most items did appear in print....
A further report in late 1977 stated he was off to New Zealand to set up an import export car business but would be back in UK in 1978. He is also said to have had a professional sign made "Doctor on call" which he displayed in his car to avoid parking fines, the stories are endless. Truth or fiction?
He had an obsession with the spelling of his name, but now I am not certain if it was 2 R or one R as his marriage record states two, but his weekly columns in the Speedway Star have one R.
Extensive searches for Garry were made prior to the 2006 Hackney reunion with no success. It was reported that Ivan Mauger, Phil Crump and Barry Briggs also searched for him when rumours of his demise circulated a couple of years back
At the moment the trail has gone cold.
There are many riders who prefer to move on after their public life in speedway, if this is Garry's desire I respect those wishes. I have penned these words to give an overview of one of speedway's greatest post war characters. There is absolutely no evidence that his various escapades were anything more than that, escapades, and in my opinion there is no flaw on his character by the mention of these rumours because it was all consistent with the image.
An internet posting on www.hackneyhawks.co.uk from Bianco, a niece of Garry's, living in Adelaide, daughter of his brother, states Garry had passed away. No other details. Subsequent enquiries on the internet have failed to obtain a response.
My own personal view is that Garry is sitting back enjoying the scene as we speedway folk continue to debate what ever happened to Garry Middleton?
CAREER RECORD
1967 King's Lynn 5-17-1.87
1967 Belle Vue 6-13-2.60
1967 Wimbledon 11-41-4.60
1968 Wimbledon 2-10 5.87
1969 Newcastle 5-34-6.48
1969 Hackney 28-208-7.05
1970 Hackney 36-328-8.20
1971 Hackney 42-406-8.97
1972 Oxford 30-323-9.24
1973 Coventry 30-302-8.33
1974 Did not ride in UK
1975 Kings Lynn 23-118-5.75
1976 Birmingham 19-166-6.07
1977 Leicester 32-222-6.70

Australia Test Matches (22)
1968 05/01 Australia v England @ Adelaide 0
1969 28/05 Australia v England @ Poole 3
1969 26/12 Australia v England @ Brisbane 6
1970 17/04 Australia v England @ Hackney 3
1970 20/04 Australia v England @ Newcastle 4
1970 11/05 Australia v england @ Cradley 9
1970 27/11 Australia v England @ Perth 5
1970 26/12 Australia v England @ Sydney 3
1972 01/07 Australia v New Zealand ITT @ BelleVue 7 points
1972 14/07 Australia v Sweden ITT @ Hackney 10
1972 13/07 Australia v Norway ITT @ Kings Lynn 5
1972 21/07 Australia v England ITT @ Halifax 12
1973 05/07 Australia v New Zealand ITT @ Wimbledon 2
1973 Australia v Sweden 4
1973 Australia v Russia 8
1973 08/07 Australia v England ITT @ Kings Lynn 6
1974 2/3 Australia Select v Rest of the world @ Liverpool 10
1974 6/3 @ Canberra 10
1974 9/3 @ Liverpool 6
1974 12/3 @ Newcastle 14
1975 22/07 Australia v England ITT @ Leicester 0
1975 23/07 Australia v Sweden ITT @ Poole 0
1975 Australia v Poland @ Liverpool 9
1975 Australia v Poland @ Liverpool 10
1975 05/12 Australia v England @ Newcastle 2
1975 26/12 Australia v England @ Liverpool 3
1976 11/12 Kangaroos v England @ Brisbane 7
1976 18/12 Kangaroos v England @ Brisbane 2

Great Britain caps
Great Britain v Poland @ Reading DNR
Great Britain v Poland @ Belle Vue
World championship
1968 British Final reserve dnr
1969 British Final 8 points
1971 British Final reserve dnr
1972 British Final 4
1973 British/Nordic final reserve 2

World Best pairs
1972 with Geoff Curtis 5th place 7+7 14
World Team Cup
1976 White City - Australia Champions
British League Riders Championship Belle Vue
1972 Eighth 8 points
1975 Twelfth 5 points

Individual meetings
1967/68 Victorian title 2nd
1968/69 Victorian title 2nd
1972 Motherwell Duckams Trophy
1970/71 New South Wales Champion
1976 Linz Austria winner

Copyright Tony Webb
15 TRANQUIL STREET
SUNNYBANK HILLS
QUEENSLAND 4109
This article was first published on 20th November 2008
---

M Pugh:

"One memory I have of Gaz 'the gas' Middleton was during his spell with Oxford, in a match against Coventry, after every race win he performed a lap of honour, standing up with his fist raised in salute, milking the cheers of the Cheetas fans. Tony Lomas beat him in the final heat and Tony mimicked Garry's celebration, only for the ref to fine him for making "V" signs to the crowd. In his defence Tony claimed he was holding his visor but the ref would have none of it. Many thanks for a great website."
Rod Webb:

"Very good Tony. Well done!"
Nick Goddard:

"First time look at website; Garry Middleton story fascinating, Brought back many memories of the late 60's early 70's for me. Always interesting to learn about a prominent riders life after speedway but of course in this case very little is known, which makes it even more intriguing. Keep up the good work."
David Hingley:

"Gary's spat with Mick Gardener was at Dudley Wood, not Hackney. Must be the funniest thing I've seen following the Heathens Cradley Heath or Dudley."
Christian Kalabis:

"Good story, very intensive. I followed Gary many times on his continental tours as Editor from Bahnsport AKTUELL, Germany Magazin, many times we travelled together to meetings (Linz we had a car accident). I see him last time in the pits of the LA Final 82, he tipped me on the shoulder ''Follow me'' and show me a badges from FBI an his jacket. Later he told me, he was married with a daughter from an embassador (Puerto Rico?), and Briggo told me, as you wrote, he has problems with the police, as they sold bottles from a lorry, to help against cancer, but it was nothing worth....that's the last."
Coiln Hooper:

"Hi Tony. What a great read glad to see you are still putting pen to paper,how about doing something on Split Waterman the 1950s wide-boy,after his speedway racing was over he reputably went into gold smuggling. "
David Pickles:

"Excellent article on one of my all-time favourite riders of my early teenage years. I seem to remember, one Friday at the Wick, that it was Barry Briggs who chased 'Cass' into the pits and hit him with his steel shoe, after they collided at Waterden Rd. This would appear to back up Tony's reference to a clash with Mike Gardner, although this must have been at Cradley, as I don't remember it happening at Hackney. It would be nice to put the story to bed, and for someone to be able to write definitively about whether Garry is still alive or not. Hopefully he is, a great entertainer in the greatest sport on earth."
Lynn Hayward:

"Very concise evaluation of Garry. I knew him well, and I can see him pulling off all of those tricks, and I am sure mostly in fun. Great job Tony."
Rob P:

"Great artical, Garry Middleton has a special place in my memory for one reason, The first match I ever went to was Cradley Heath against Hackney, It was the season when Colin Pratt had left the Hawks for the Heathens, And Garry was the first rider that I saw win a race, I still remember him now in those pale blue leathers, This artical reflects him very well I feel, He had so much potential but sadly never got to the very top, He was a very fast rider on his day and if I remember clearly, Never took too many prisoners, I have had such great times with this sport......"
Steve Bartlett:

"Great article, enjoyed very much. One memory I have that ties in with some of the things mentioned happened in the Wimbledon car park near the workshops ( now gone} when my brother & I were chatting with Garry about his recent weekend foray to I think somwhere in Eastern Europe from which he had just returned, ( unloading bike & gear from morris van} when suddenly from nowhere came a fuming guy, who i think was Vic Gooden who was ballistic about Garry not having correct paper work. All I remember was the words at the top of his voice were ", you go in, you get a stamp, you leave you get it stamped". I think it was a passport Vic was waving about. Only response from Garry was a shrug and a comment of "so what". Brilliant, what a guy, r.i.p."
David Patient:

"Great article on Goldest of Hawks ."
John Langfield:

"I was good friends with Gary. I will tell you one thing, the gun was real. John Langfield - Australin test captaion and former rider for West Ham and Poole."
Geoff Boxell:

"Whilst riding for Wimbledon he got into trouble for pulling a 'sickie'. I was in a motorcycle shop near Mordon early on a Saturday afternoon when in breezed Garry who then went into the workshop. He quickly rushed out clutching some parts. I wondered what he was doing there as the Dons were racing that day 'up north' andhe should have been on the road long since. Next Wimbledon home meeting during the parade with all the riders lined up on the centre green, Ronnie Green took the mic' and called Garry forward then waived a piece of paper, saying it was a doctors certificate saying Garry had been too sick to race the previous Saturday. He then told the crowd that in fact that Saturday Garry had been in transit to race in Germany on the Sunday. He then sent Garry back to the pits and replaced him in the meeting with the reserve."
Bob Sanford:

"I meet Garry in the early 80's. He had rented a room from my girlfriend at the time who lived in Northridge California. He had formed a Corp. called the Amerasia Corp. The Company imported a product called ADS which was sold for a number of ailments including cancer. As the Company grew and became more succesful he moved his opperation to Nevada where he set up a medical dispencery to treat people. When the AMA got wind of this they did what they could too shut him down by issueing warrents for his arrest. Garry and I became close friends and he lived with me for a short time. Before the trail Garry was able to talk his attorney Patrick Hillings Ex-Congressman to have his passport that was being held by the distric attorney releast. Shortly after Garry left for the UK and never returned too stand trail. I know this for a fact as I had invested in the corp. and was also listed in the law suit."
Tony Webb:

"Garry Middleton. the posting by Bob Stanford was most interesting. As many readers would know I researched the life and times and published the book Garry Middleton Fact or Fiction in 2010. Garry's family helped me, Garry's eldest sister is a neighbor. What Bob has posted is in line with the family's version. the product was used sucessfully by Garrys mother for her Arhritus."
Mr B:

"I remember him at Brum, scoring 17 to beat Ipswich in 76."
Dave Naylor:

" I noticed that you had a comment from Geoff Boxell, I was wondering if Geoff was related to Ron Boxell who I sat next to for many years at Wimbledon. I believe he only missed one home meeting from (I think) 1946 to 1973. I think he emigrated to New Zealand."
Geoff Boxell:

"Yep: Ron Boxell was my Dad and he & Mum did follow me to NZ in '73 (my wife & I came here in '69). Dad took me to Wimbledon aged 6 months and I went there for the speedway till I left for NZ. I didn't get to all the meetings as from 11-16 my homework was such that I could only get there during the school holidays.

From '65-68 I worked at the stadium cooking Wimpey Burgers but used to pop out from my bar to watch each speedway race. At that time Dad used to sit in a box just near the exit to my bar so I used to be able to sit with him. Just as a by-note Dad was a great friend of Bob Andrews who I met when I was 6 & he 16. Bob and I are still mates and I catch up with him at Rosebank Speedway in Auckland. Bob's grandson, Bradley, races for the Kent Kings."
Gisele Firmin:

"I shared Gary's life in England for approx 10 months. He was an acute business man with Mercedes Benz cars, and a great rider. I am so saddened that he died so young. When he was focused, he rode with such passion and determination, it was a pleasure to watch."
Jessica James:

"I lived with Garry in 1979 / 1980 in Mira Mar California. He owned the home we lived in. He was selling cars and trying to get into selling Bell Helicopters. He had his pilot license. He mentioned he was a motorcycle rider but there was no internet then and I never thought anything about it. I just heard of your death. RIP old friend."
Derek Wildash:

"I worked for Gary Middleton in the pits of Hackney for a short while. He was an arsehole. I saw Barry Briggs almost strangle him one time. Just a dick to be around. "
Jim Salt:

"I can confirm that the spat with Mike Gardner happened at Dudley Wood. I was there in August 1969 when Gary knocked Mike off on the first bend of Heat 12. Gary came to a halt on turn 4 where he was confronted by Graham Coombes. Feelings were already running high from a previous incident which had seen Gary excluded. Mike Gardner started to run across the centre green, but stopped and returned to get his helmet. He then made his way over to the melee on Turn 4 and belted Gary on the head with his helmet. Cue uproar. "
Ken Howes:

"As a Hackney Hawks fan in the late 60s and 70s Garry was my absolute hero. Never a dull moment and a great entertainer. I met him once when I shed a chain on my BSA 250 leaving Waterden Road one Friday and had to leave my bike inside the stadium. When I arrived next morning Garry was there working on his bike for that evening's return leg at Cradley Heath. He tried to find a chain link for me but speedway bike chains are smaller.

We had a chat about that nights meeting and he came across as a decent bloke. I used to make airfix models at the time and I still have a small speedway rider model painted up in Garry's trademark yellow and red leathers complete with Hackney body color and crest. Happy days although I am said to hear of his death."
Elizabeth Trevor Thomas:

"Bob Sanford's account is correct. I attended the same church with Bob and Gary in Van Nuys around 1984, and we became friends. I was a public relations professional and tried to help them. Gary was being villainized in the news media. There was an aggressive district attorney that was looking to get reelected, and he was pushing the agenda to prosecute Gary and Bob over ADS. Bob, I still have the New Testament you gave me signed by Porter Barrington, who wrote the master outlline, and who's wife successfully used ADS until her family made her stop. Gary and Bob were good guys.

The story of how Gary came across ADS is fascinating. Gary called me late one night and said he was leaving the country, would never get a fair trial, and did not want to go to jail. I didn't blame him. Last time I ever talked to him. He was so fun. He loved the circus and took my son and I to a circus where he arranged for me to be the guest circus master. I still have the picture he took of me on the circus stage. Rest in peace, sweet Gary!"

[ Use Mobile Version ]

Comment on this Article | Contact Us | Go Back to Main Menu