Dream Team: Garry Robinson
I was first taken to Hyde Road in 1970 when I was 10 years old by my parents and I fell in love with the sport immediately. The first match was the KO Cup Final against Wimbledon and I head the pleasure of seeing Mauger, Moore and Sjosten in my first meeting in front of a huge crowd. The intoxicating smells and the sounds of the bikes captured me immediately and I didn't miss another home meeting for 17 years. I can still hear 'Tokyo Melody' every time I think of the old stadium.
My interest started to wane in the mid to late 80s after the decline of the sport set in and the catastophic closure of Hyde Road, and there were too many many injuries (and worse) happening on what seemed to be on a more regular basis. I kept in touch with the sport through television. especially the GPs and I now go to the National Speedway Stadium three or four times a season.
The sport is not what it was, but the track at Belle Vue provides great racing and brings back memories of Hyde Road. On it's day, there is no better spectacle in the sporting world.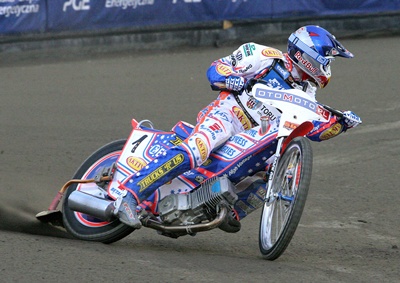 Jason Crump
(Pic by Ian Adam)
Ivan Mauger
A rider years ahead of his time. So professional in his outlook and a sponsors delight. Married to a great abilty to gate and a fierce determination, he would be the ultimate number one. I was privileged to see him at his peak in 1970-1972.
Alan Wilkinson
The Ace's greatest ever captain and a rider who was getting better and better until his tragic accident. One of my favourite riders ever, not so much for his riding ability, but for the fact that he got the best out of his team mates and squeezed every bit of talent out of himself. They'll only be one Wilkie.
Peter Coliins
The most naturally talented rider I've ever seen. He was most famous for his great passing ability, but when push came to shove, he could gate with the best of them when needed. Winner of the greatest race I've witnessed when he beat the great Anders Michanek in a run off for the 1973 KO CUp Final. The noise as he crossed the line was deafening as we watched a superstar come of age. Classy rider, even classier person.
Chris Morton
Was probably a little unlucky to be riding in the same era as PC as he never completely got the credit that his great talent deserved. As spectacular as Sjosten or Collins and also had their lack o f gating ability (!), which meant for great racing. His heat 13 team riding with PC when the Aces needed a 5-1 was a highlight of so many Saturday nights.
Jason Crump
A true superstar who achieved everything in the sport. He may have rode for many other teams in his career, but I think that most people would best associate him with his time at Belle Vue. Carried the team for most of his time at Kirkmanshulme lane, but never let his commitment to the cause waiver.
Soren Sjosten
Spectacular and fast. I only saw the beginnings of the end of his career in the early 70s, but he was still a might force to be reckoned with around Hyde Road where his blasts around the boards had to be seen to be believed. Another loyal team man who was never the same after he left the Aces.
Larry Ross
A vastly underrated rider who was Mr Reliable in the early 80s. Never quite displayed his talent on the world stage, but a great team man who could be relied upon to never have a bad meeting.
Submit Your Own Dream Team
This article was first published on 18th September 2022
[ Use Mobile Version ]
Comment on this Article | Contact Us | Go Back to Main Menu