Riders to Remember....Gary Peterson
By Tracy Holmes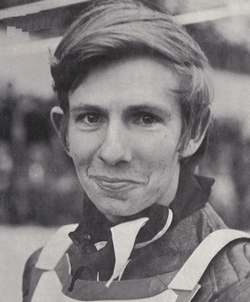 Gary Peterson
Gary Peterson
June 9th 1946 - October 17th 1975
Gary's introduction to speedway was as a 16 year old at the Waiwakaiho track in his home town of New Plymouth, New Zealand. Midget cars were his first love but too expensive to go for. He was the passenger on a sidecar but soon caught the solo bug.
His first full season was 66/67 riding a JAP he bought from his boss, Ash King. Gary was an apprentice motorcycle mechanic. Everytime he rode, he had the spectators glued because of his full-throttle, fence-scraping antics. The injuries started rolling in but so did his impressive performances and Gary got his first Test Cap on January 20, 68. This was the British Lions V NZ at Western Springs, Auckland. He scored 4 points and at the 2nd Test in Napier 4 days later, got another 2.
In May, Gary made his way to the UK and shared digs with Murray Burt, Paul O'Neil, Terry Shearer and Ole Olsen. Speedway Star reported his debut for Newcastle, 'he went flat out for 3 laps before going straight through the fence, breaking his wrist and ending up in hospital.' Gary became good friends with Ivan Mauger, travelling and working for his fellow Kiwi. But it was on the track Gary wanted to be and by seasons end had done 10 matches for Newcastle for a 3.5 average. At Nelson, 14 matches returned an average of 8.1, and he was a "Star".
While he copied Ivan's style, he was still reckless and proved a danger to himself and others. Ivan once said, "If a rider is constantly being injured, he is either very unlucky or he is doing something wrong." The latter applied to Gary because every rider I spoke to said the same thing, "he just couldn't be told!" Gary wintered in the North and got himself fit for the 69 season. Rearing to go, literally, he did 4 matches for Nelson, continuing his excellent form and 8 for Newcastle. Entering the World Championship rounds, his first was at Newcastle on May 19 scoring 4 points. Sheffield was next on the 22nd and he got 8. Then came Wolverhampton the following night. His first heat was a disaster, going through the fence and being rushed to hospital with severe head injuries. Dave Gifford and Bernie LaGrosse visited him the next day. They both said what a horrific mess he was. In fact, one of them told me straight, "he should never have been given his licence back!".
Gary returned to NZ and made his comeback in his hometown. Interestingly, he was not selected to ride in the 3 Tests against the Lions. So his only real opportunity to shine was at the 1970 NZ Champs, Western Springs. Well, a first heat engine failure put him out for the rest of the night.
Back to Britain for Nelson/Bradford. Missing a berth in the World Championship rounds, on July 15 he won the Northern Riders Trophy at Bradford unbeaten from Alan Knapkin and Eric Broadbelt. Then came the 2nd Division Tests, Australasia V Britain in August and September. He starred with the results of 14 at Middlesbrough, 16 Crewe, 18 Berwick and 11 Canterbury. Back at Bradford on September 9, Gary won The Odsal Trophy after thrilling scraps against Malcolm McKay and Maury Robinson. While he was keeping serious injuries at bay, despite some alarming spills at Crewe, Oxford and Wolverhampton, he was still recieving ongoing treatment for his previous years facial injuries. On September 30, at Bradford, he won The International Club Trophy, unbeaten from Maury Robinson and Doug Wyer. By seasons end, Gary had done 5 matches for Wolverhampton with his best mate Ole Olsen and had topped the 2nd Division averages. He'd done 22 matches for 10.7. Hot favourite for the 2nd Division Riders Championship at Hackney, Gary faltered and finished 3rd with 12 points behind Dave Jessup 14 and Barry Crowson also on 12. Gary was not a happy camper.
It's been suggested to me that the physcological scars of the year befores head injuries were really kicking in. Then another horrific crash at Doncaster saw concussion and right arm injuries. He was tired, nearly broke and announced his retirement saying that 2nd Division Speedway was financially unworkable.
Returning to NZ, he hoped the freshair and sunshine would be the right tonic to help his decision making. Well, it seemed to work and Gary scored 12 points against the Lions at Western Springs in the 1st Test on Febuary 6. Not so hot in the 2nd Test, just 2! Four nights later in a 'friendly match' at Gisborne, he thrilled the locals with 17 points. Then it was down to Christchurch where he got 8 points in the 3rd and final Test. The following week in Christchurch was the 1971 NZ Champs. Gary wanted this one badly but he couldn't match the locals dropping 3 points to finish 4th behind Frank Shuter 15, Alan Brown 14 and Roger Wright 13.
After getting his head together, Gary returned to Britain, signing for 1st Division Wolverhampton. And what a start, his 1st two matches saw Paid 20 points out of 21! His best mate Ole Olsen, the captain did his best to advise and help but Gary's injury train just kept on rolling. Despite this Gary did 23 matches for a 6.8 average, but missing the World Championship rounds.
The 71/72 NZ season was pretty good. No Lions tour this time but Gary saw Test action against Sweden and the USA. In the 3 Swedish matches, he scored 16 at Western Springs, 14 also at Auckland and 15 in Christchurch. Against the Yanks, 14 points at Western Springs, not riding in the other 2 matches. He also missed the 1972 NZ Champs in Christchurch. Gary was all set to return to Wolverhampton and was driven to Auckland airport by his sister and brother-in-law. As Gary flew out, his family was involved in an accident. Gary's sister was killed. Getting this news at the Australian stop-over, Gary immediately returned home. He did not return to Britain that year.
The 72/73 NZ season saw Gary's return and on January 29, he won the 1973 NZ Champs, unbeaten at Western Springs from Bob Andrews and Graeme Stapleton. In Febuary, he did 2 Tests against the Lions. The 1st at Western Springs, 6 points. His next was the 3rd Test also at Auckland, 8 points. On Febuary 27 at Palmerston North, there was a NZ International Champs. Ivan Mauger won unbeaten, Gary was 2nd with 14. Chris Pusey 3rd. The field also included Barry Briggs, Bob Andrews, Bill Andrew, Roger Wright, Ronnie Moore, Graeme Smith, Frank Shuter, Freddie Timmo, Graeme Stapleton and Mike Fullerton.
All fired-up with renewed confidence, Gary returned to Britain and Wolverhampton. In the World Championship rounds, on May 18 at home, he was 3rd with 11 points. The following night at Belle Vue, 5th with 10 points. Then on the 23rd at Newport, 3rd with 12 points. But at the British Semi-Final at Wimbledon on June 7, 5 points saw his elimination. In July, the now legendary Daily Mirror International Tournament was held all over the UK. The Kiwis 1st match on June 26 against England was rained-off. Then at Wolverhampton on June 29, they went down 37 to Norway/Denmarks 40, Gary scored a dissapointing 4. July 2nd at Exeter, they smashed the Poles 53 to 25, Gary scored 7. July 5 at Wimbledon, they did it to the Aussies 50 to 28, Gary astounding his critics with 10. Then on July 9 at Reading, they beat the USSR 43 to 34, Gary just 4. In the Semi-Final at Belle Vue, the Kiwis went down to England 49 to 30 and Gary scored a very sad 1 point.
In the British League, Gary's confidence grew despite another crash at Exeter ending with concussion. He got to ride 34 matches for a 5.9 average. 1974 remains something of a mystery concerning Gary. He didn't ride the 73/74 NZ season and did not return to ride for Wolves.
But return to ride he did, in the 74/75 NZ season. Poland toured and Gary was a revelation. He was unbeaten for an 18 point maximum in the 1st Test at Western Springs. Then at Christchurch, 15 points. It was here that local legend Buck Buchanan made a crash helmet frame for Gary's glasses. After a practice at the Templeton track, Gary came in and said, "I never knew the *** fence came up so fast!!" The 3rd Test was at Te Marua, half an hour north of Wellington. This is where the Poles dealt to the home team, 69 to the Kiwis 39. Gary scored 9. The last Test was back in Auckland and Gary's second 18 point maximum. Also that season, Gary rode in a one-off Test, NZ V The Rest of the World at Invercargill. That's right, Bert Munroe's home town. The Rest, Ole Olsen, John Louis, Tommy Jansson, Scott Autrey, Henny Kroeze and Egon Muller beat the Kiwis, Gary, Ivan Mauger, Briggo, Graeme Stapleton, Graeme Stewart and Larry Ross 60 to 48.
Gary eagerly returned to Britain for the 75 season back at Wolverhampton. Renewed confidence, fitness and health. He rode with Bruce Cribb in the World Pairs Championship. They scored 20 points at the Semi-Final at Frederica, Denmark. Gary 12, Cribby 10. Not enough to Qualify though, 4th behind Denmark 24, Sweden and Australia 22. Also in Denmark at Ole's track Vojens, Gary scored 11 points to finish 5th in an invitation behind Ole 14, Jim McMillan 13, Billy Sanders 13 and Ivan Mauger also 11. Back in the UK, Gary sadly missed the World Championship rounds but his form with Wolves remained steady enough. By October, he had done 30 matches for a 5.8 average.
October 17 saw Wolverhampton V Oxford in the 2nd leg of The Midland Cup. Gary was 3rd in his first race, heat 4. Then he won heat 7. His next heat was number 11. Chasing the Oxford pair of Dag Lovaas and Alan Grahame, guesting, Gary went hard underneath Grahame, lost control, reared and went head-first into the track-lighting pylon. Gary Peterson was dead.
Riders who knew him well, team mates and flatmates all said the same thing. Here's a few:
"Gary was going to be World Champion or die trying!"
"He was so determined to emulate his mates Ole and Ivan, he lost all sense of reason!".
"Gary's death was only a matter of time."
"No matter who told him, Gary wouldn't listen, you cannot ride in England as you can in NZ."
Despite all this, Gary could be a hugely popular and hell of a nice guy. In the end, a truly tragic guy. From what I understand, his personal life was interesting to say the least. And from the stories I have heard, will say nothing. I have never gotten over Gary's death and his autograph is so precious to me. I loved him but never knew him. Gone but never forgotten.
We want to feature similar articles on riders from any era of the sport's rich history. If you'd like to contribute a piece then email us at speedwayplus@hotmail.com or fill out our form here.
This article was first published on 19th February 2009
---

Steve Metcalf:

"Thanks Tracy for an excellent tribute to one of my speedway heroes. I was fortunate enough to see gary ride for Bradford (all too briefly ) when Nelson Admirals switched to Odsal stadium. He made an instant impact on all the fans and quite a few riders as well - especially Maury Robinson and Mal McKay!. We were devastated when he retired, but I suppose we knew he would have to move up a league sooner or later.

I will never forget the nights at Odsal when Workington Comets came visiting. Their track was similar to ours and their team always seemed to have lots of Aussies who liked the bigger tracks, so the meetings were always fierce and competitive. Gary seemed to love the needle and highly charged atmosphere of these meetings. My fondest memory would have to be the night he took Maury Robinson from the back on the last bend with both wheels on the grass (allegedly). Maury insisted the referee came down to the track to see the tyre marks but ref was unmoved, much to Maury's annoyance. Happy days."
Andy Smith:

"Thanks for a very interesting and sad article. I remember the night...I was on my way to the pits, like the week before when I had spoken to Gary. I had got as far as the apex of the turn where he crashed. I remember the stripey top he had on over his leathers. I remember Ole Olsen walking out and back to the pits with his head bowed. It had a profound affect on me as a young lad but I still had to try my hand at speedway! My friend and I wagged school to go to Bushbury Crematorium!"
Doug Phelan:

"I was unfortunate to be there at Gary's sad fatal accident, I was an Oxford supporter young and very excited at the prospect of our first trophy, I remember Gary from the first leg as in the parade he was lined up directly opposite me. Oxford won the trophy it was then announced that Gary was dead on arrival at the hospital, we all left the stadium in s ilence and very little, if anything said on the long drive home. A really sad day. "
Mark Waudby:

"I too was at the tragic meeting as a ten year old and also re-call Gary's hooped top he wore, and him wearing leathers given to him by Ivan Mauger. I was an Oxford fan and will always remember those sad words when the stadium announcer told the fans the tragic news and to "leave the stadium quietly". Gary and all our other heroes of the shale will NEVER be forgotten."
Ian Jackson:

"He was an amazing passionate rider who as a Wolves fan at the time and still am was glad to have been lucky to have seen him and sad to have lost him before his time."
Mike Sheldrick:

"I remember Gary with great affection. Gary was my Hero and as a snotty nose kid at Nelson I used to watch him along with all the other riders but he was my Hero. I used to help him carry his gear to his car and go in the changing rooms and listen to all the stories (I was allowed because of my brother riding there). When they moved to Bradford I was so glad that my Hero was also going there as he was one of the best at this time. I got to know Gary better and better, helping him in the pits, carrying stuff down from the cars to the pits which were right in the bottom of the bowl.

It was a bit later when I decided I wanted to race speedway and I told Gary this I will never forget the words he said to me - "when you're old enough Mick, you come and see me I will make sure you have a bike to ride". I never did need to ask him as my mum and dad bought me one but them words will always be in my mind. I remember Gary being in hospital in Wolverhampton once and my mum and dad took me to see him (i was still a kid) his face was all cut his lip busted etc. I have never cried so much in my life and he beckoned me over and put his arm round me and my head on his chest.

If a man can love a man I did love Gary Peterson and the day that Gary died I think a part of me died as well. He never saw me ride Speedway in real life but I bet he was chuckling at some of my antics while up in heaven. I have no doubt that Gary would have been a world champion and speedway lost a true gentleman and friend that fateful day. RIP Gary, till I see you again !!"
Kevin Grey:

"I saw Gary race many times at Western Springs. I PERSONALLY LOVED HIS STYLE. He had such a non plus attitude and I used to watch him and his girl in the pits getting ready to race. I saw him race against Pusey and I didnt know who to cheer for as the polka dot kid was my fav english rider."
David Lilley:

"What a great article on Gary. While he was at Bradford I was working on the gate doing the tape magnets. To see him ride from inside the track was a great privilege and we were all always jostling to be the one to wheel Gary's bike out for the parade. When he came back from Wolves to ride in an invitation match he would always chat to us all, while doing the long walk from the clubhouse to the pits. A great bloke, a great rider. I was there working the night he did Maury Robinson over the grass.It was obvious to a blind man but it would have been a very brave ref indeed to go against Bradford's hero on his own stamping ground.He was a great loss.Interesting to read Mike Sheldrick's comments as his brother Sid was always great value at Bradford as well."
Janet Smith - nee Dugdale:

"I woke up this morning and Gary Peterson's name was in my head! I didn't know why, but I had to 'Google' him. It was really nice to read all about him, but I was shocked indeed to learn he died so young. I used to go to the Nelson stadium with my parents as a child. They were really keen, particularly my Mum, and they spoke to Gary on numerous occasions at the meetings. They introduced me to him when I was about 14 in1968 and he seemed a lovely bloke. It was good to read all the familiar names that Mum and Dad used to rave about. I didn't particularly share their enthusiasm but I appreciated it and listened with interest to their comments. Sadly they both died a number of years ago......I just wonder why Gary's name was so vivid in my memory as I awoke this morning?"
Mick Martin:

"First time I have visited this site, it has brought back some very fond memories. I used to help Paul O'Neill out in the pits and Gary Peterson used to tune my good friend John Mulligan's JAP for him. I shall certainly be looking in again."
Peter Lowe:

"I can't believe it was so long ago that Gary died. I remember the shock at the news of his death. I felt great sadness at his passing. I did suggest to the current promoters at Wolverhampton some plaque in his memory should be made....but nothing came if it. A shame."
John Murphy:

"Tracy, wonderful words. i began watching racing at Odsal in 1972 so Gary had already stepped up to Monmore Green. I never got the opportunity to see him race but many told me how good he was, and how very sad he lost his life to the sport... I organised an Exhibition last Autumn to celebrate the history of Bradford Speedway and Gary has a significant part in it though, due to his talent - his time at Bradford was so short. I have selected 3 riders to represent each era at Odsal...Arthur Forrest, Gary and finally, Simon Wigg. Thank you for your article in tribute to Gary which will help me no end in compiling my proposal to Persimmon Homes and the Councillors for the Odsal area once the Northern View housing development is passed. Will keep you informed."
Don Bright:

"I grew up with Gary as a friend in Wrantage Street New Plymouth. I can remember Garry getting his first Motor Bike and riding it in the gully beside their house. One thing always comes to mind was him riding down one side of the gully and still with downward momentum jumping the drain at the bottom. He was always a guy who would go beyond the limit. I still think of him now and then. This is one of those moments and the reason for me looking up his name and finding your article."
John Hubbard:

"I remember the night that Gary passed away. it looked a silly simple accident, that turned out so tragic. He was a lovely, polite gentleman. He will always be a hero to me. I am now in my 60's but still remember every detail of Gary's death. My signed photograph of Gary is still in my collection, (in pride of place). R.I.P. Gary. You will be always remembered."
Anthony Cattley:

"Gary was my god father. I remember sitting in his shed on his bike in 72/73 as a kid. My dad and Gary practiced and raced in the early days."
John Flanagan:

"Gary Peterson a great guy who raced at quite a few grasstrack meetings during his brief career, a very polite and humble guy who enjoyed local meetings as much as big speedway races. Sorely missed."
John Seed:

"I remember Gary Peterson at Bradford in the early 1970's. There was one particular meeting, it must have been an individual trophy meeting, when he came up against Maury Robinson. Gary was on 12 points and Maury was on 11 points and it was their last race of five. Maury had to win to force a decider with Gary and he led the entire race until the last bend when Gary took him on the inside. I was on the terraces in between bend 3 and 4 and I can still see the tyre mark on the grass that Gary made, so determined was he to get the maximum 15 points. Maury Robinson was furious but the ref was having none of it. Interestingly enough, I do recall that on one occasion when Bradford needed a guest rider they turned to Maury Robinson!"
Mike Redfern:

" Gary rode at Exeter on the Monday where I am sure he scored a 15 point maximum which I was there to see. He died tragically 4 days later after colliding with a lamp standard I understand at Wolverhampton. He had been brilliant that evening at Exeter. It was a terrible shock"
Trevor Kimberley:

"It has been said that Gary's racing death was inevitable because he did not know when to settle for second place. Some of the best races I have seen in over 60 yesrs of watching speedway were between Gary and Malcolm Shakespeare at Long Eaton. Every racing death is tragic, but Gary's was, like Craven and Jansson's, somehow soul destroying, leaving the sport much poorer as a result."
Hugh Larkin:

"I was at the meeting as a 15 year old. For some time afterwards I wondered about whether I should watch the sport again. It's a long time ago but I do remember Gary's battling qualities."
Michael Ross:

"Thanks for this brilliant piece which answered many questions for me. I was a 15 yr old Wolves follower at the time and had been to my first meeting at Monmore a few weeks earlier but was not at the meeting where Gary died. I found out the following day seeing it in the Express & Star headline when shopping i n town next day. It was such a numbing shock I never read the account of the accident.

I became a regular from 1978 with some friends and in one meeting some time after this we were cheering Alan Grahame who was guesting for Wolves that night when one of the older fans stood behind us on the home straight chimed in: "What do you mean 'come on Alan!'? That man killed Gary Peterson!" A woman in their group was visibly distressed and they did not elaborate on how Alan was supposed to have done this. Seeing this piece and attached comments removes the asterisk from Alan Grahame's name for me. Maybe some fans were still traumatised and naturally blamed the survivor in order to cope.

Right up until Wolves were "relegated" to the National League we always seemed one rider short of having a competitive side. I often wondered especially if 1978 would've been quite as disastrous with Gary Peterson alongside Hans Nielsen, Dave Morton and Jimmy Mac and whether he could have emulated his friend Ole Olsen and become Wolves's second World Champion. Or would he have followed Ole to Coventry instead? Alas we shall never know."
Sam Sright:

"I was a first aider, first to get to Gary. He was certified dead on scene. I had to go look at photography images the next day, Saturday morning."
Riccardo Pinardi:

"What can I say....one of the best riders of my youth that will stick with me until the day I die. Gary Peterson was a fantastic rider and for me part of a great Bradford team. Gary gave thrills and excitement when ever he rode. You could say that Gary and the Bradford riders got me hooked on speedway, but there was only one Gary Peterson. Style and speed. he was just a brilliant rider who gave 110 percent in every race. Sadly missed. Never forgotten."

[ Use Mobile Version ]

Comment on this Article | Contact Us | Go Back to Main Menu